In April/May 2023 I attempted to cycle from Land's End to John O'Groats (LEJOG): that is from the southwest tip of England to the northeast tip of Scotland. This has been completed in many ways and by many many people since the 19th century. My plan was to cycle a route of about 1000 miles in 10 days.
My approach was to go quite light, buy food along the way, and stay at hostels/B&B's/hotels. I had about 21 lbs of gear split between a handlebar bag and a seat pack, and a titanium road bike. This meant that cycling felt more like road riding than heavy touring.
With the complications of making train bookings for bicycles and needing a place to stay each night, I ended up with a fixed schedule. This was good in some ways but meant that when was ill on day 5, I couldn't slip my schedule and instead took the train for the day. I thus had a section from Nantwich to Kirby Lonsdale missing and rode 925 miles in 9 days.
Although I didn't complete the entire LEJOG route but it was still a great trip. There was great variety of country and terrain. The highlights were the ends: the first day through Cornwall including a couple of little ferries, and the last two days through the Cairngorms and the moorlands north from there to the north coast of Scotland.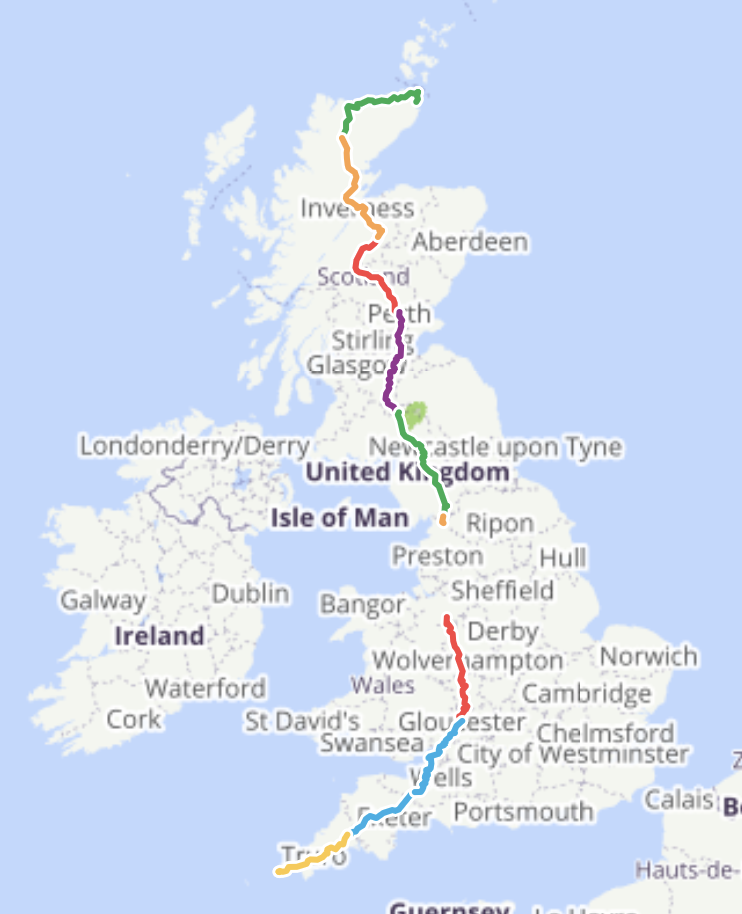 Details from daily posts: