I had designs on completing a thru-paddle of the entire Northern Forest Canoe Trail (NFCT) – 740 miles from Old Forge, NY to Fort Kent, ME – but I managed only the first 273 miles before injuring my leg. Nonetheless, I had a wonderful adventure through the Adirondacks, across Lake Champlain, up the Missisquoi in Vermont and briefly in Quebec. My home-made cedar strip canoe, Fran, performed admirably.
Preparations
After building my boat, a 14.5' cedar-strip canoe named "Fran", there was the question of how much gear is required for an extended canoe trip. I ended up with the pile of gear shown below. My canoe plus paddles weigh about 40lbs, and gear was about another 40lbs, heavy but hopefully manageable to portage. I decided not to bring wheels but instead carry the canoe on my shoulders.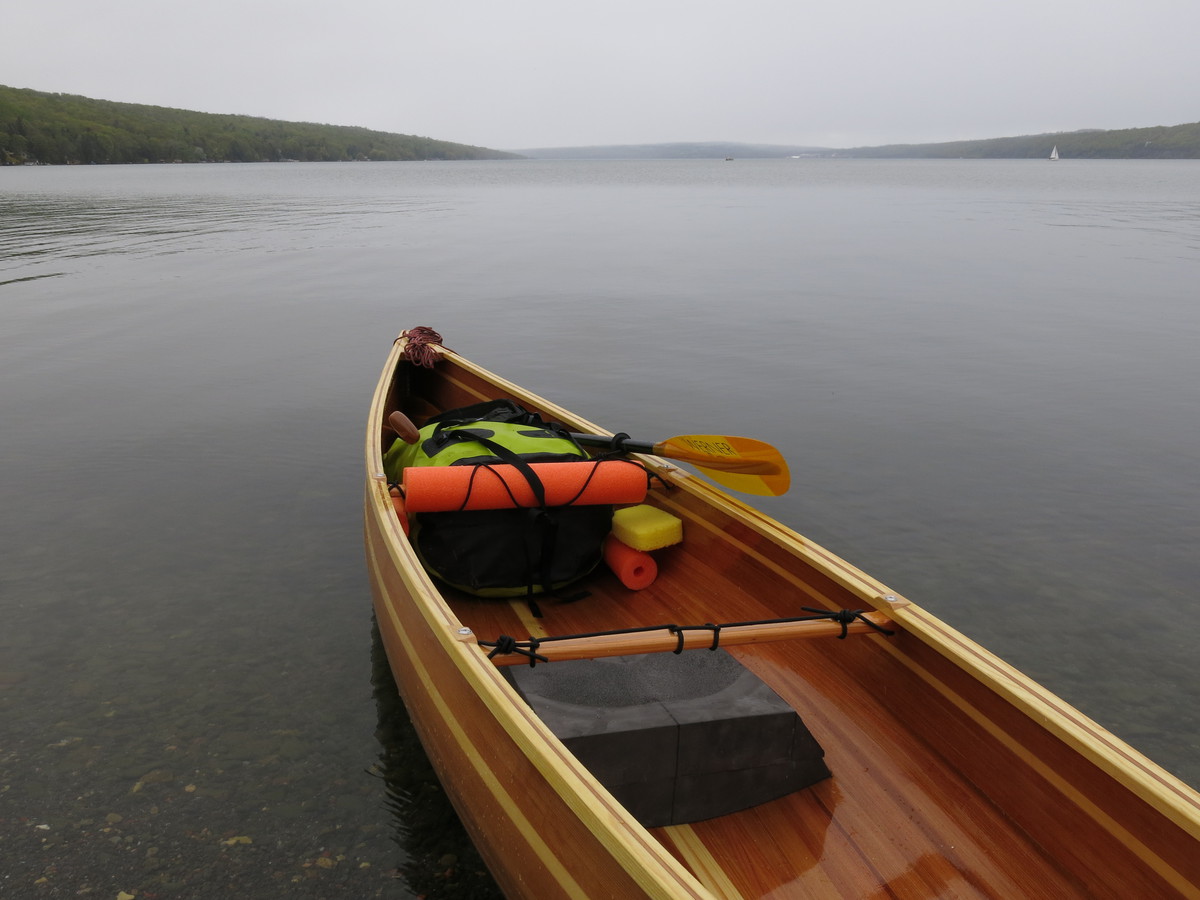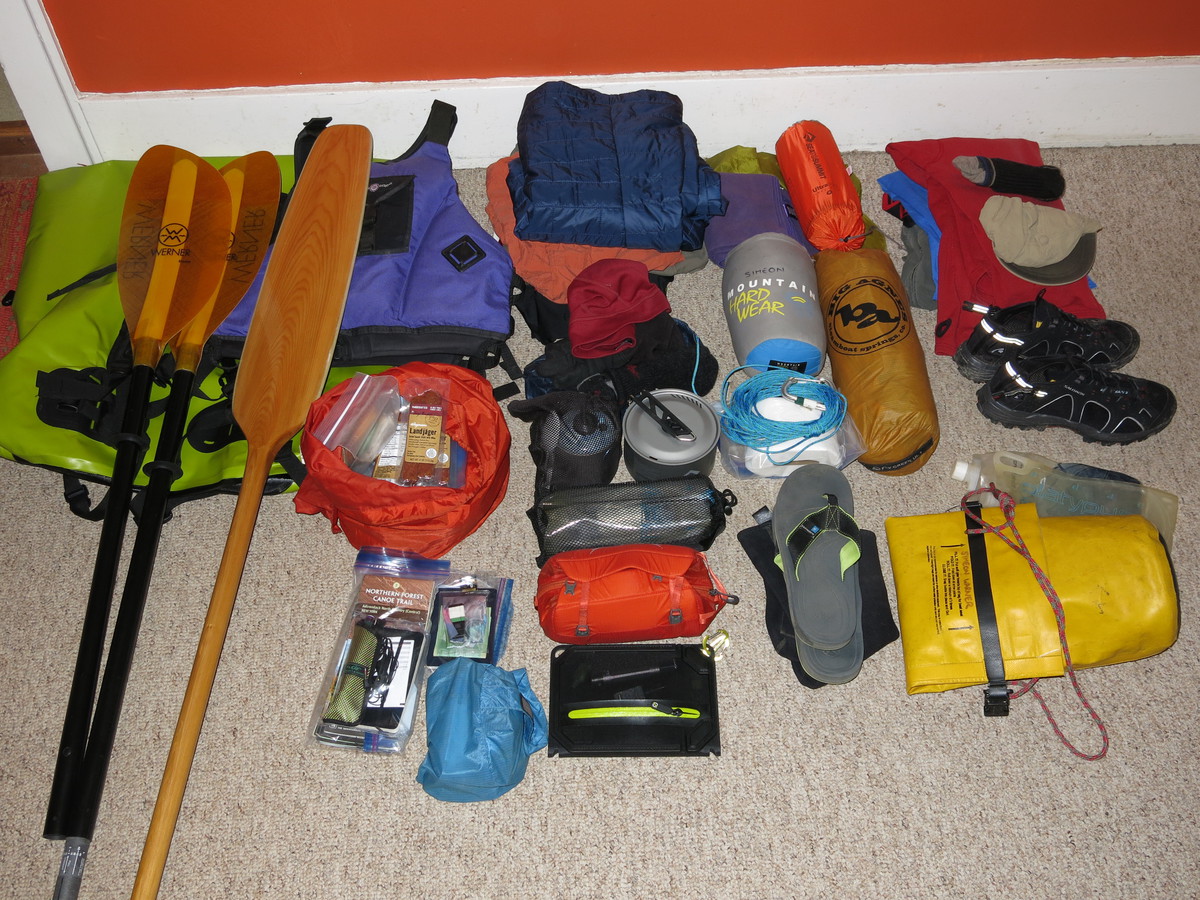 2018-05-26 Day 1 - Old Forge to Raquette Lake, NY
Leslie & Mary dropped me off in Old Forge on the evening of Friday 25 May. I had a fine dinner at "Five Corners Cafe" and then got a good night's sleep at an Airbnb. I was on the water at 7am, too eager even to stop for a diner breakfast and I also forgot to sign the NFCT register.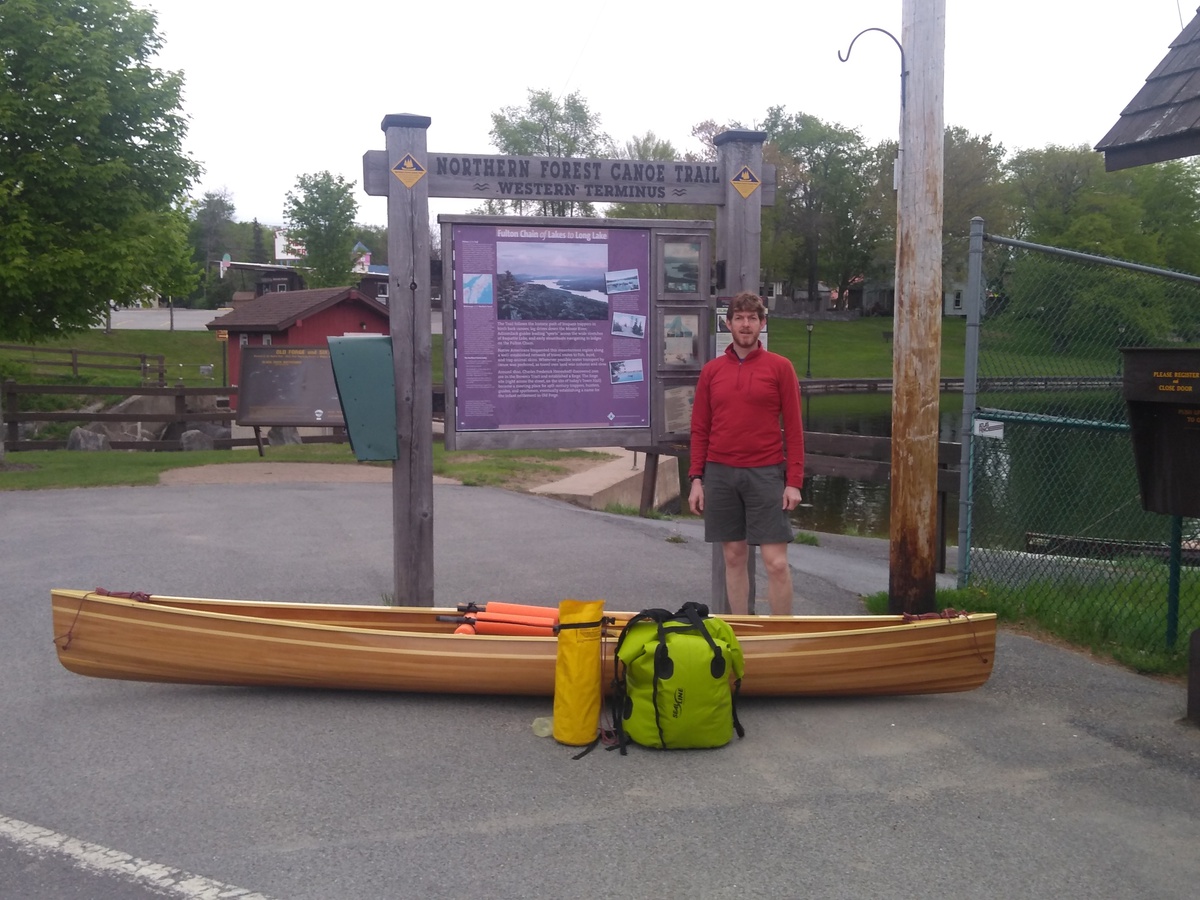 The morning was warm and clear, lovely paddling. I didn't see a motor boat until the end of Third Lake and very little traffic all the way to Inlet at about 10am. The weather became quite hot and sunny through the remaining Fulton Chain of Lakes. The day's 3 portage's went OK and there were not too many blackflies. I ended up at the north end of Raquette Lake (Boucher Pt.) after about 28 miles using my new canoe paddle the whole time - I'm better on right side than left. I got a lean-to all to myself, cooked supper and was tired. Sleep came easily at 8pm! 27.5 miles, of which 2.7 miles was portage.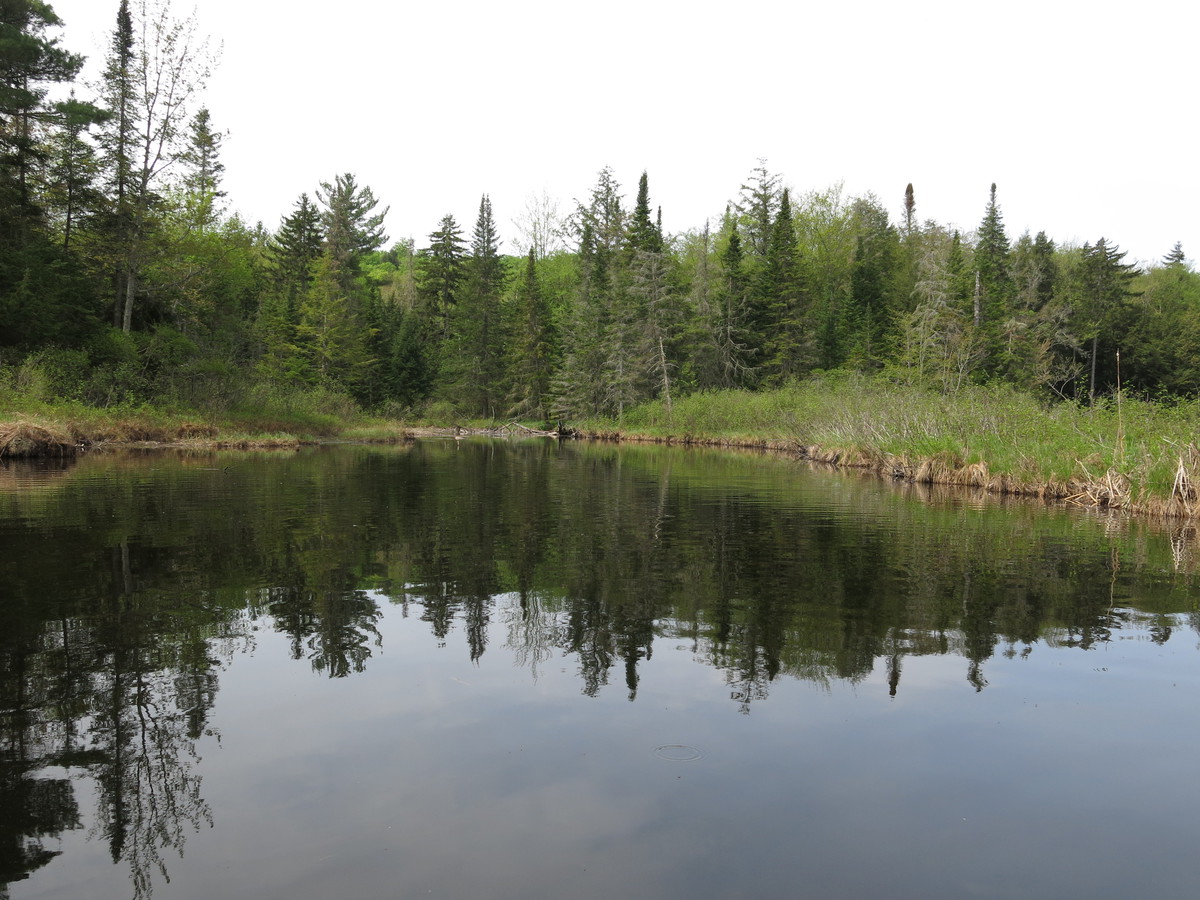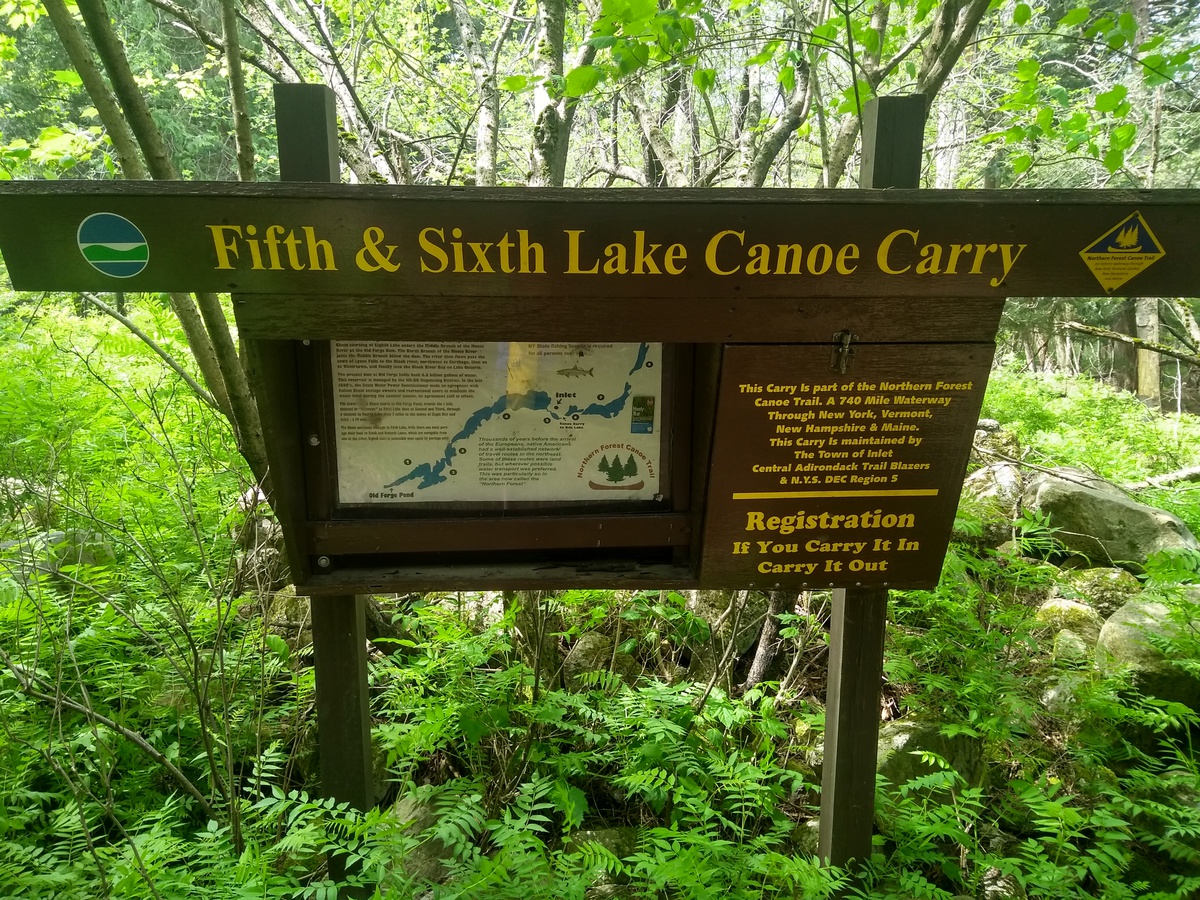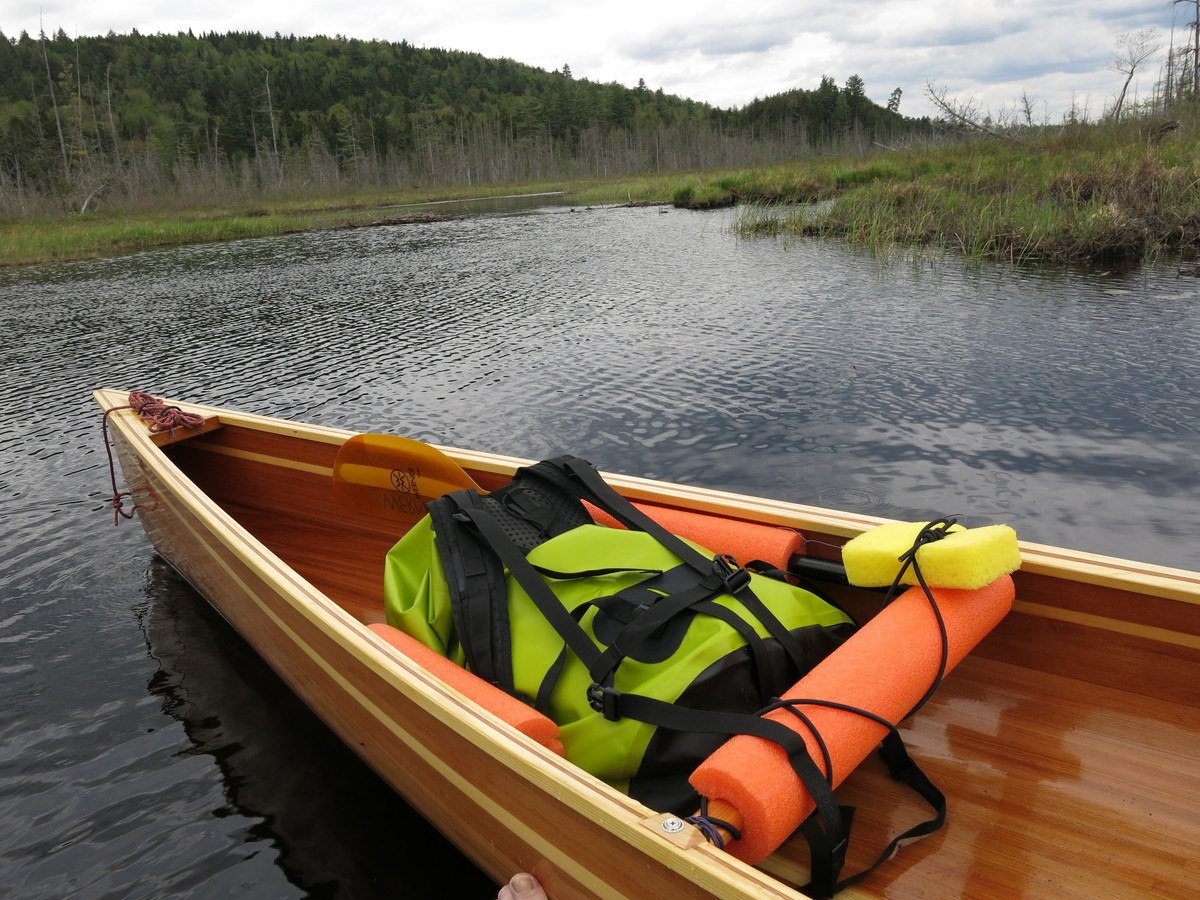 2018-05-27 Day 2 - Raquette Lake to Raquette River Falls, NY
My 5am alarm seemed too early even after 9h sleep, reset to 6am. Did 15 miles and 4 portage's to lunch in the Adirondack Hotel, Long Lake. The first portage from Raquette Lake to Forked Lake was mobbed by a swarm of blackflies but fortunately once out on the lake there were very few again. I put the first significant scratch in Fran, just portaging the first set of falls on the Raquette River between Forked Lake and Long Lake. Sad, but I figured I'll get over it and resolved to be very careful on boney sections of river.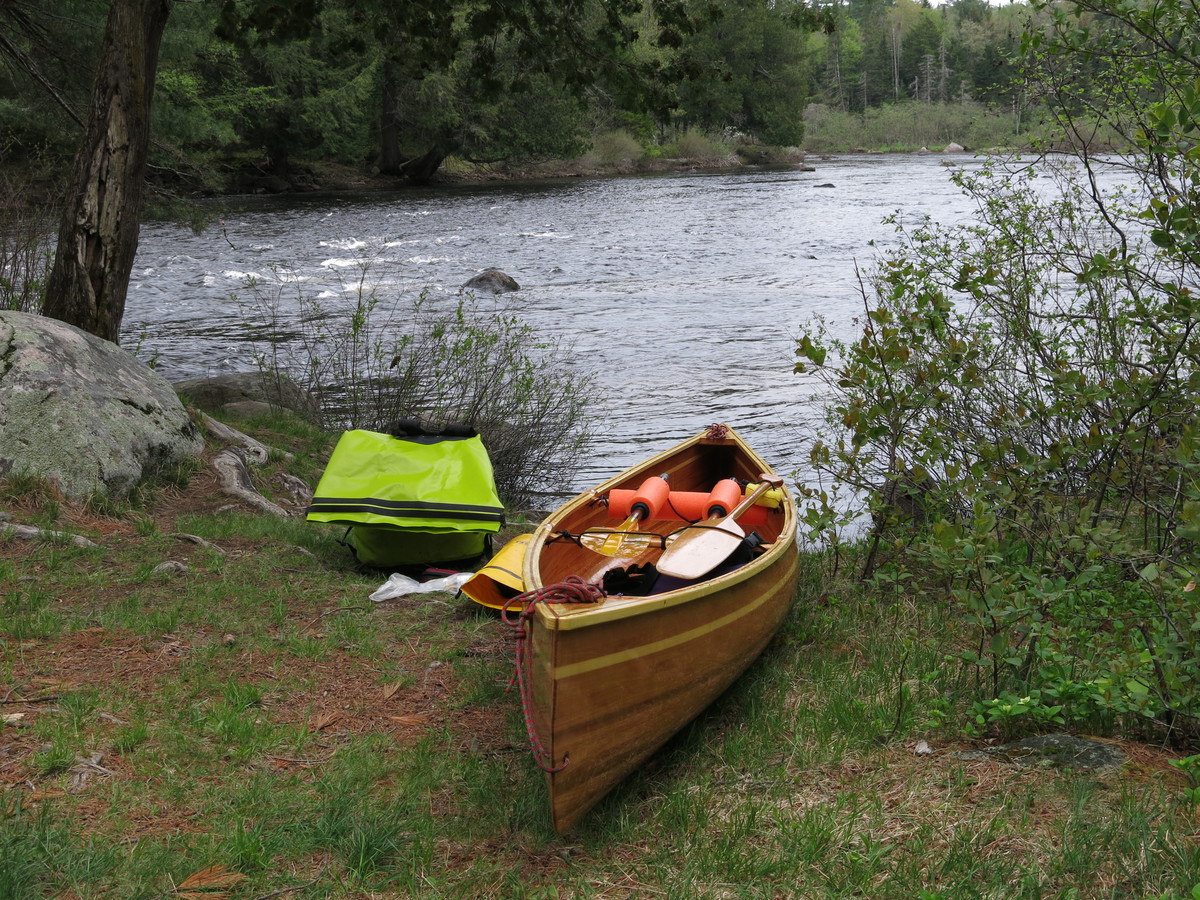 The day was overcast and a little windy, I hugged the eastern side of Long Lake up to the rt30 bridge and break for a good lunch at the Adirondack Hotel at about 12:30pm. Back on the lake I left NFCT map 1 and paddled for what seemed a long afternoon to the northern end of Long Lake. I guess that is why it is so named. The wind didn't seem to come from a consistent direction and so was hard to avoid. Had a little trouble finding the right channel into the Raquette River but was then pleased to be heading downstream.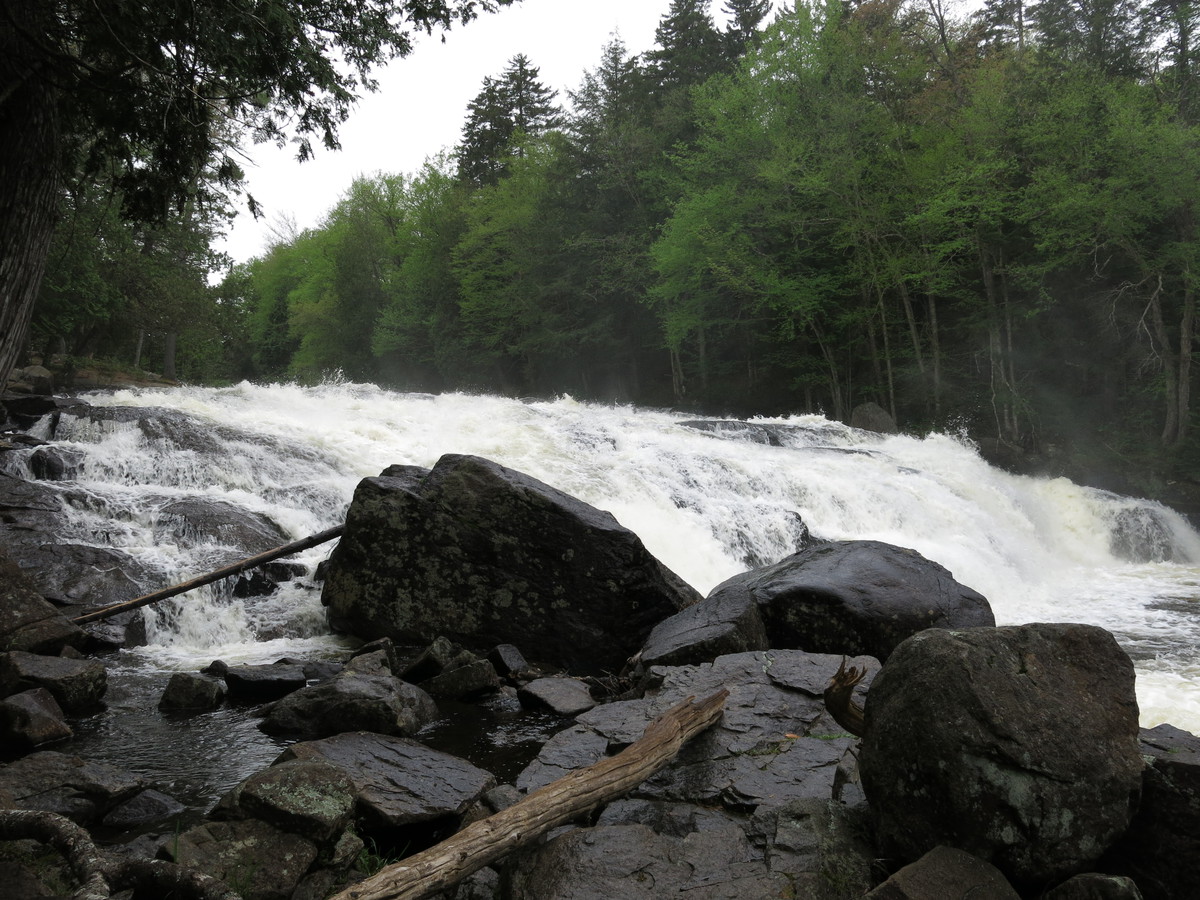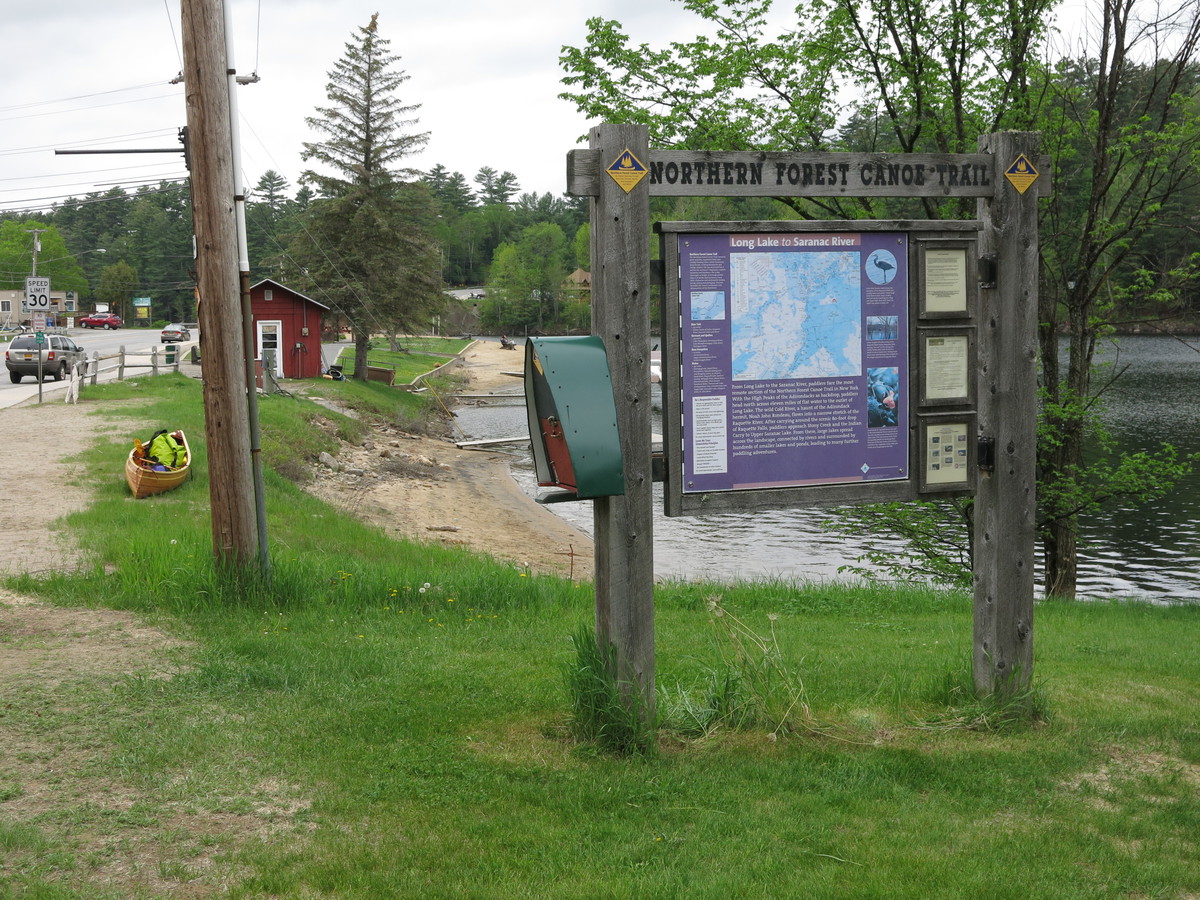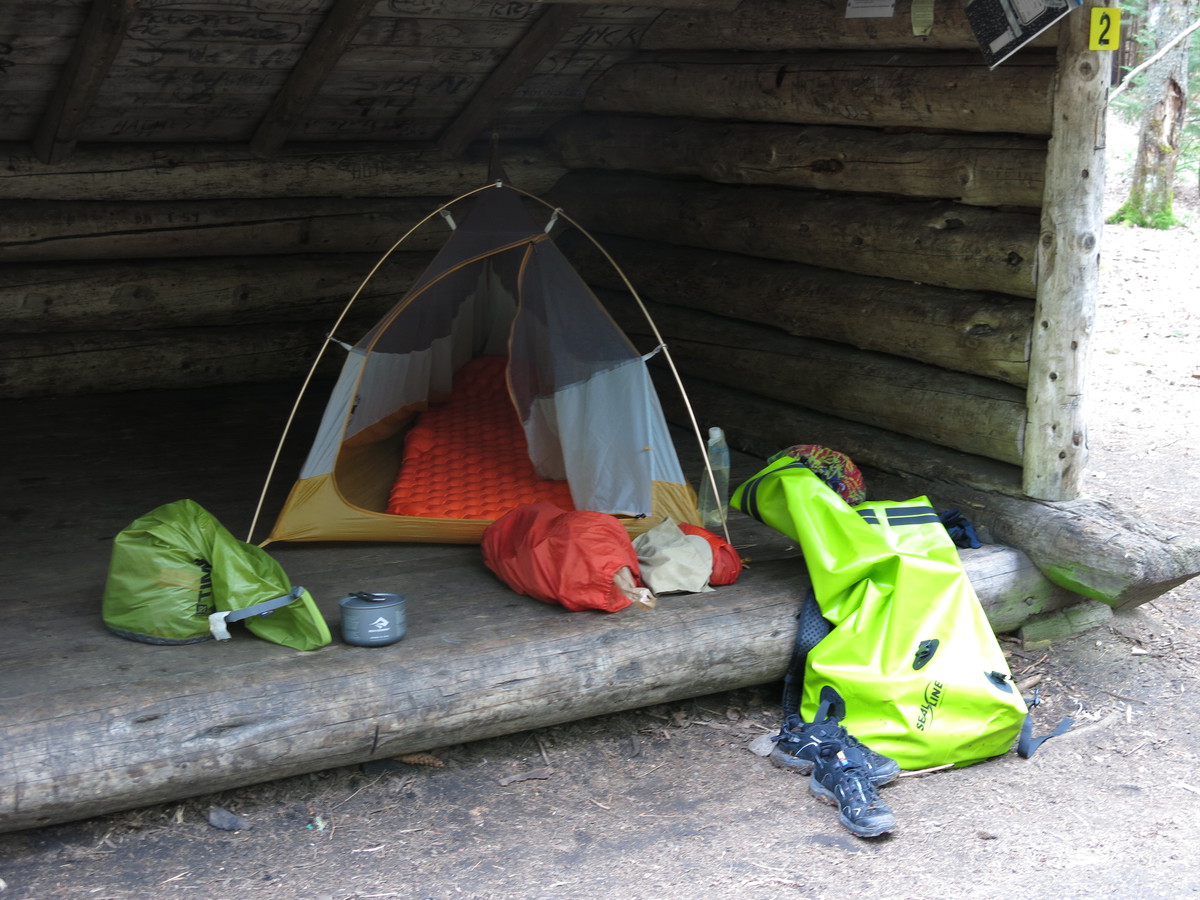 Lovely paddling down the Raquette River to a final 1.3 mile portage around Raquette Falls. I had the odd experience of watching a forked twig get blown across the river so way ahead of me. When it got to the bank it suddenly became the ears of a white tailed deer that emerged from the water. I hadn't seen one swimming before. Chatted with the Outpost ranger who has built 17 boats and thought mine looked pretty good for a first timer. Having made good progress I decided I could likely make it to Saranac Lake by the following night to visit friends. 31.3 miles, of which 4.5 miles was portage,
2018-05-28 Day 3 - Raquette River Falls to Saranac Lake, NY
In the morning I completed the last couple of hundred yards of the Raquette Falls portage and then continued downstream for an hour or so before turning upstream for the first time. The river was sinuous and the GPS on my phone combined with downloaded USGS topo maps (using OruxMaps app) was useful in reassuring myself that I hadn't gone too far and missed the turn. When I did get there it was obvious. The current was slow and it didn't take long to go the mile to Stoney Creek Ponds and the next portage.
The rest of the day was spent on the Upper, Middle and Lower Saranac Lakes, and Oseetah Lake. I got to go through two locks and clocked 7mph for 20min on a particularly favorable windy section. There was progressively more boat traffic, both motor and human powered, as I headed toward the town of Saranac Lake at the north end of Oseetah Lake. There I took out at the dam and NFCT kiosk. Audrey and Ezra picked me up and took me home for a good dinner and a comfortable night in their guest cabin complete with shower. 26.6 miles, of which 1.5 miles was portage.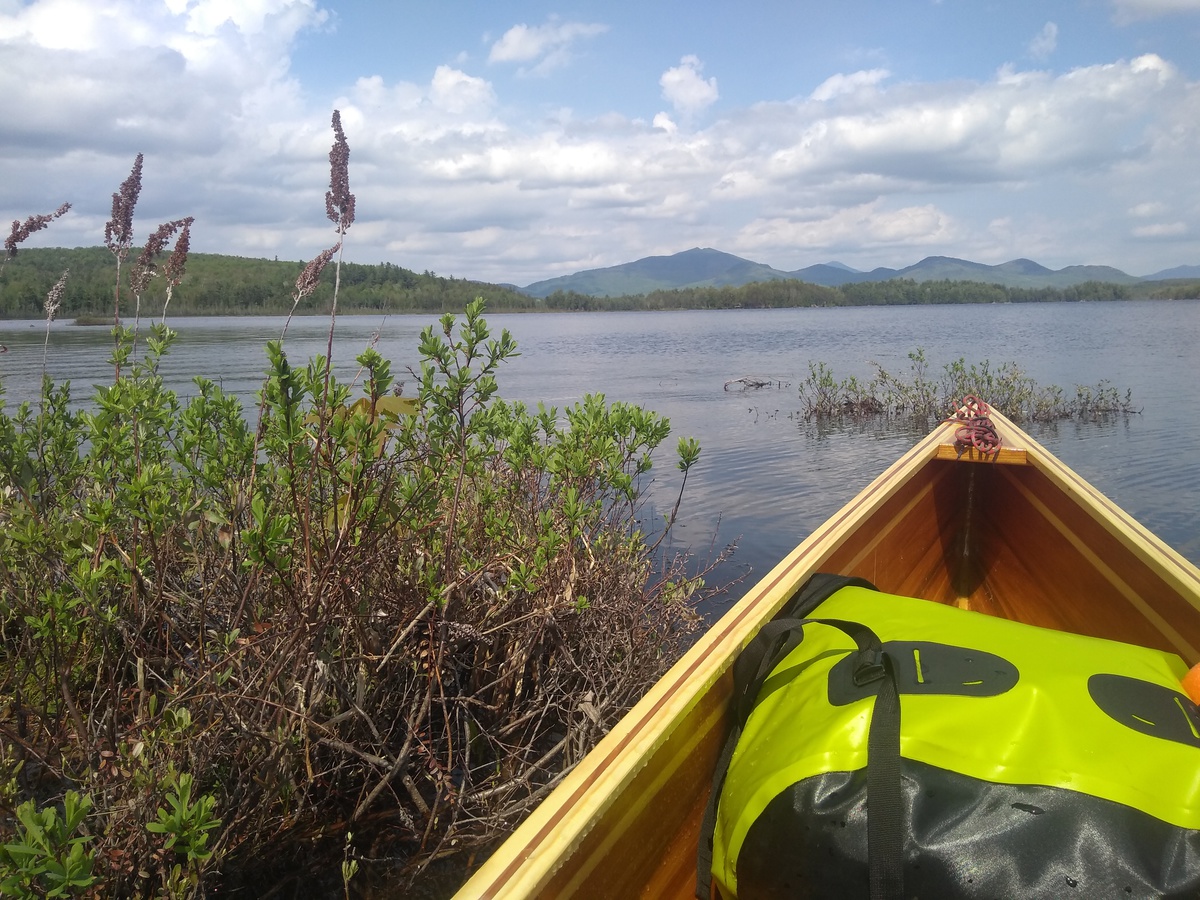 2018-05-29 Day 4 - Saranac Lake to Casey Road Carry, NY
Eggs and potatoes for breakfast with Audrey and the kids, then back to Saranac Lake to rejoin the route where I'd left off. I portaged under road bridge, put-in again, and paddled just a couple of hundred yards to St. Regis Canoe Outfitters to ask about conditions. Got lots of advice but the key bit was that running the first two rapids after Union Falls and then hiking up to the road was a sensible plan. I had already decided that I would portage around Permanent Rapids.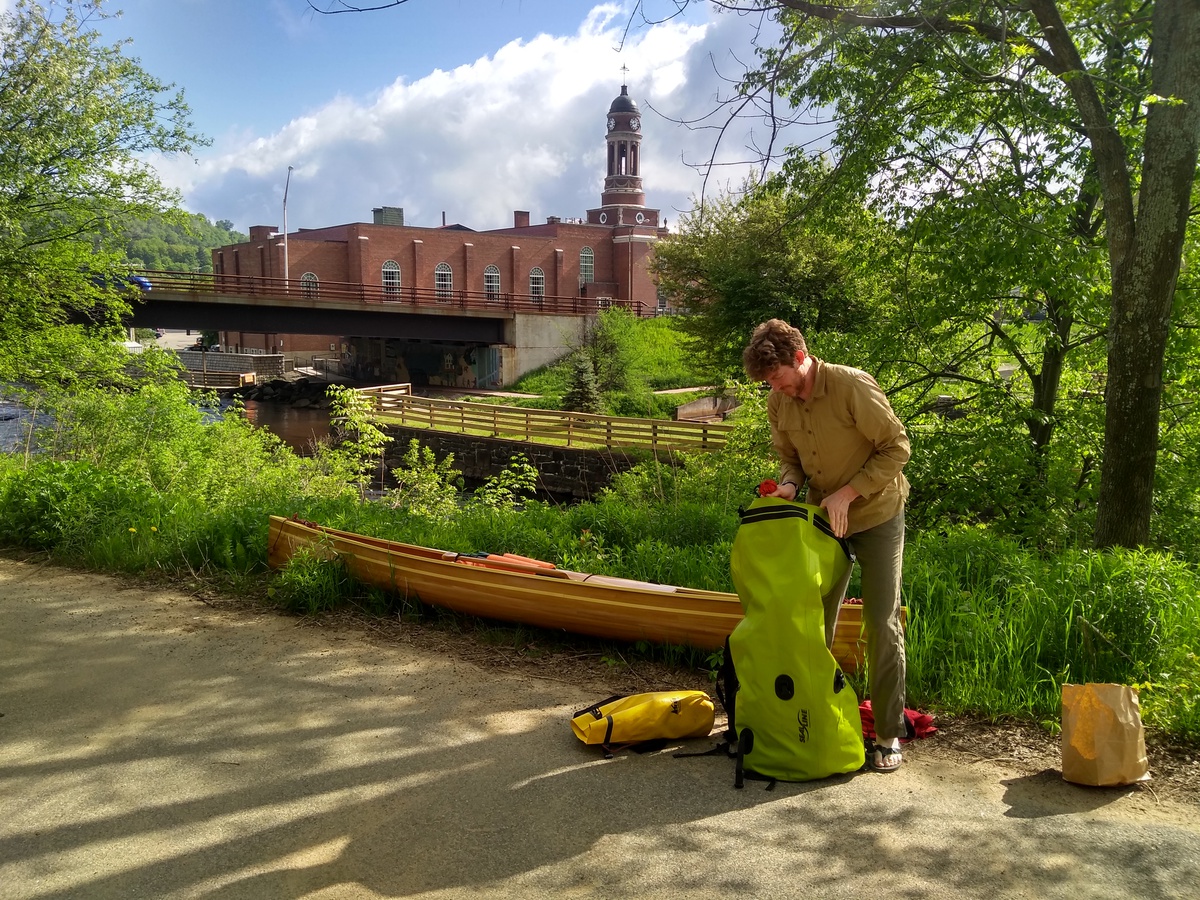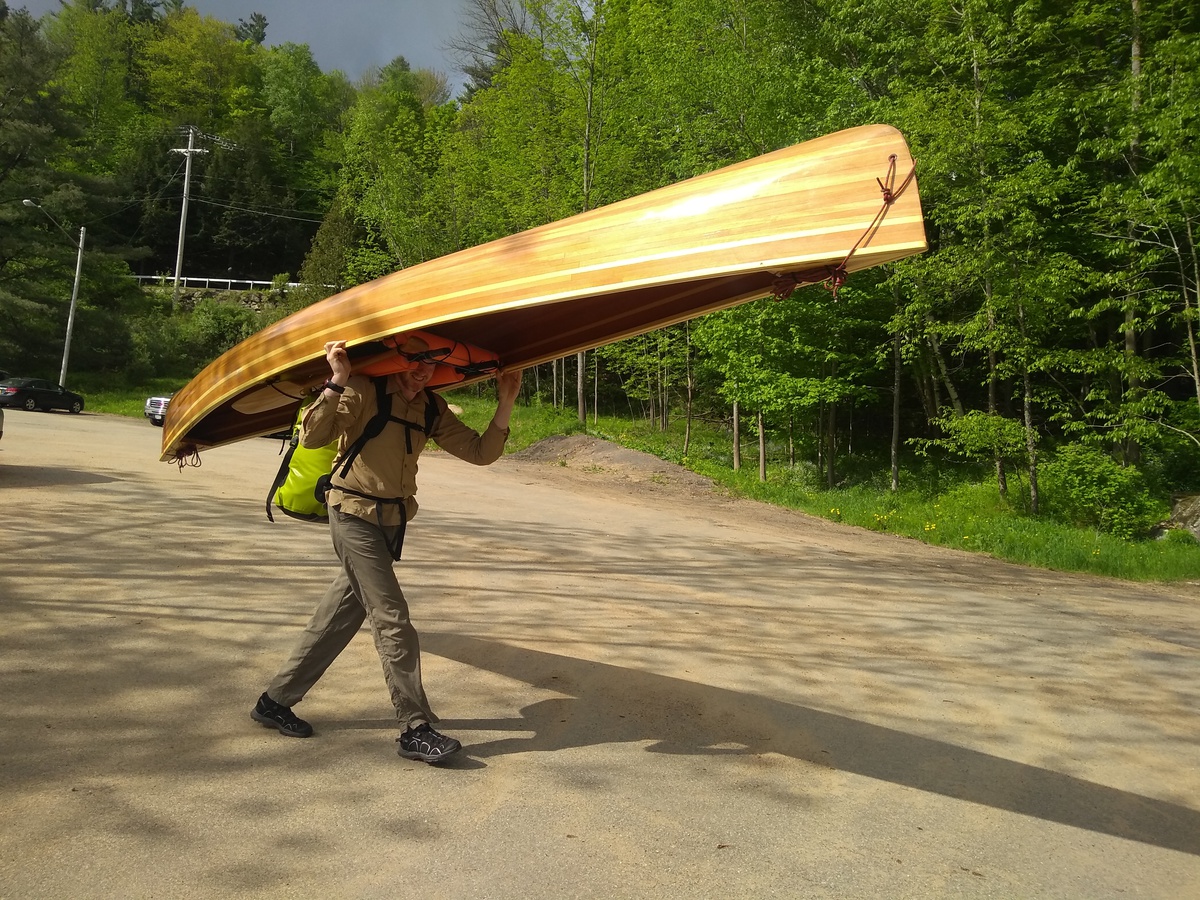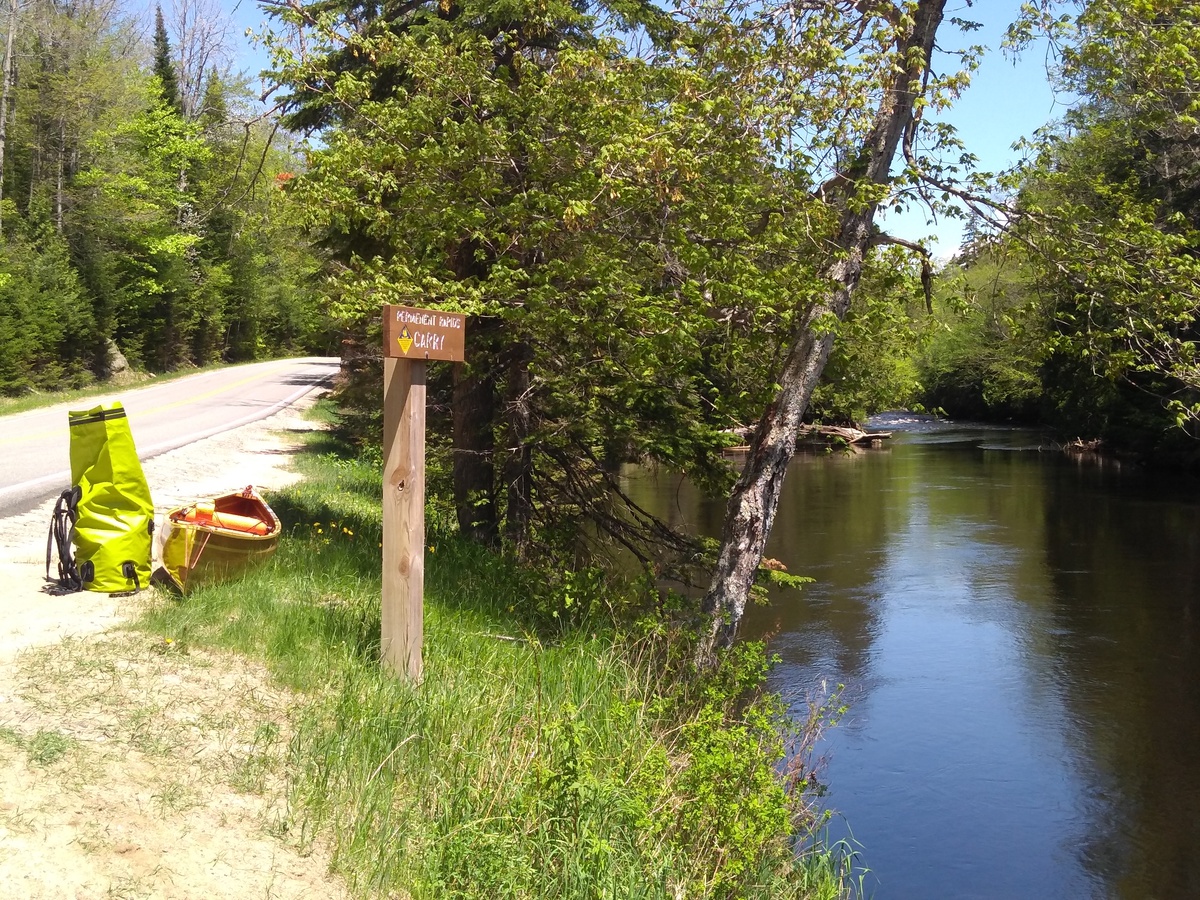 Downstream from Saranac lake the river meanders through farm and woodland with gentle flow. I enjoyed three wildlife encounters of note. First, a brief otter sighting. Second, I came around a corner to startle a duck and three ducklings. The duck took off in a zig-zag half-flight half-splash feigning "I'm an injured easy meal". The ducklings held their breath and dove. Perhaps they can't hold their breath for long when young? They kept popping back up before vanishing again. Eventually, when I was safely past the ducklings, the duck gave up its faked affliction and flew back to them. Third, a beaver gave me a repeated tail-slap routine while attempting to circle the boat. I assume trying to scare me off?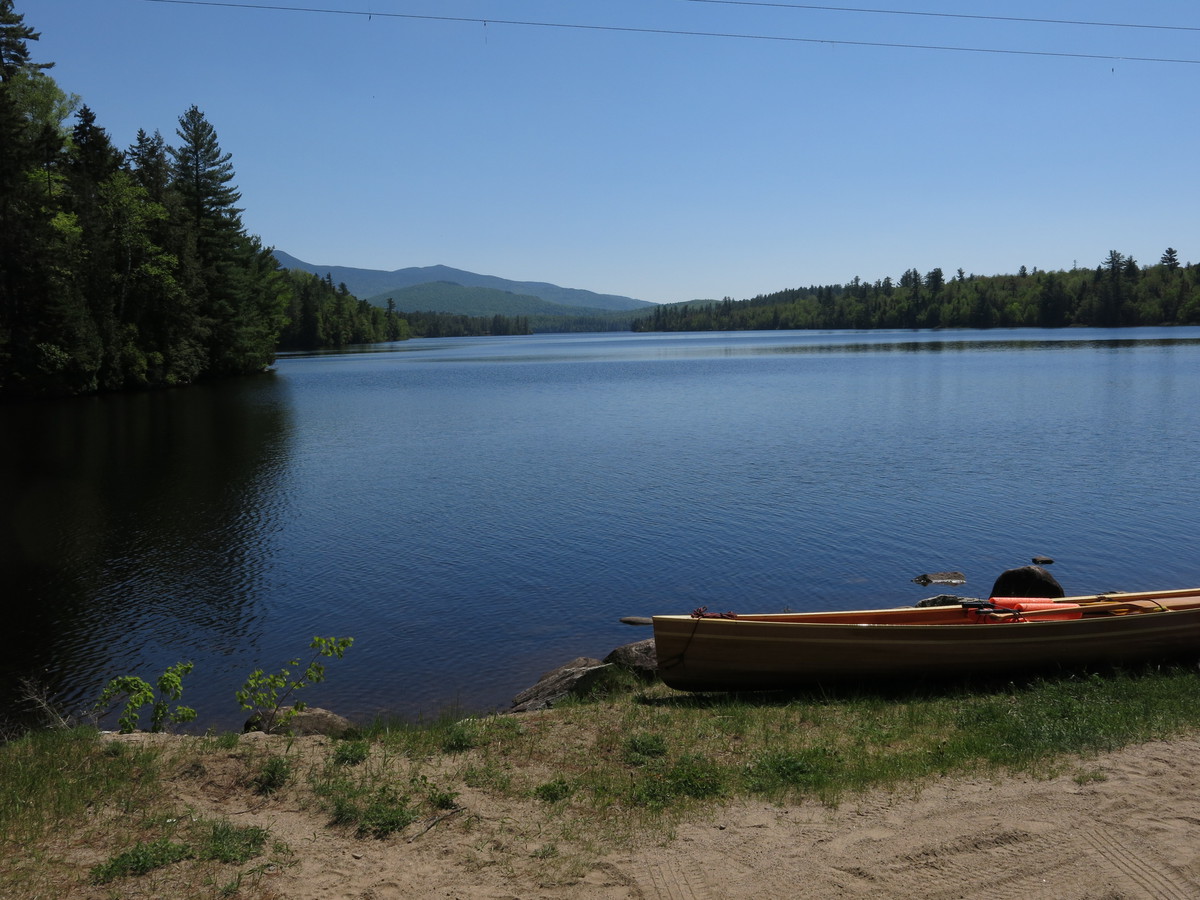 As planned, I portaged around Permanent Rapids, missed the put-in for Franklin Pond and had to clamber down when I realized I was walking alongside a perfectly good lake. Around Franklin Falls dam and then along the longer Union Falls Pond in lovely weather. Around Union Falls dam and then, with some trepidation, a couple of miles to two two little (class II) rapids. I took out and scouted both (left bank) to make sure they seemed OK and to plan a line. Fran performed admirable but got two more little scrapes on the first, through clean on the second. I'm really not used to having a delicate lightweight boat! In a plastic kayak the rapids would have been nothing at all. I took out at just before the third rapid, scouted the line to the real take-out, ran down to that, and camped at a lovely spot by the Casey Road Carry up to the road. Dinner and then sleep at 9pm. 25 miles, of which 2.0 miles was portage.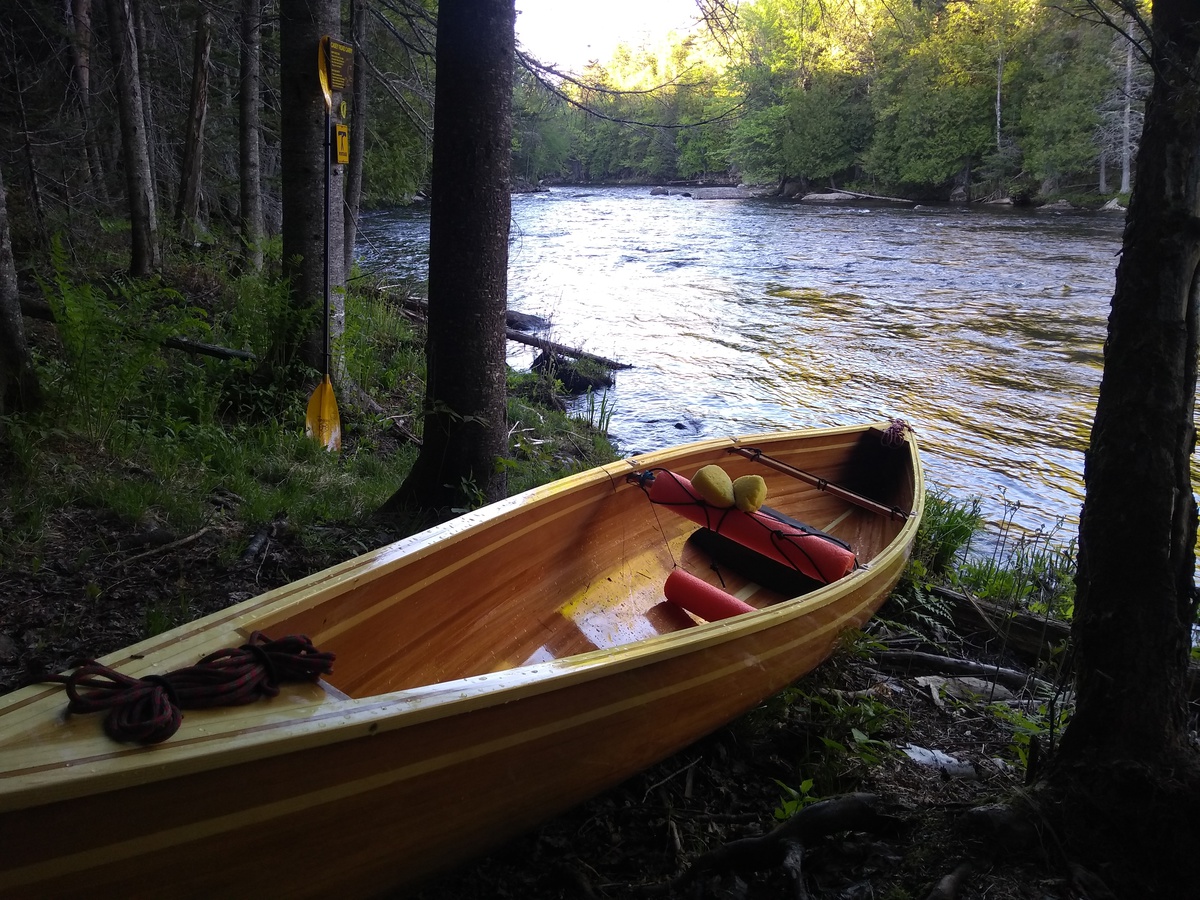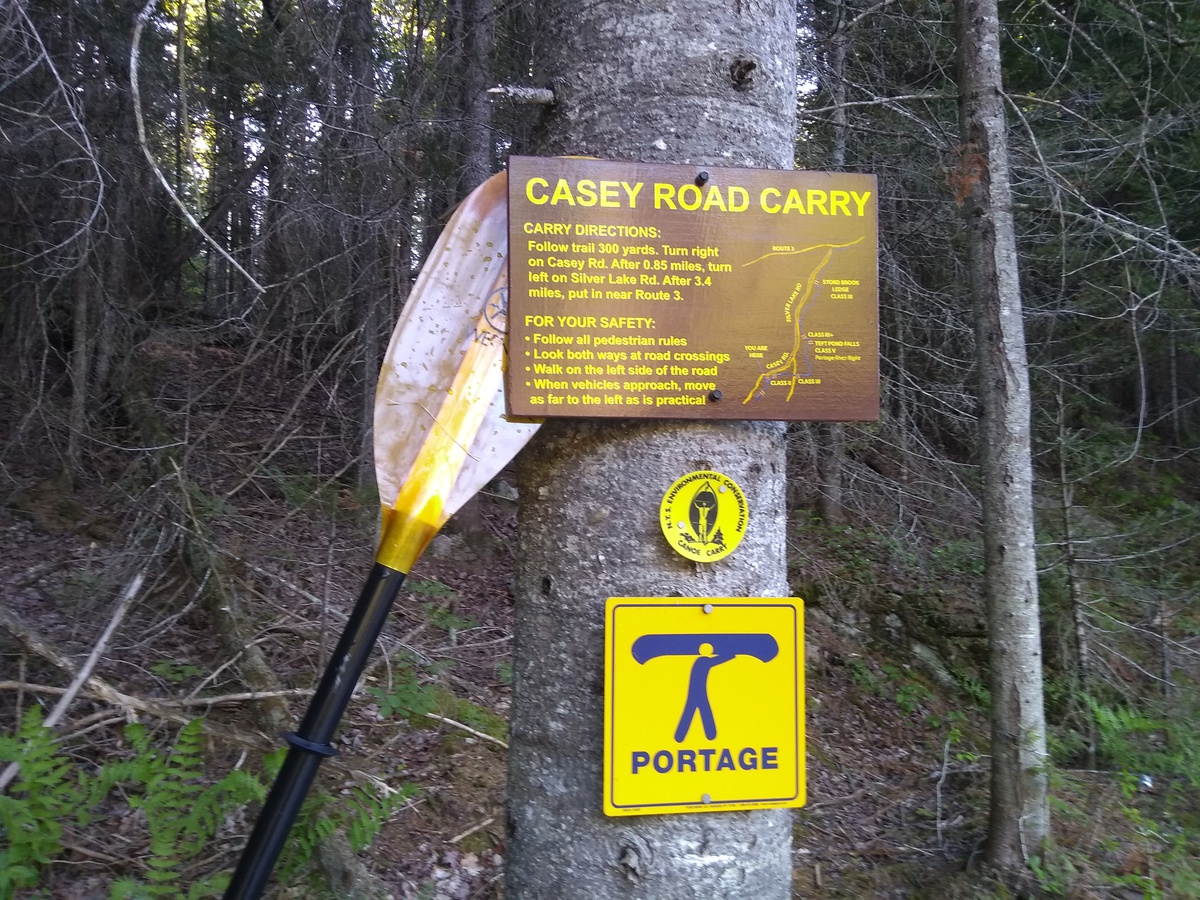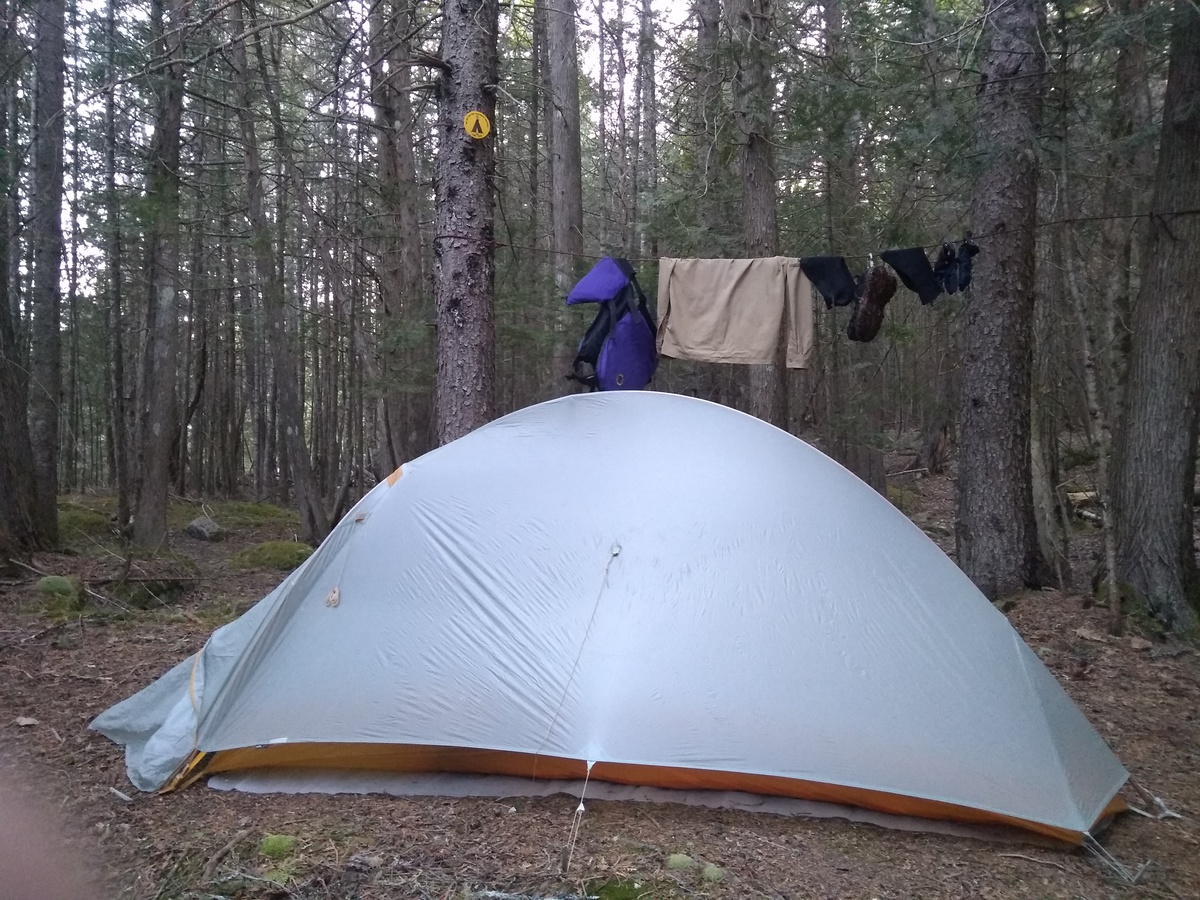 2018-05-30 Day 5 - Casey Road Carry to Morrisonville, NY
In the morning I left my idyllic campsite for a 4.3 mile portage to Clayburg. Continuing along the river would have involved several class III-V rapid, some of which don't have portages, and this didn't seem a realistic option. Back on the water at Clayburg, the rest of the day was a mix of still, moving flat, and easy white water with more portages around dams. I almost missed the take-out at Separator Rapids (near Redford) but saw a horizon-line and took out river-left to look. From there I could see it was unlikely a good idea to continue and then worked out where I was. Back in canoe I ferried over to the portage take-out on river-right. I ended the day at a very nice NFCT LaPierre Lane riverside campsite in Morrisonville. It was a short walk to "Lucky's Mini-Mart" where I could stock up on water (the river no longer being good to drink this far downstream) and get ice cream. 26 miles, of which 8 miles were portage. With stops I seem to average only about 2 mph portaging vs ~3.5 mph paddling (flat water, no wind).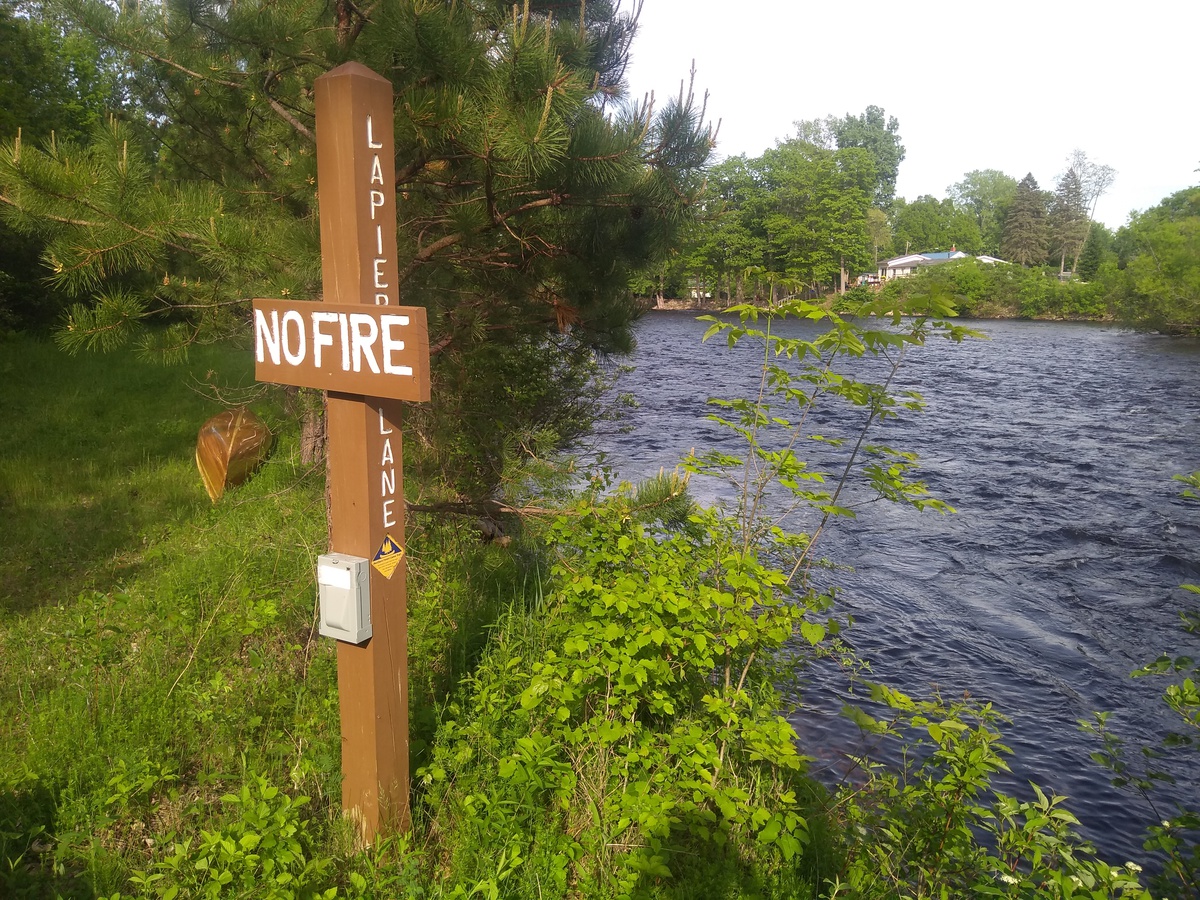 2018-05-31 Day 6 - Morrisonville to Plattsburgh, NY
Back on the Saranac River the morning was mostly swift water and easy rapids, mostly not too rocky. At the Treadwell Mills Dam portage I got lost and spent about 30 mins looking absurd wandering around an industrial estate with a canoe on my shoulders! The ride through Plattsburgh was fun and Fran did not get too many extra scratches. I arrived at Lake Champlain around 11am.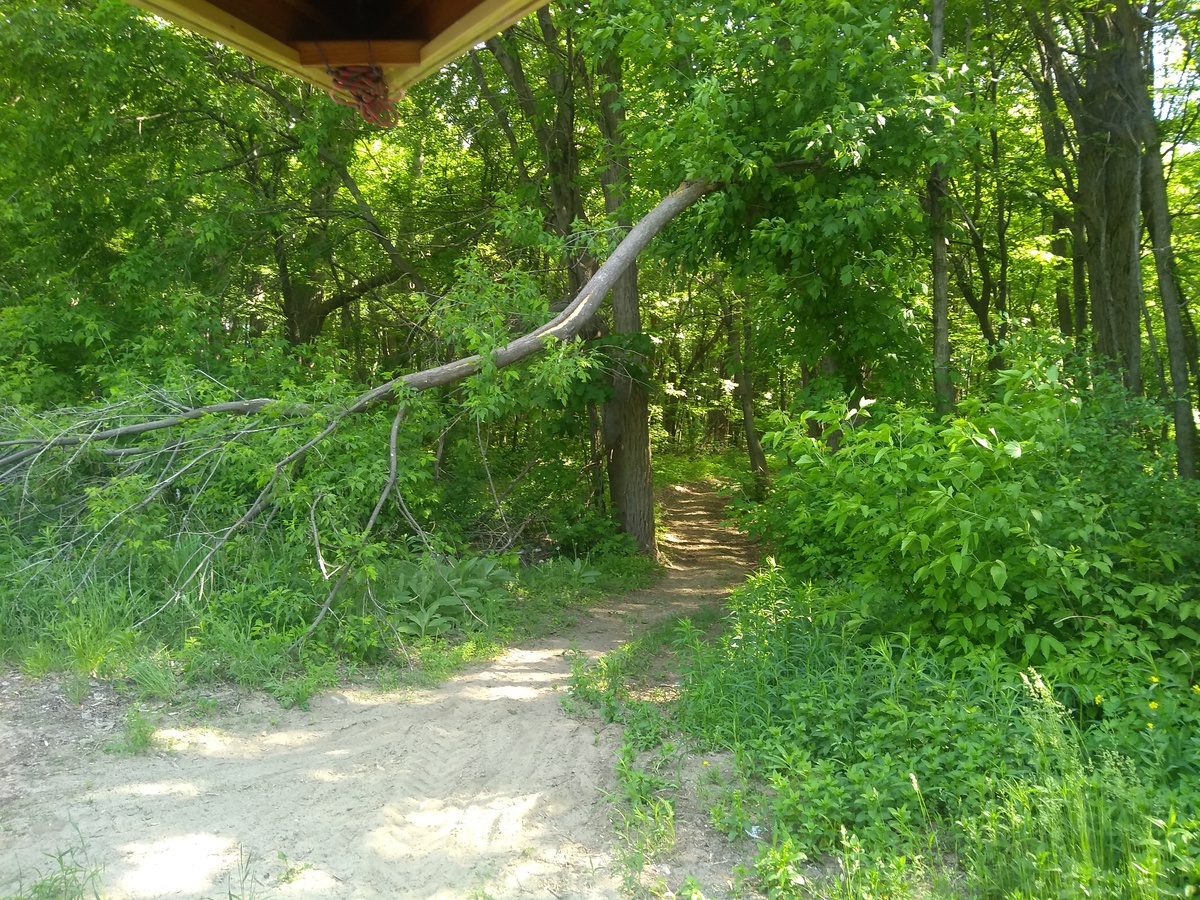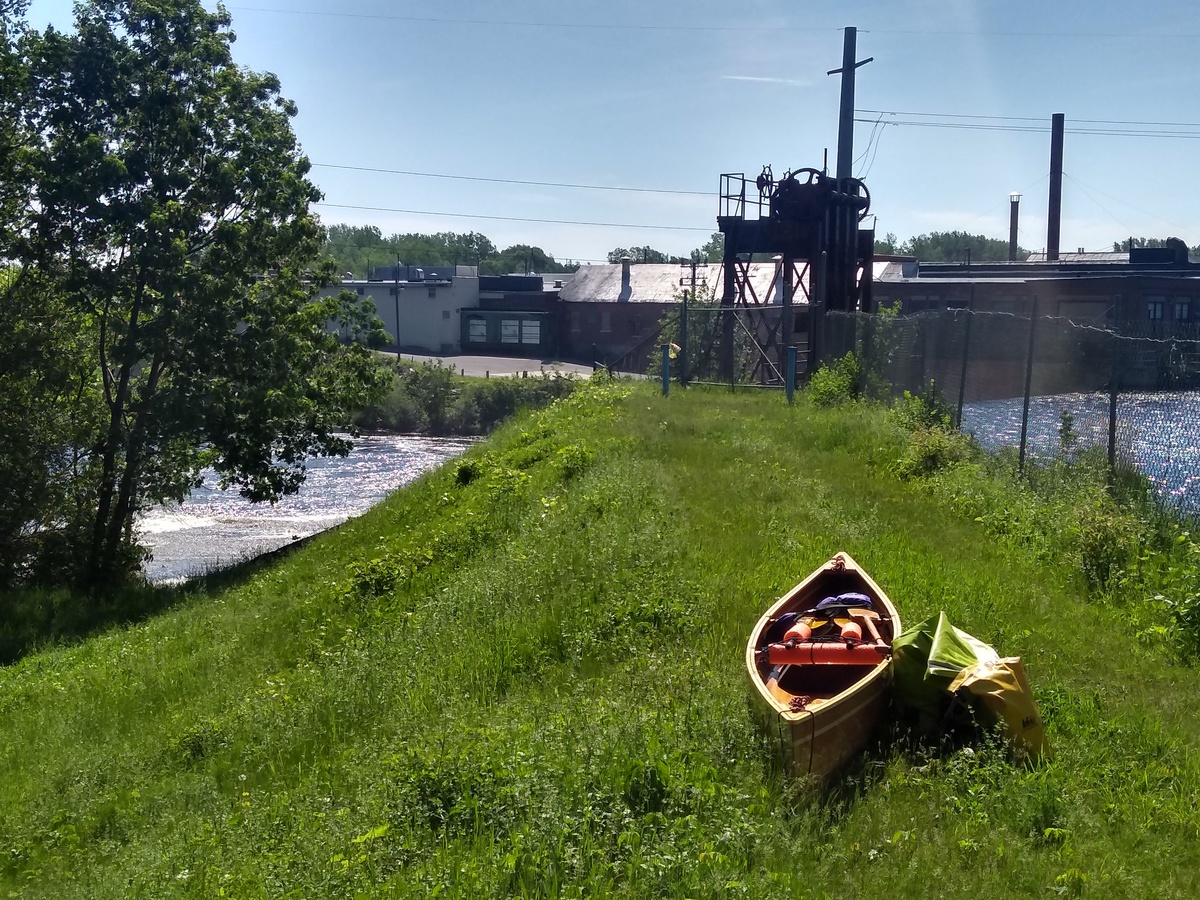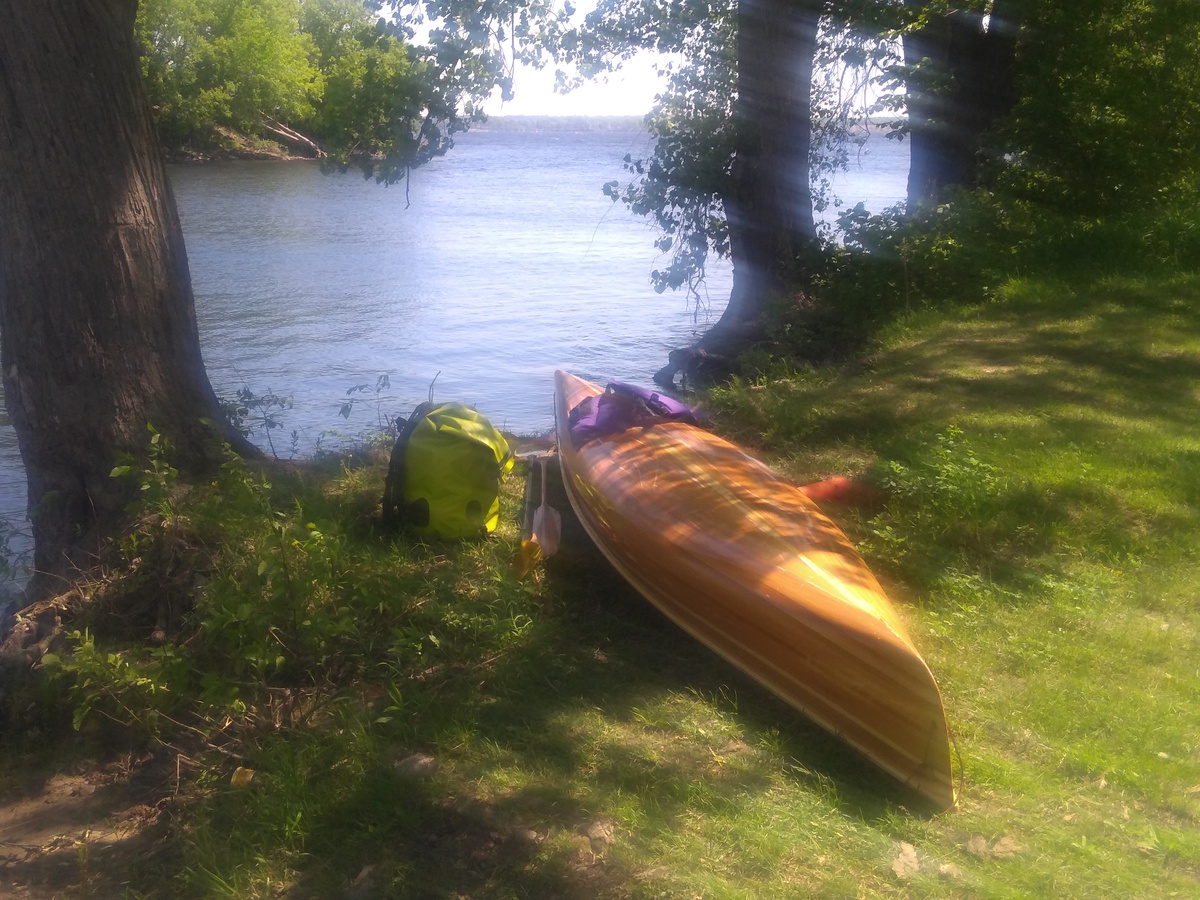 After some elevensies I tried to go around the bay toward Cumberland Head but found the waves too much for my little open boat. I headed to shore as quickly as I could, getting surfed in breaking waves. After a brief stop on someone's private beach I decided to continue around the next little point and then try to make it across the bay to Cumberland Bay State Park. Once in the water again that seemed like a bad idea because I felt in danger of being swamped. I again headed to shore again and then sat for a while watching the wind and checking the NOAA website. The airport wind gauge said it was 21 mph gusting 29 mph at 12noon and the waves were 2-3'. Good for windsurfing but certainly not a good day to try the 1.7 mile crossing to Hero Island. NOAA predicted wind all day but much calmer conditions the following tomorrow morning, so I took that a sign to get a room at the Golden Gate Lodging motel, where I'd happened to beach.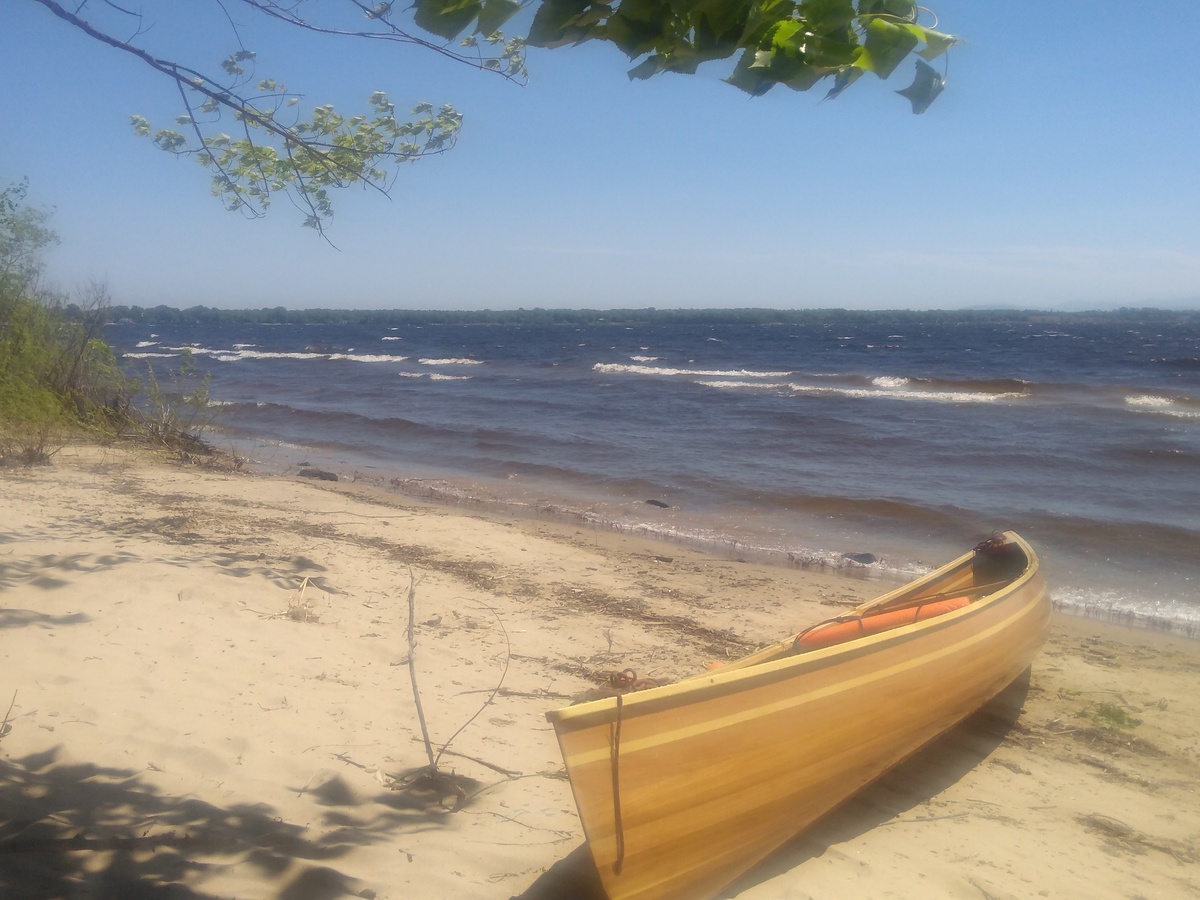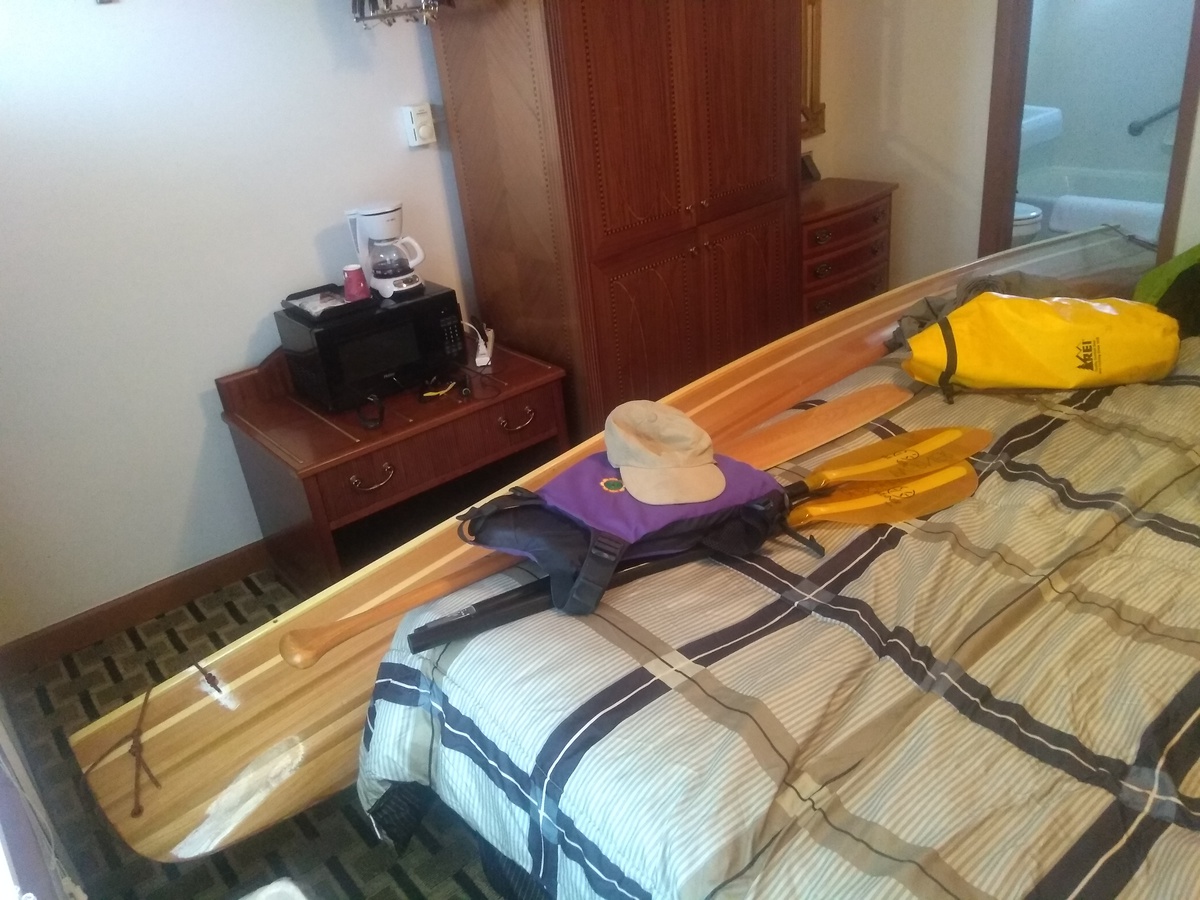 Excellent dinner at the Himalaya Restaurant and I mailed some excess items home (cooking pot, fleece gloves, towel, maps 1/2/3). Just 13 miles, of which 1.3 miles was portage.
2018-06-01 Day 7 - Plattsburgh, NY to Swanton, VT
Up early to check the weather. Winds down around 10 mph as predicted so all OK. On the water just after 6am and the waves were quite manageable. First couple of miles across the bay to Cumberland Head, then 1.7 miles of rather open water across to Wilcox Point, avoiding the car ferries. From there I continued north along the west side of South Hero Island, through "The Gut", and then along the east side of North Hero Island with a good lunch at Hero's Welcome. The wind subsided as the day went on until Lake Champlain was glassy, if still undulating.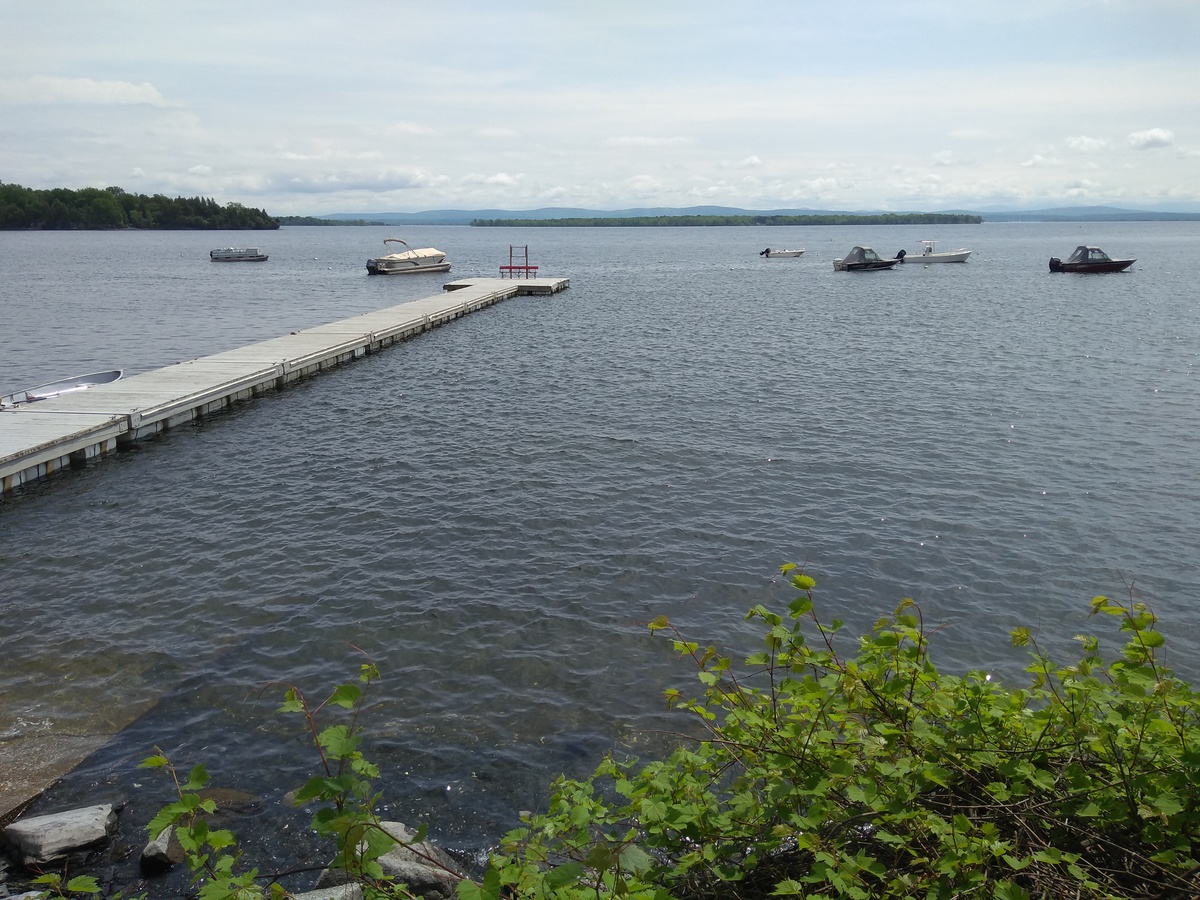 The day's wildlife encounter was a mink. I noticed it as I passed then backed up to see whether I could catch another glimpse. Amazingly, it was still there and even came fully out of a crack between the breakwater rocks to look at me. Brown all over except for a light patch on the throat (thanks to a SUNY ESF website for helping me distinguish from other weasel-like things).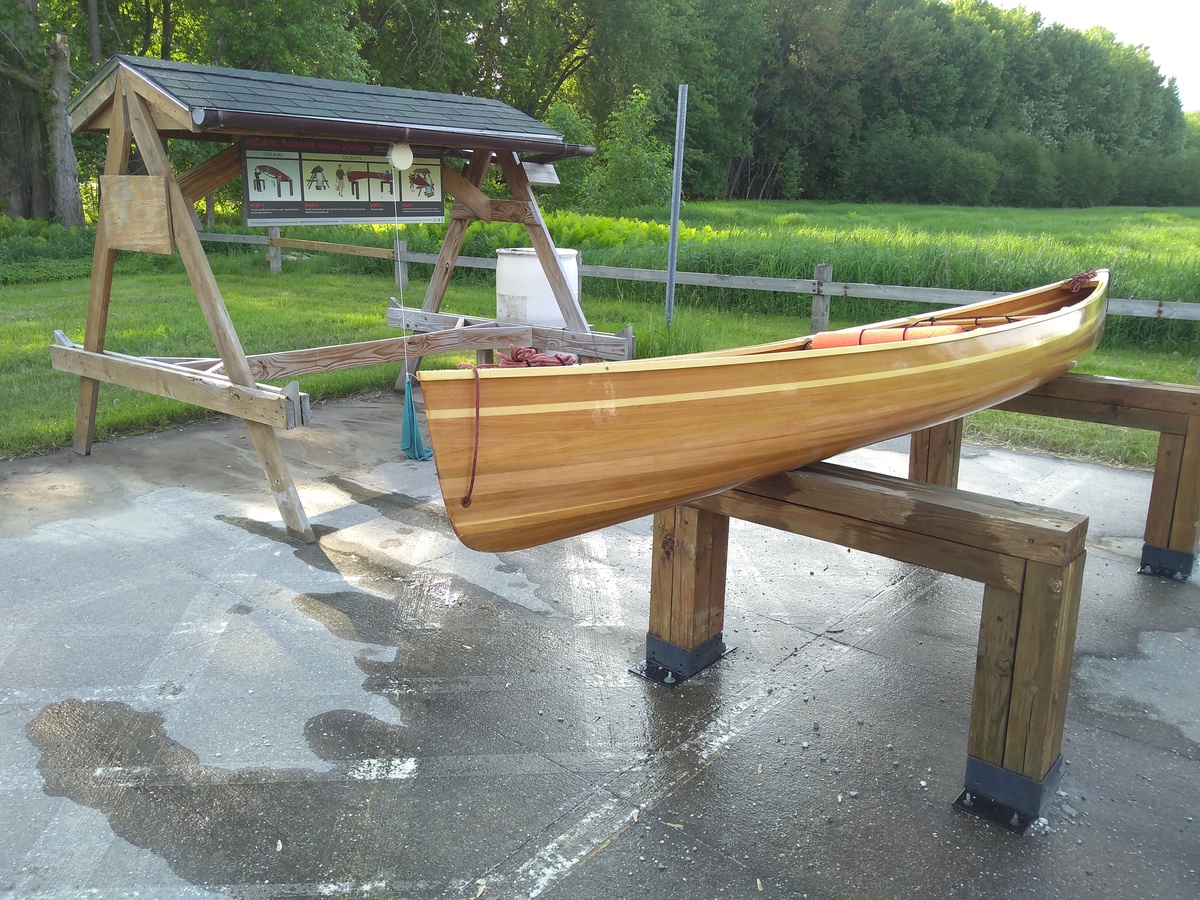 Leaving Lake Champlain I started up the Missisquoi River, through the Missisquoi National Wildlife Refuge. Saw many birds that I could not identify, plus lots of herons and a pair of Baltimore Orioles. I cleaned Fran at the invasive species wash station by Louie's Landing, and managed to get several liters of cold water from a construction truck that stopped by with a big Igloo cooler tied on. I ended up camping at the side of a field near Swanton, no official campsite nearby. Total of 36 miles over 13 hours, with not a single portage.
2018-06-02 Day 8 - Swanton to Enosburg Falls, VT
A long day during which Simeon was reminded that paddling upstream is harder than down, and that if he hopes Fran to survive then he'd better do more carrying and less fighting up little rapids. Not so much in the way of wildlife, lots of beavers and a muskrat. Several sets of duck and ducklings where the duck played the "catch me, I'm injured" decoy game.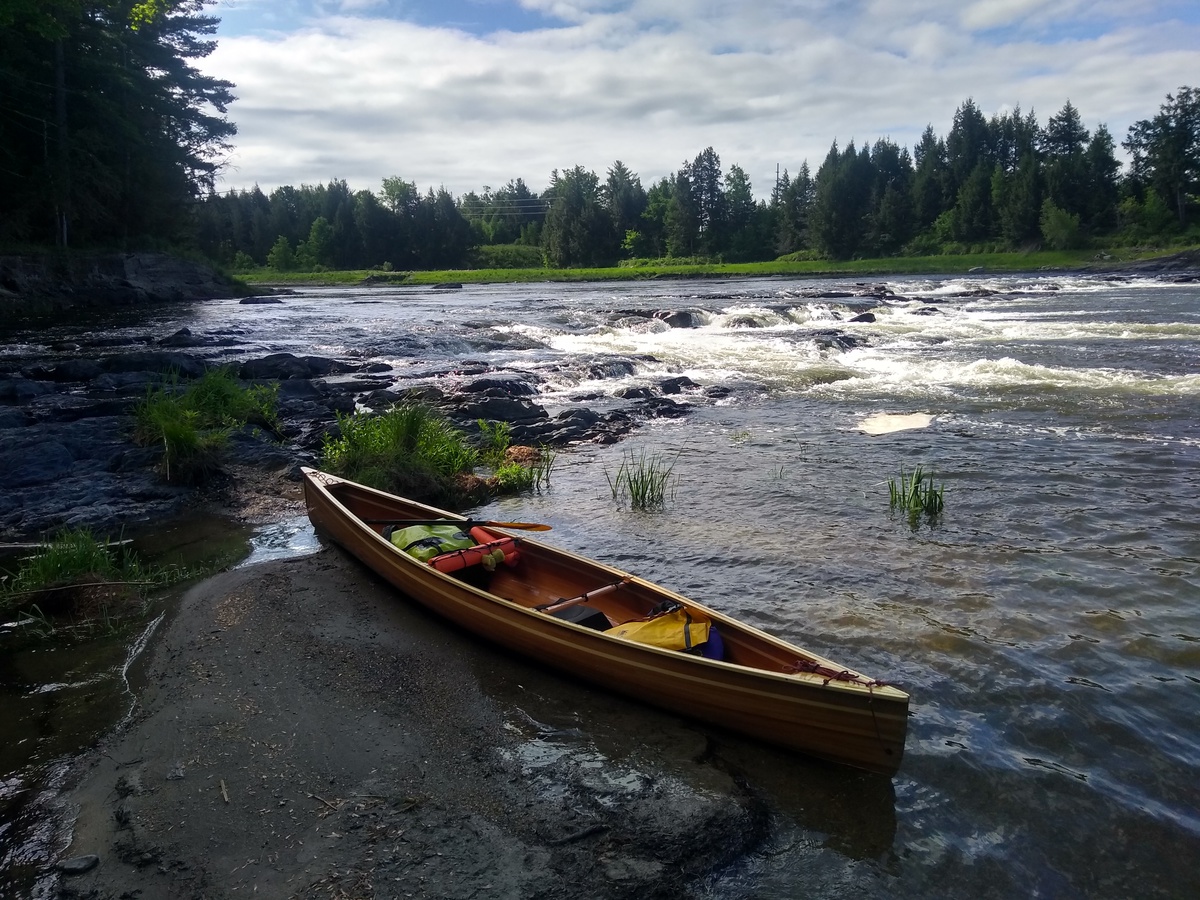 I slipped and dropped Fran a short way when putting in down a steep slope at East Highgate. I later concluded that this is where Fran got a small crack on the right side. I tried to go too far up the Abbey Rapids, dodging between rocks and eddies, before concluding that I should carry up to the rail trail. Finding a route up involved bushwacking and then finding a better route through a field to carry Fran and my pack. Once on the rail trail, I stopped for an afternoon meal at "The Abbey" restaurant.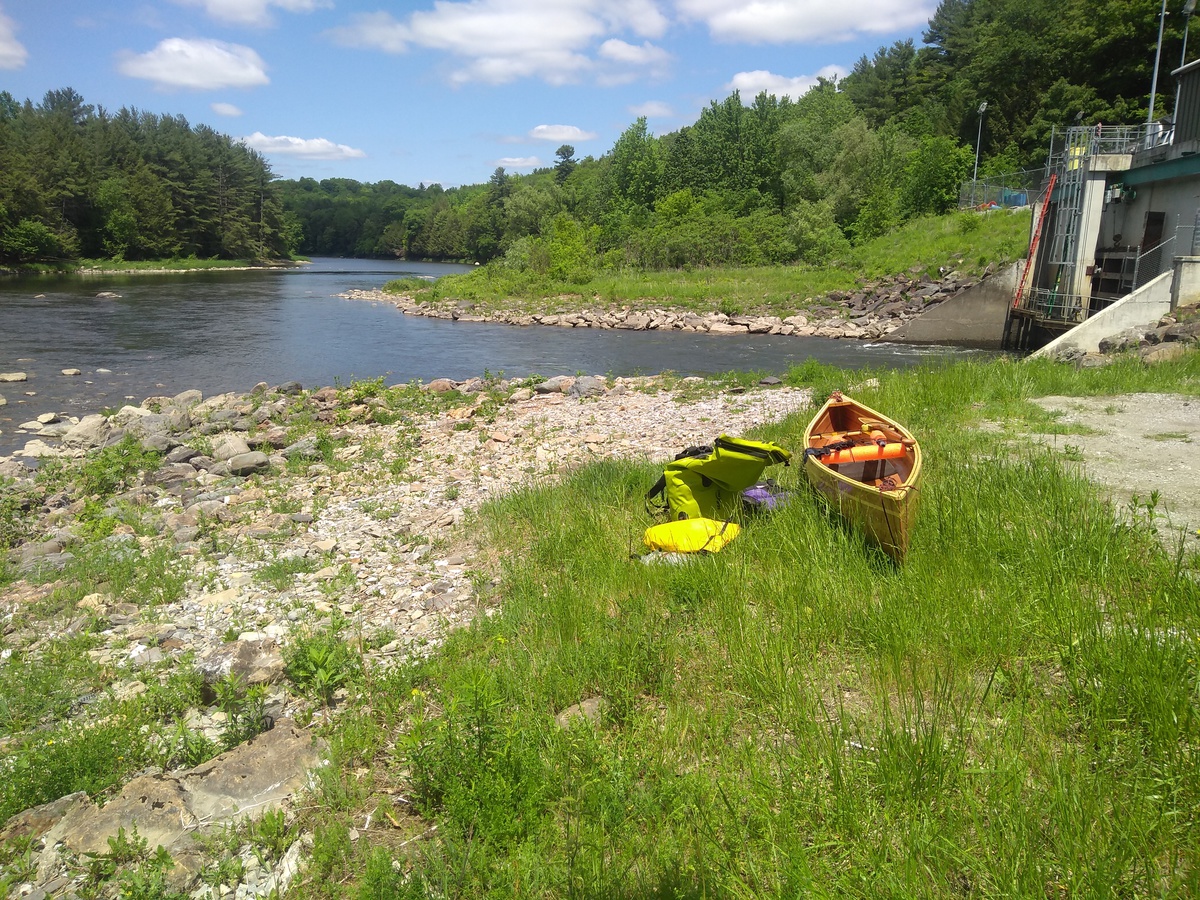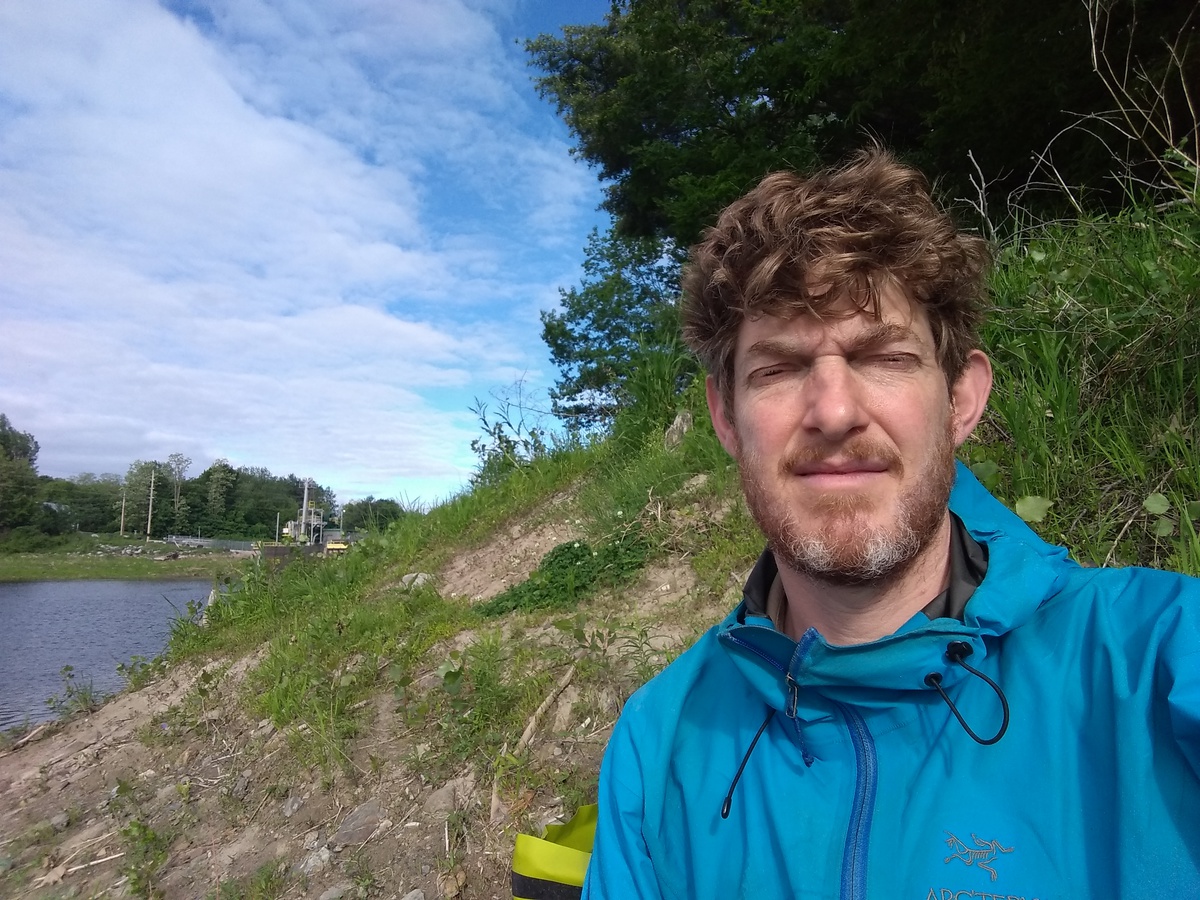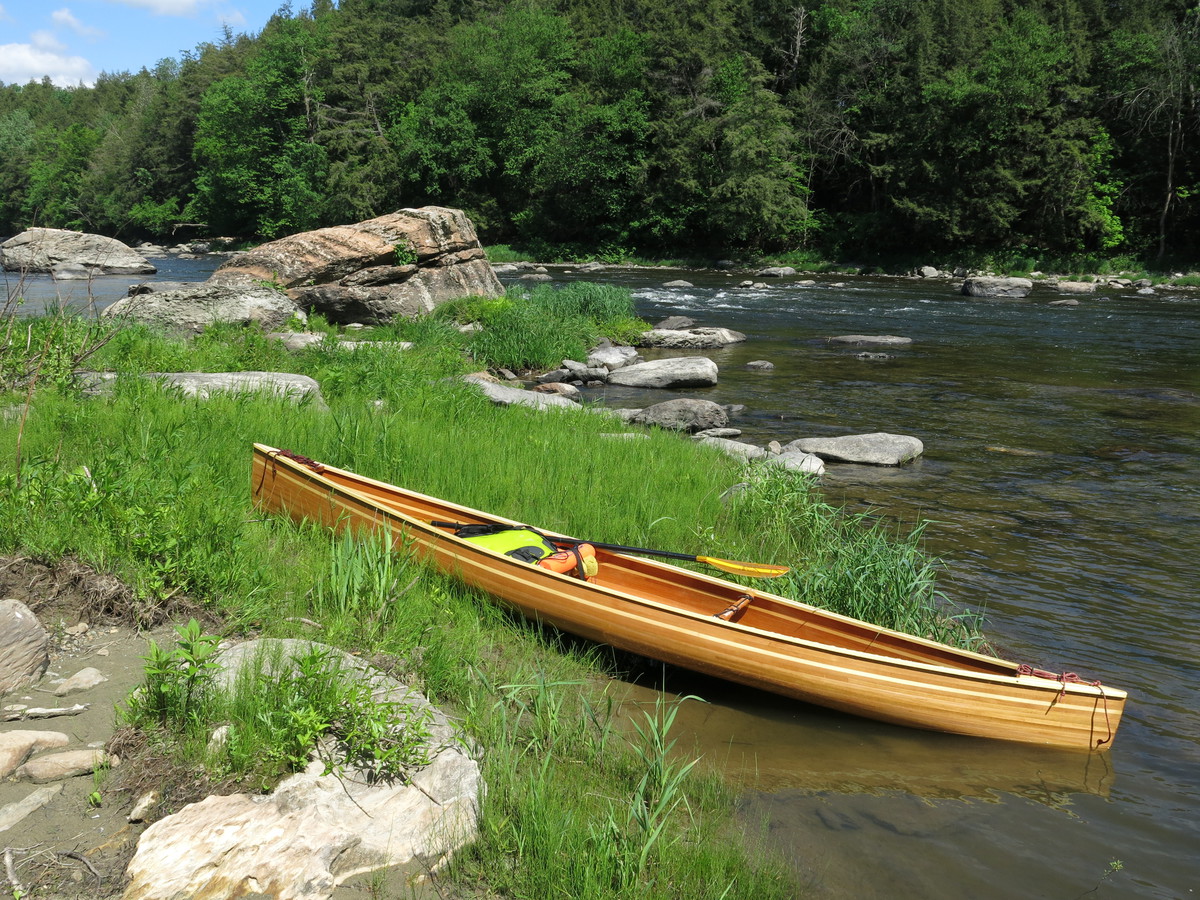 I underestimated how long it would take to get from Abbey Rapids to Enosburg Falls. The river had a number of shallow sections and steady current against me. I mistakenly pushed on up a series of ledges with a number of small portages to the Enosburg Falls carry. I should have taken out at the canoe access downstream of town and walked that last half mile. I arrived just as it got dark, watched a great firework display for local festival, and then fell into a deep sleep at the Lawyers Landing put-in. 26 miles, of which 4.0 miles was portage.
2018-06-03 Day 9 - Enosburg Falls to Richford, VT
Started off buying breakfast, supplies and duct tape. The latter to cover a scrape in Fran that shows signs of letting water in to the wood. The previous day was not kind on Fran, while most scuffs are cosmetic I decided that needed to take out and carry or wade sooner. I felt I was getting used to up-river travel a bit.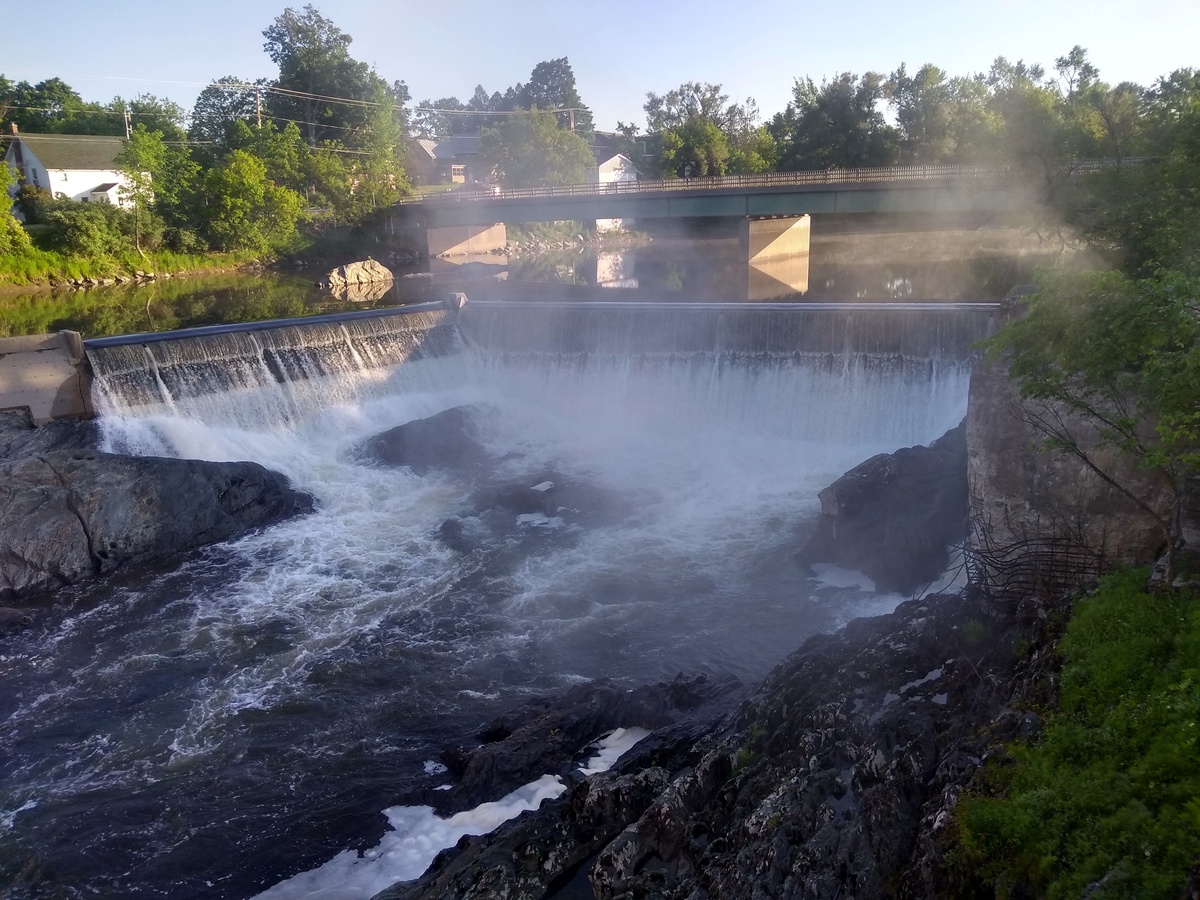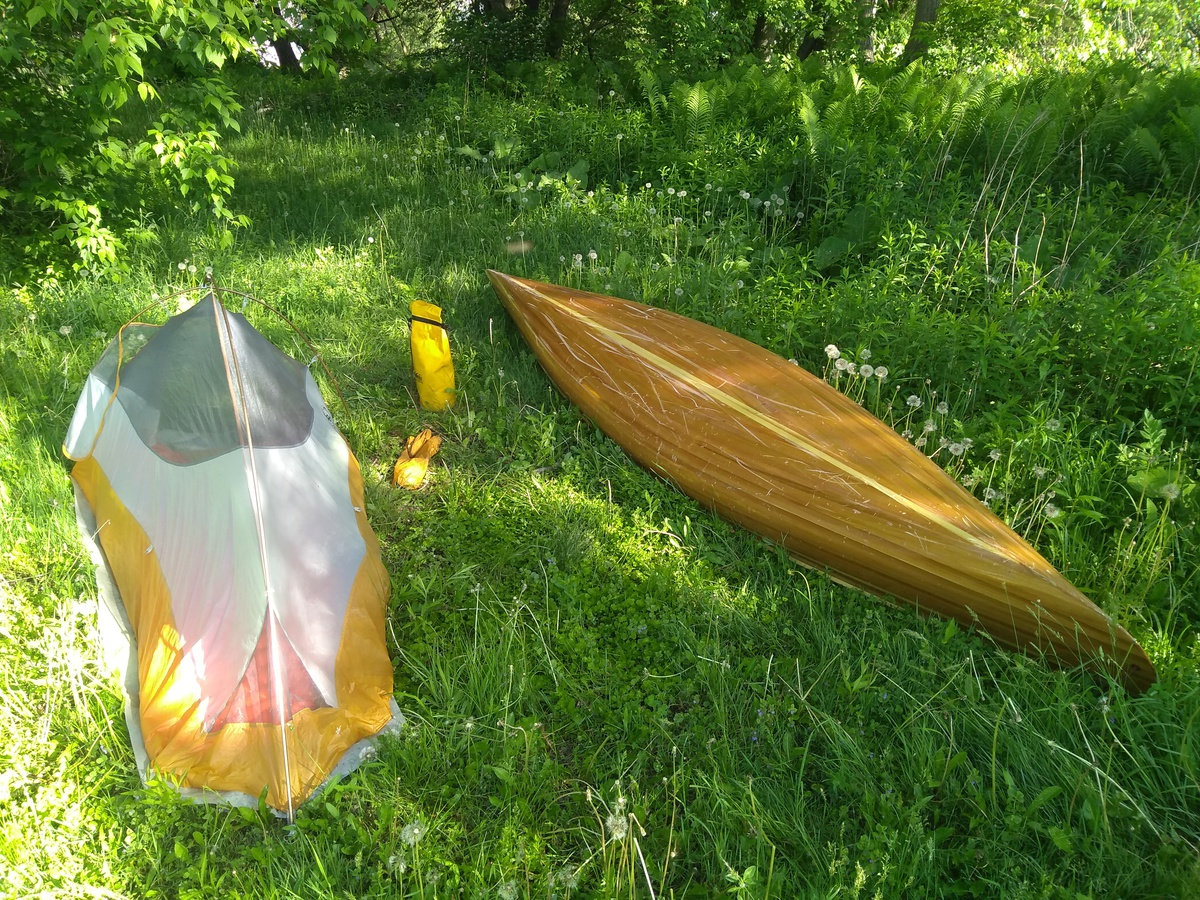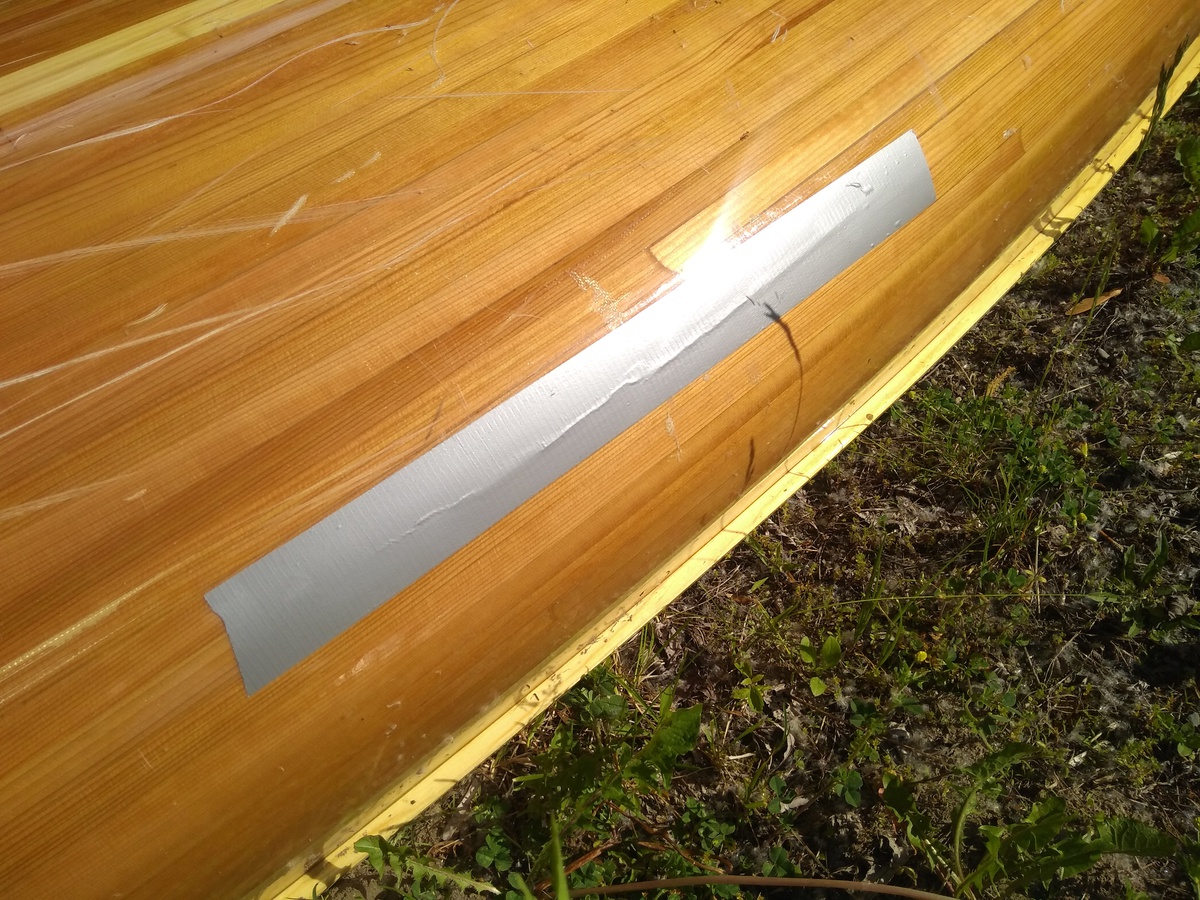 I started at about 9am and made it to Richford around 3pm. Quite strong current in places and lots of wading through shallow water over gravel banks. I left the river a little over a mile from Richford to avoid the Magoon Ledge.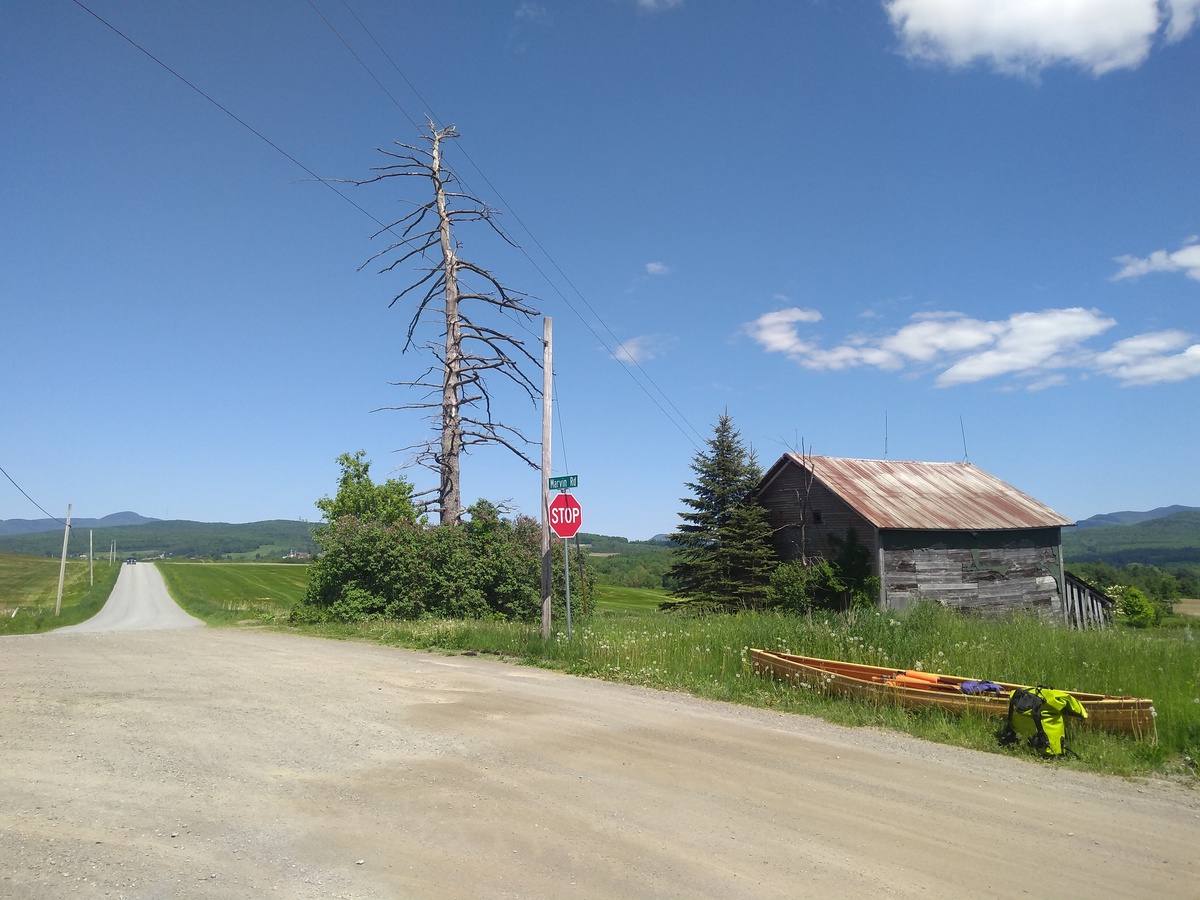 Unfortunately, the usual border crossing into Canada was about to close for bridge works meaning a long portage. I decided that it was too late to push on with this and that I'd stay at the beautiful Grey Gables Mansion, a B&B run by Deb and Tim that has housed many NFCT paddlers. Just 16.0 miles, of which 1.5 miles was portage, plus some wading.
2018-06-04 Day 10 - Phone hassle day in Richford, VT
The last thing I did on Sunday was stupid: after wandering around Richford and finding that dinner options were either gas station pizza or the supermarket, I decided on bread and hummus from the supermarket. Not silly so far, but as I made that decision I packed up my stuff, jumped off the wall I was sitting on, and forgot my phone. When I returned a couple of hours later it was gone!
With host Deb's help we put the word out around town that I'd pay a reward and I left a note saying the same on the wall. To cut a long story short: nothing had showed up by the morning so I assumed it probably wouldn't. Host Tim extremely generously offered to drive me 30 miles (!) to get a new phone, which we did. On returning, some folks brought my phone back with the note. We then drove again to return the new phone (excellent 14 day indecision period, no penalty), and then I set about reinstalling stuff on my old phone after the factory reset I'd set up via Google for when it came online.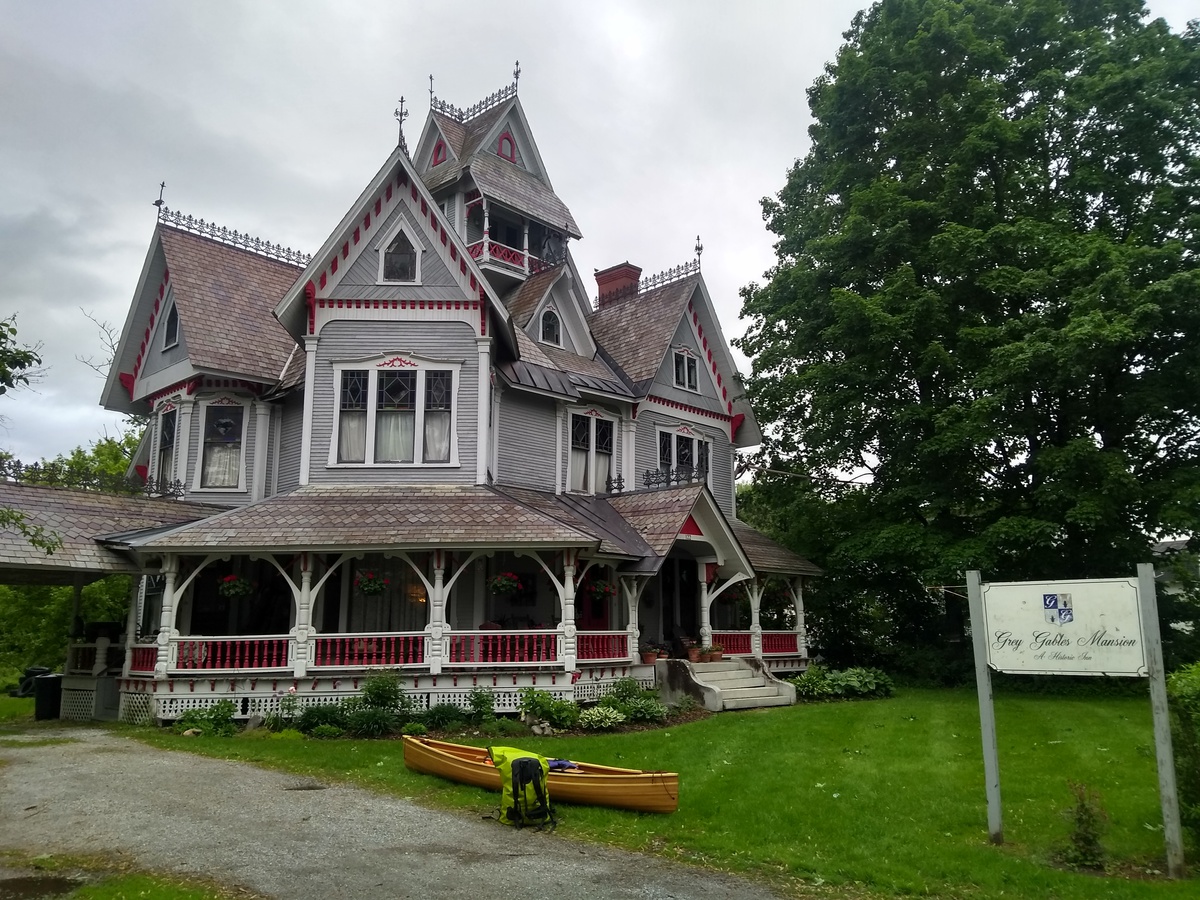 So, zero miles on the river, quite some driving, considerable hassle, some $$ shorter for reward, and much gratitude to Tim. All set to leave next morning after another comfy night at Grey Gables Mansion.
2018-06-05 Day 11 - Richford, VT to Perkin's Landing, Quebec
The usual border crossing into Quebec, up the river in East Richford, closed on 3 June for bridge works. This meant an extra 8 mile portage over a big hill in order to use another crossing. The Canadian guard did look at me with some incredulity as he warned me of the hill. It was long but I completed the portage in about 4 hours and it didn't seem too bad.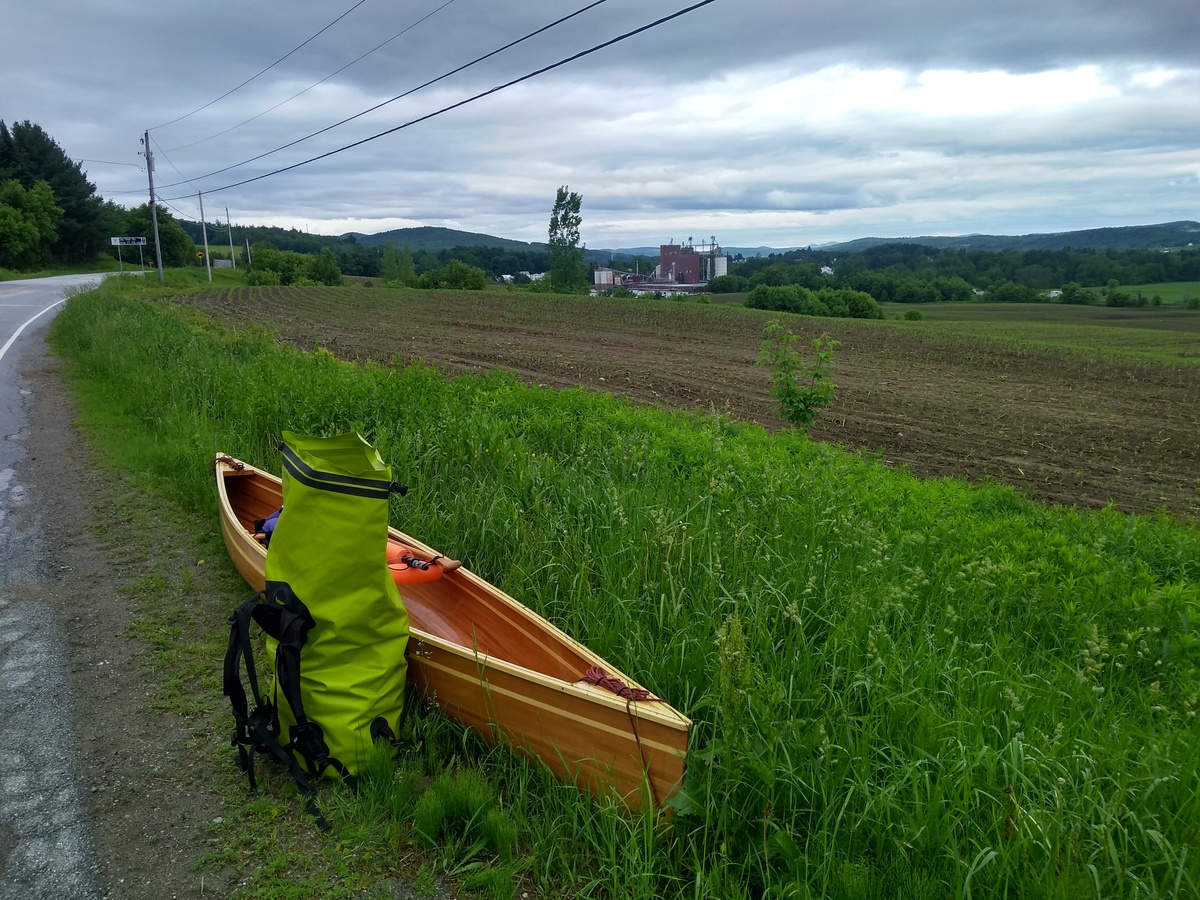 Back on the Missisquoi the paddling was lovely. I was still going upstream but the water was deeper and less swift. At all constrictions I was able to find a way to paddle through. Around mid-morning I passed by a huge group of school kids, perhaps 60, floating downstream on sit-on-top kayaks. I think these were the first human-powered vessels I'd meet since the Adirondacks.
At Highwater the NFCT route turns on to the North Branch of the Missisquoi. This was smaller but still pleasant all the way to the portage at Masonville. There I found food in an excellent Polish deli, and I was even gived a shot with my meal.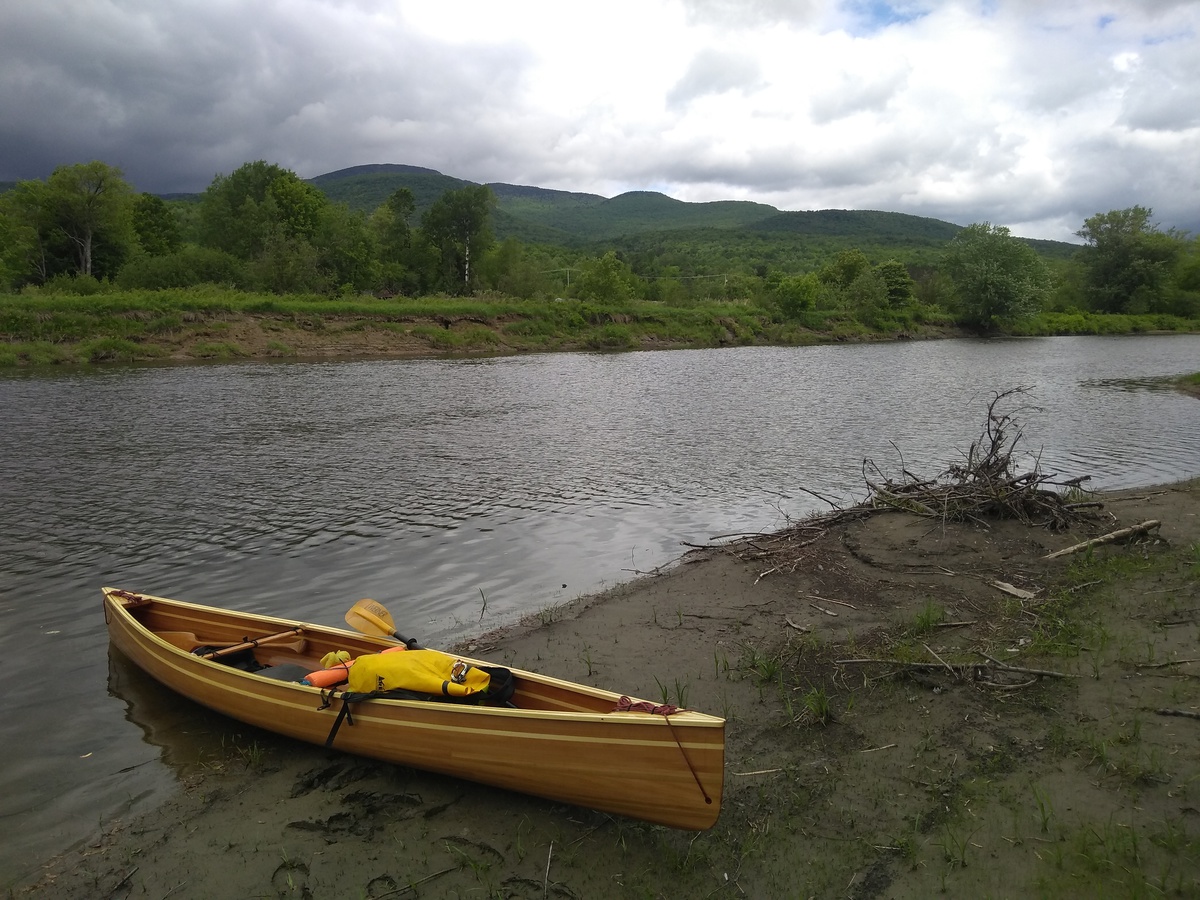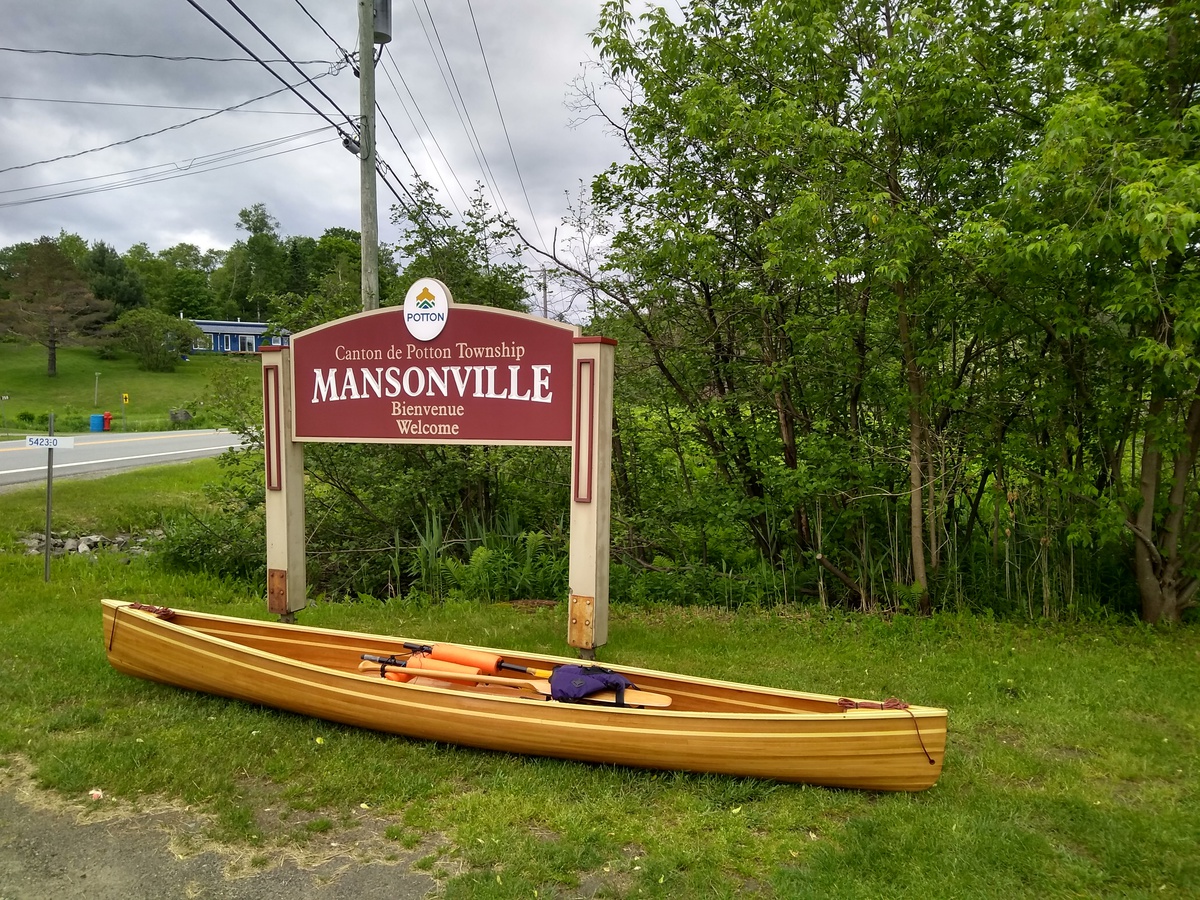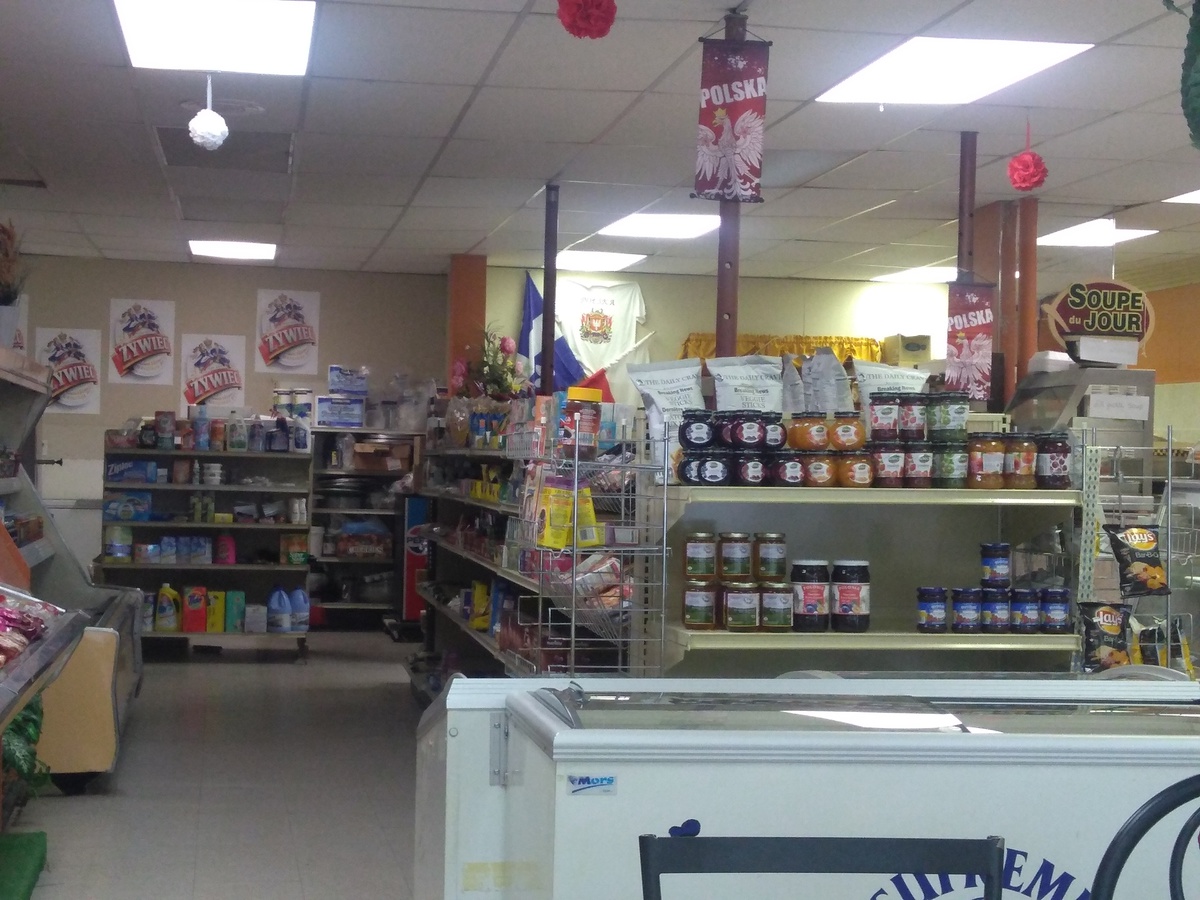 Still feeling quite good I decided to continue on and do the 6 mile Grand Portage over to Lake Memphremagog. I was tired when I arrived but felt OK, just my usual ankle aches. It was almost dark when I arrived and already camping by the Perkin's Landing boat launch were Peter and Grant who I'd met briefly in Richford. It was fun to have some company for the evening. 30 miles, of which 14.4 miles was portage.
2018-06-06 Day 12 - Perkin's Landing, Quebec to Newport, VT
At Perkin's Landing I got Fran pressure washed and issued an official washing certificate to allow me to put-in on Lake Memphremagog. I spent a pleasant morning paddling 12 miles south on the lake back into the US, and to Newport, VT (it is a big lake, about 32 miles long in total), for some of the time near Grant and Peter's canoe for some chatter. At one point a Bald Eagle swooped out in front of us from a tree to one side of the lake, quite majestic. The weather deteriorated as we approached Newport to provide both rain and wind to whip up waves. In Newport one has to officially enter the US by speaking to a boarder guard by video phone on the dock. This was a rather cold process in the wind, but quite amusing given questions not designed for someone paddling a small, self-built canoe.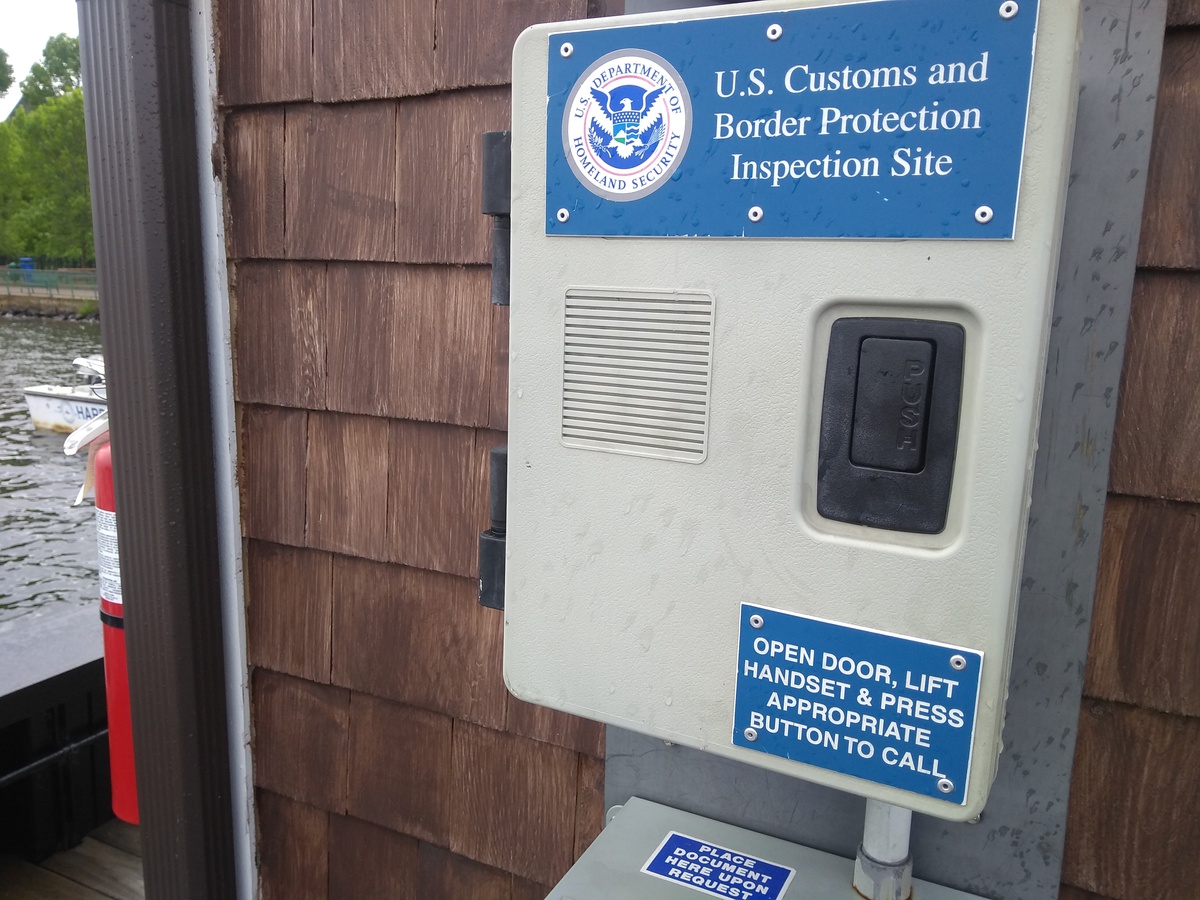 We at a diner meal and I bought a new gas canister for my stove at an outfitter, then I headed off. The way on is up the Clyde river and after a short while it is necessary to portage again. The mandatory portage is followed by a couple of miles of rapids so I opted to portage about 3 miles to Derby Center in order to get around all of it. Unfortunately, at some point my left leg decided it had had enough. I sat down for about an hour by the side of the road hoping it would feel better, but it did not. At that point I decided to bail to a motel I'd passed about 0.5 miles back and see how I felt next morning. That walk took quite some time and I relied upon my canoe paddle as a walking stick (still with pack and canoe on my back). About 15.5 forward miles, of which 2.5 miles was portage.
2018-06-07 Day 13 - THE END
My leg didn't feel better in the morning and sadly I decided that it was best to call it a day. I managed about 273 miles of the 740 mile trail in 12 days, about 37% of the total distance, about 42 miles of portage. I still have to get up to Maine to paddle the Allagash someday…