A log from my cross country bicycle trip starting in Seaside, Oregon (because it has a funny name for a seaside town) to Beverly, Massachusetts (because it is on the other side and I have good friends there).
Preparations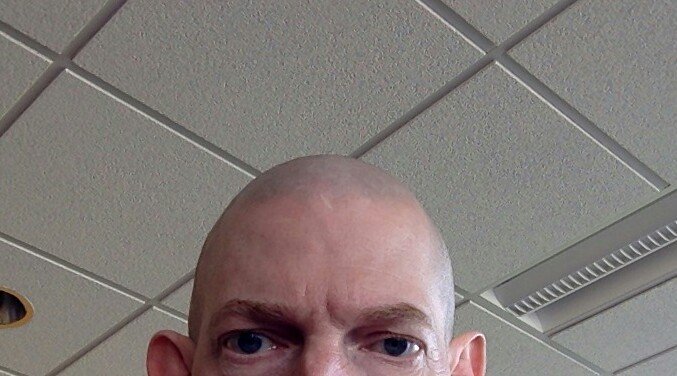 Streamlined for the trip (watch out for sunburn!)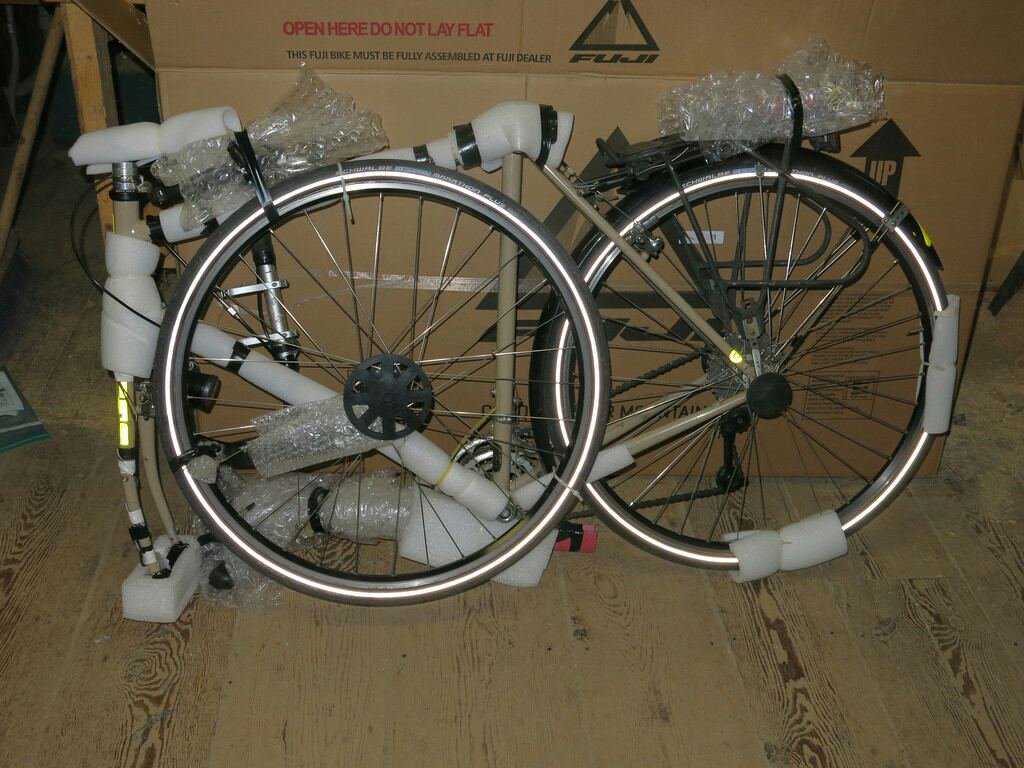 Bicycle packing… I hope the baggage handlers will be gentle (pretty please)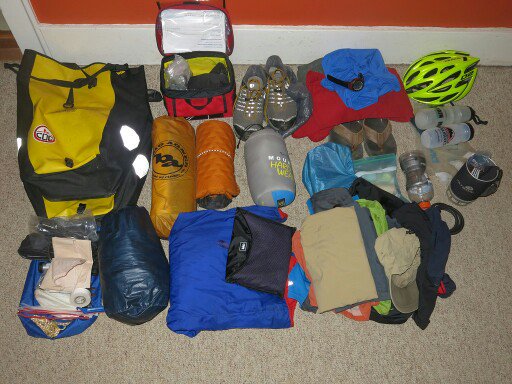 Everything on the packing list in a big pile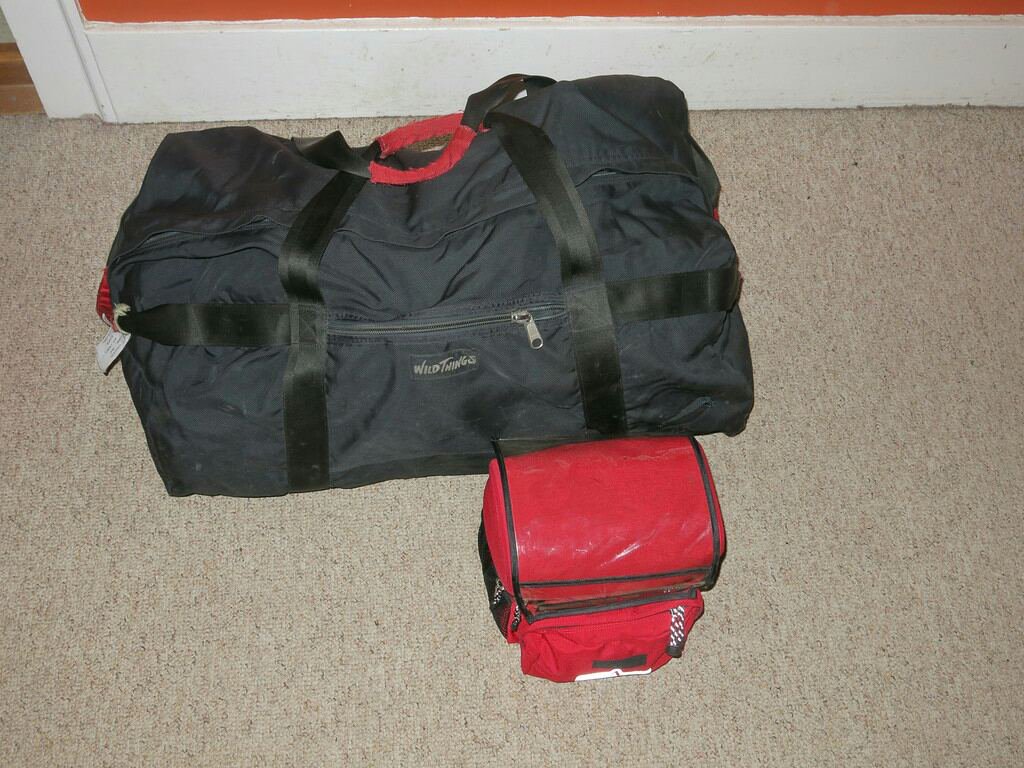 Everything from the big pile in a big bag…
Flights to Portland, OR worked out well. The bike cost an extra $150 but arrived undamaged. There is a cool bike assembly station at the airport. After a night sharing a motel room with someone doing the Trans Am bike race (making my plans seem tame), I got the bus from Portland to Seaside (which has a special bike locker) and stayed at the Seaside Hostel.
2016-06-04 Day 1 - Seaside to Portland, OR
The start. I left the hostel and cycled along the promenade to find a good spot to get a photo of the Pacific. The moment I turned away from the sea the mirror fell off my bike. I deposited it in a trash can and decided to ignore any omen, out of town on rt101 south and to the junction with rt26. Got breakfast at a diner/bar there.
Go east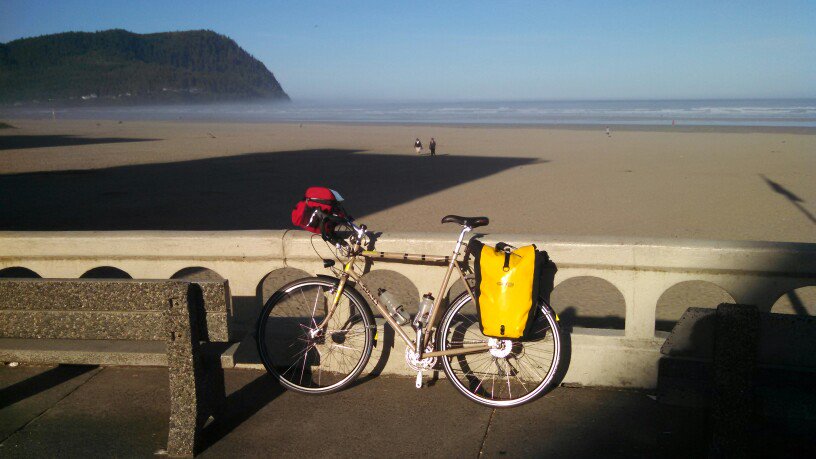 Rt26 east climbs over the coast range and I enjoyed the shade. Down on the flats after the hills it was blisteringly hot and the road got busy. Exited at 185th St. and was very tired on the climb to Skyline Drive and into Portland.
Reached Tom and Andrea's at 6:20pm, delicious BBQ shrimp and beer. About 84 miles including going over coast range, 1640'.
2016-06-05 Day 2 - Portland to Hood River, OR
Up early because Everett wanted to play, then enjoyed eggs and good company before finally setting off at 8am. Along city roads to Troutdale, a pretty town giving access to historic rt30. A hot hill climb to a wonderful viewpoint at the "Portland Women's Forum". Then down into the gorge and past many waterfalls, with many tourists.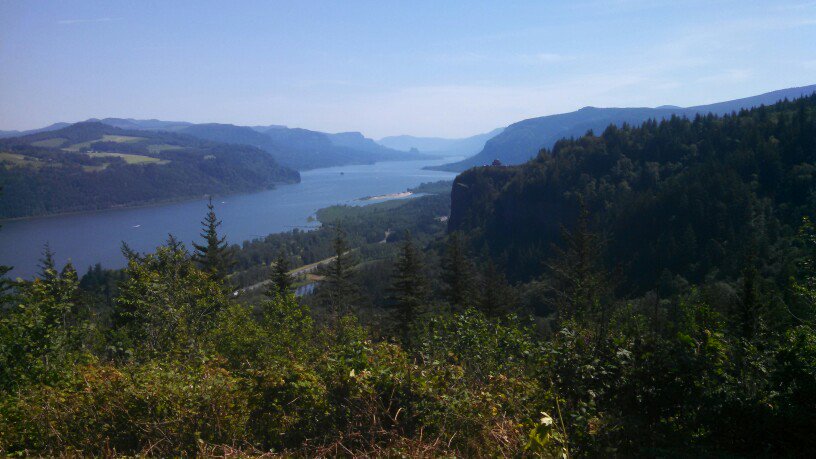 Stopped in Cascade Locks for lunch and to sit out the heat a little. Roads beyond were less good: following the Wyerth Bench avoided I84 for a bit but at the expense of a significant hill. Eventually there was no option but to ride I84 (first time on an interstate by bike – it is allowed there) to Hood River. Hot and scary.
In Hood River there was quite a climb to the "Heights" district (who would have guessed?) where I had an airbnb. Arrived ~4:30pm, tired and hot. Hood River is an amazing location: Mt Hood on one side, the Columbia River & Mt Adams to other. About 72 miles.
2016-06-06 Day 3 - Hood River to Cottonwood Canyon, OR
Alarm at 5:30am but slow, left at 7am, excellent bread pudding from Heights Bakery. Followed the beautiful Historic Columbia River Gorge trail to Mosier, past "trail closed" signs, only to be turned back by police at a train wreck. Had to ride about 10 miles back and then get on I84 again for a long way. Scary again – some bridges have just 4' shoulder! Happy to exit to rt205 at exit 97, even happier to find a state recreation area on the Deschutes river a few miles on. Long siesta 12noon–3pm, cool, good water, lovely swimming, and many many birds.
Siesta by and in the Deschutes. An oasis of green & birds & cool. Tough life but someone has to do it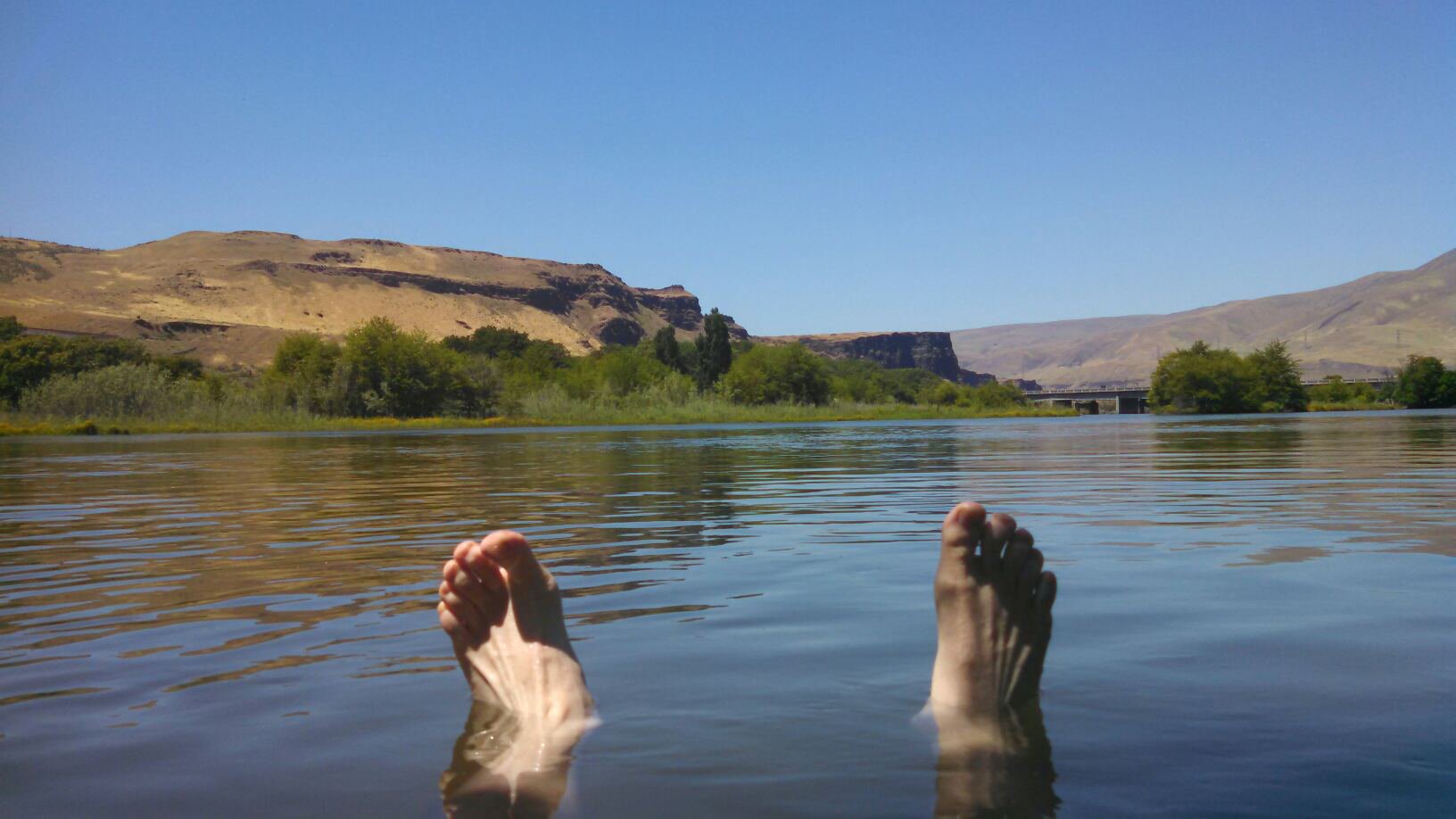 The Dalles gives way to arid east Oregon, first signaled by a waft of sagebrush scent that momentarily overpowered interstate 84's.
I followed US30 to Biggs Junction, got and ice cream and then ground my way up the long slope to Wasco. Found an open store for more fluid a good rhubarb pie, then wearily on to Cottonwood Canyon campground on the John Day river. The camp warden stopped by to give me fruit, ice and beer – what more could I ask for?
It was windy in the campground and I think it would have been hard to set up then tent fly on my little tent, but the weather was clear and the mesh inner plenty. About 84 miles including detour for train wreck.
2016-06-07 Day 4 - Cottonwood Canyon to Spray, OR
Up at 5am, on the road at 6:30am, starting with a long slog up-canyon and then on and up to Condon for breakfast. Onward to Fossil for lunch (burger and lots of fluid). Terrain is high, dry and hot. Water is my first need, about 1 bottle (0.75l) for every 10 miles in the heat.
From Fossil a gentle climb for 10 miles and then a steep descent to Service Creek. A storm front came in during the descent with wind blowing up at me, taking me from 30mph to standstill in a few seconds so decided to wait it out for a few minutes. A little rain and then the wind subsided significantly. Ate dinner at a cafe in Service Creek with interesting company. In one couple there was a very stereotypical rancher, white hat and all, he even joked about it when he ordered his ranch dressing: "because I'm such a rancher". A second couple, much older, seemed as much a comfortable part of the cafe as the chairs, they ordered the usual and I suspect told the usual jokes.
On to Spray and a nice municipal campsite right next to the John Day river, which was a lovely temperature for swimming. About 76 miles.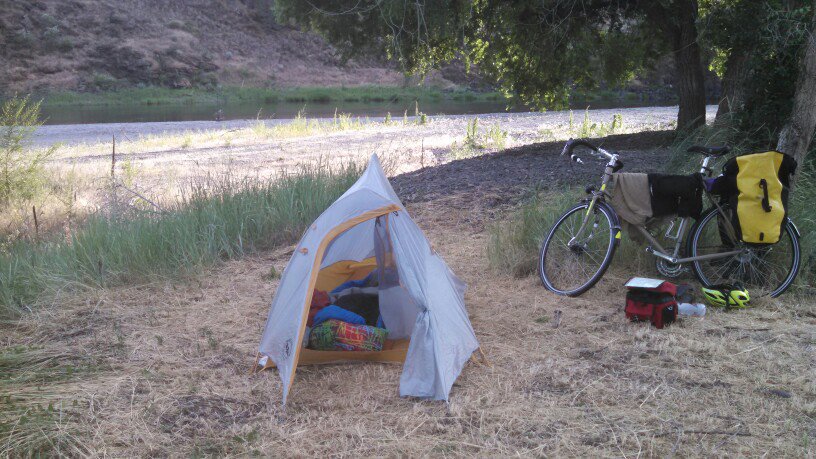 A day for snakes! Got rattled at by snake on roadside of the first climb, determined that snakes are the most frequent roadkill, and then ran one over in the evening :-(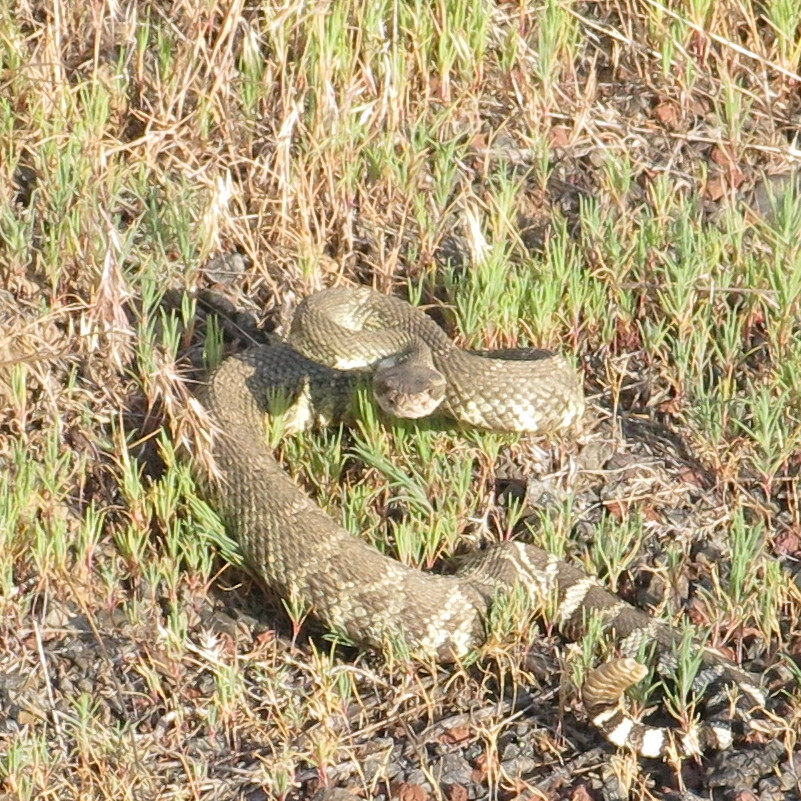 2016-06-08 Day 5 - Spray to Prairie City, OR
Up with the light (5am) and my by-now usual first-breakfast of coffee, bagel and peanut butter. Then off along the John Day, gently upstream but against the wind. Stopped for fruit at a small store and bought their stock – one apple – but then the cashier vanished out back and returned with about 1/2 lb of delicious cherries. The junction of rt19 with US26 was an impressive multi-layer lava and basalt column structure.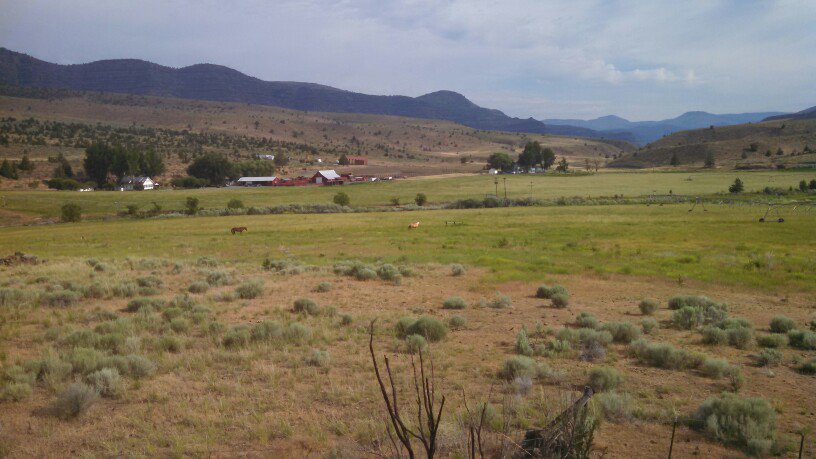 Caught up with 3 other touring cyclists at a cafe in Dayville. Apparently I'd just joined the Trans Am cycling route and I saw a total of 9 touring cyclists that day, as opposed to exactly none on most other days. It was fun cycling with others, the going was easy, and we had a tailwind. I stopped for a Gose beer at the "1188" brewery in the town of John Day. I caught up with the group again and then found still others at the city park, "The Depot" in Prairie City. It was a bit of a zoo but fun to have company. Mexican dinner with three women doing the Trans Am (2 from Los Angeles, 1 from South Carolina). About 83 miles.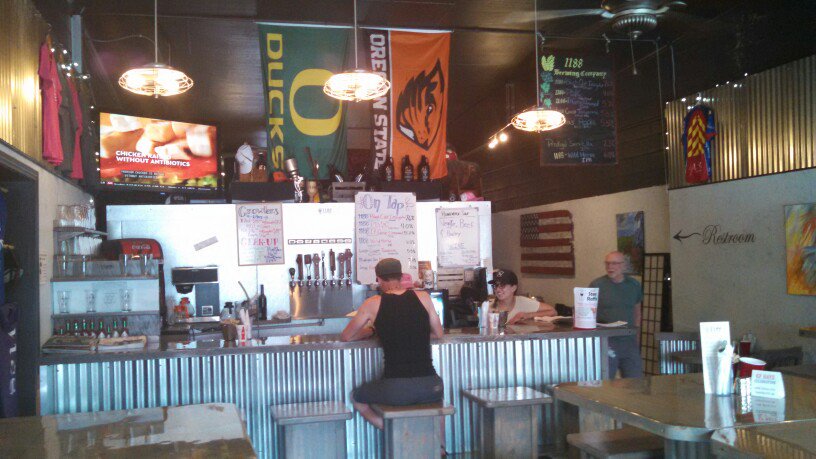 2016-06-09 Day 6 - Prairie City to Vale, OR
Up at 5:30am and chatted with everyone over breakfast. I didn't really want to deal with group dynamics on the long climb out of town (1700' elevation gain) so I decided to leave before everyone else. Generally folks seemed very slow packing so this was not hard. I was immediately happy to be away from the zoo and Trans Am chatter, and didn't see another cyclist all day (though I did see a bike with gear outside a cafe after first hill). Aptly, there were many prairie dogs. Oddly, I already reached mountain time.
The hills were OK and I felt good getting to Unity for brunch (26 miles). The advice I received was that anything more until Brogan. From there I decided to plug on to Vale for a century and a motel room. The "Bates Motel" (really) wanted $70 but I found a place at the other end of town for $35.
Craving real fruit, a San Pellegrino "pompelmo" just led to dreams of real grapefruit. Boise perhaps? Today about 104 miles, first century for the trip, about 506 miles total so far.
2016-06-10 Day 7 - Vale, OR to Boise, ID
Banana, coffee, and off. Biked about 18 miles in the cool morning air to Nyssa, "The Thunderrock Capital" – I then found out that a Thunderrock or Thunder Egg is a type of geode. Good breakfast in Nyssa with the best hash-browns so far.
Irrigated farmland with many crops and the smell of fertilizer, near Nyssa.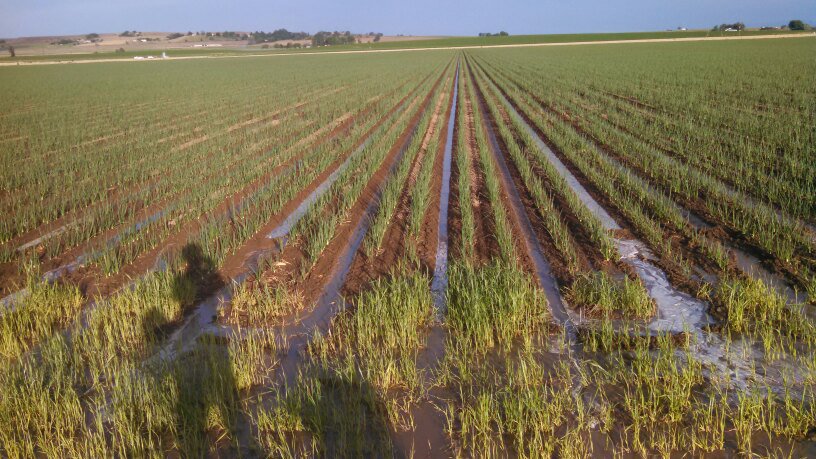 Easy riding on level ground to Boise with an amazing variety of irrigated crops including onions, wheat, alfalfa, spinach, mint and beans. Out of Oregon and into Idaho! First state line.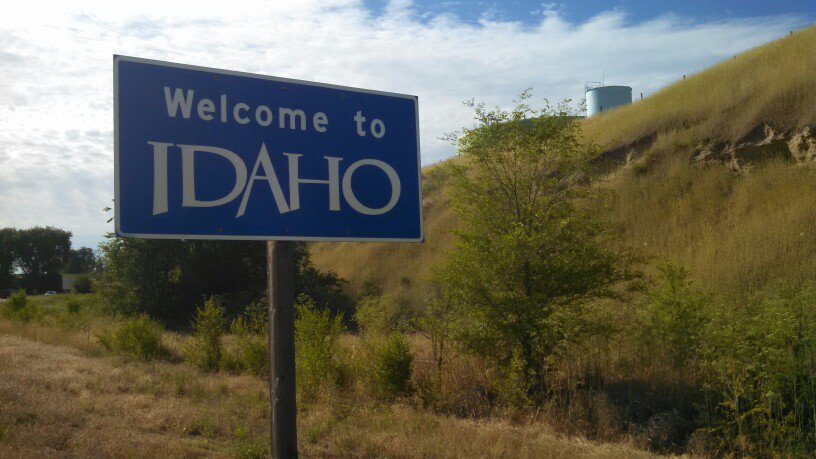 The last stretch into Boise was through sad and tedious new developments which finally gave way to the city proper. I found a bike shop where I bought a blinking back light (to supplement dynamo steady back light), a new light aluminum mug to replace the oversize JetBoil mug, some "Chamois Butt'r", and iodine tablets (just in case). Thence to "10 Barrel Brewing" ("Uberliner" - strong lactic sour; "Mr Duck" - saison – both good).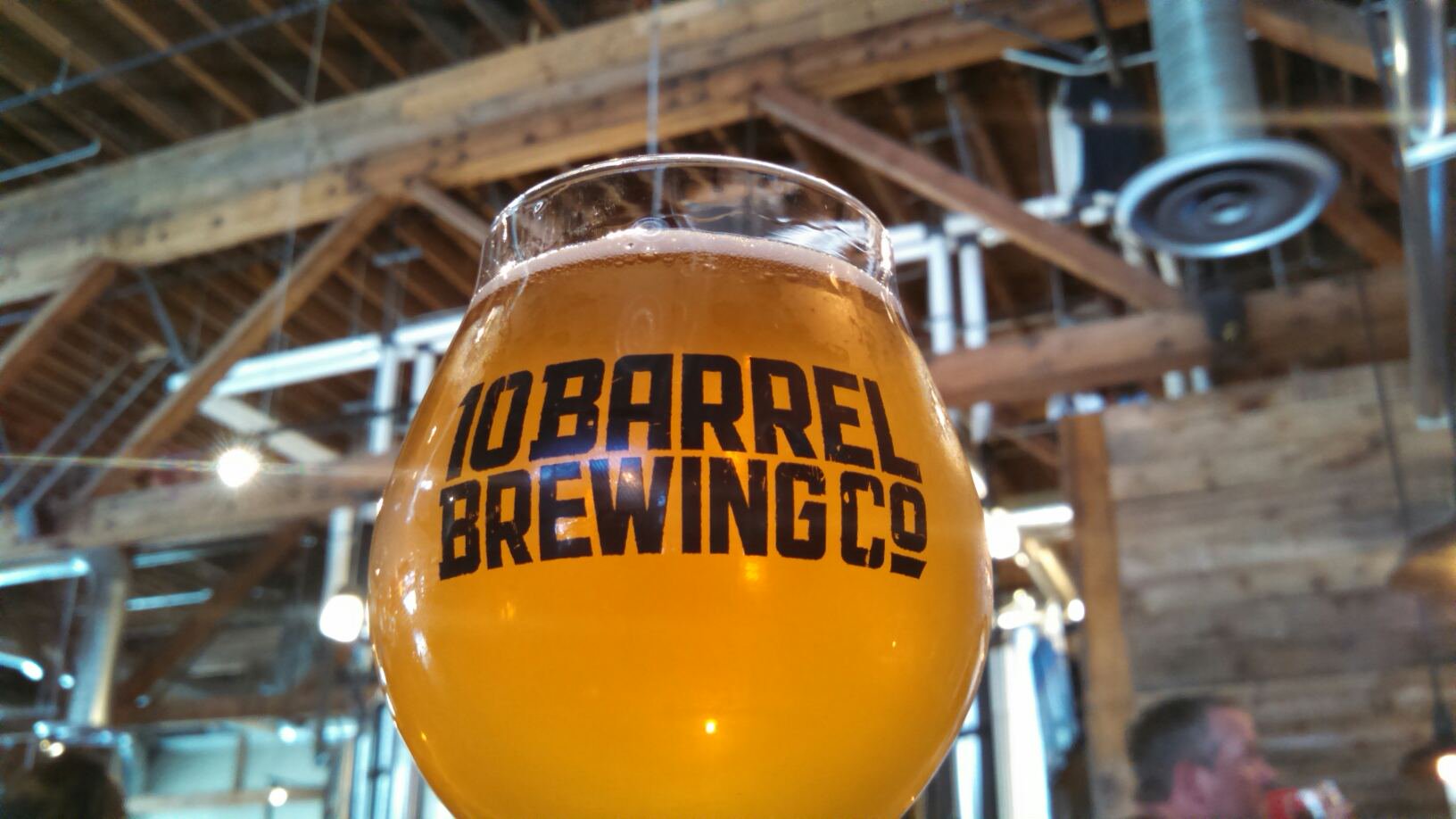 Onward along the canal to a supermarket (hair bungies to stop handlebar bag zipper pulls jingling & fruit). Found friends Rob & Jade's house easily. We shared beer as they packed for a raft trip. An easy 72 mile day with a comfortable bed for the night.
2016-06-11 Day 8 - Boise to Fairfield, ID
Up promptly and out into the cool morning (long tights and fleece top). To the east end of Boise on city roads and then onto I-84 by the Micron facility. I-84 was smooth with a wide shoulder so not bad at all. A tailwind helped me do 40 miles at 14.5 mph before breakfast in a diner in Mountain Home. When I went to leave I found the next table had paid for my breakfast and the owner wanted a photo with me in front of his restaurant, happy to oblige.
I found a post office to mail back surplus gear: JetBoil pot, a pair of socks, handlebar bag strap, and my baseball hat. The onto US20 and up a long hill (about 2000'). I didn't so much have a swarm of locusts visited upon me, but I visited them: For about 200' the ground was thick with them.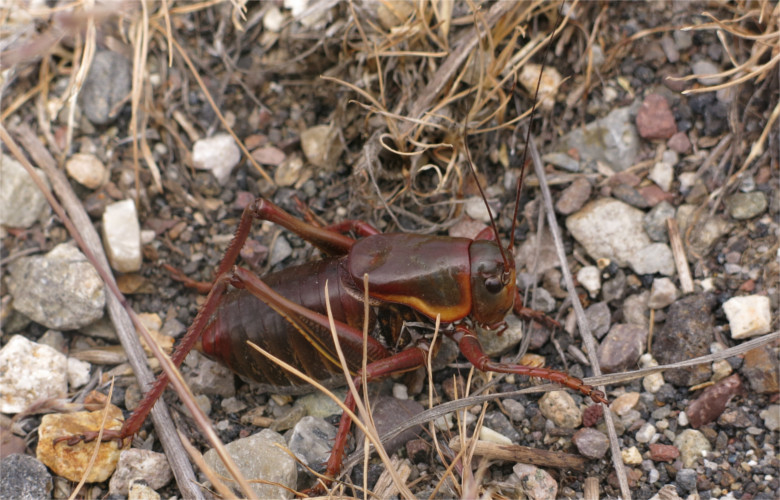 From the top at 5527' there were just a few rolling hills and then 20 miles into Fairfield. Connected with Warmshowers host Laura and ate a tasty pizza. About 103 miles.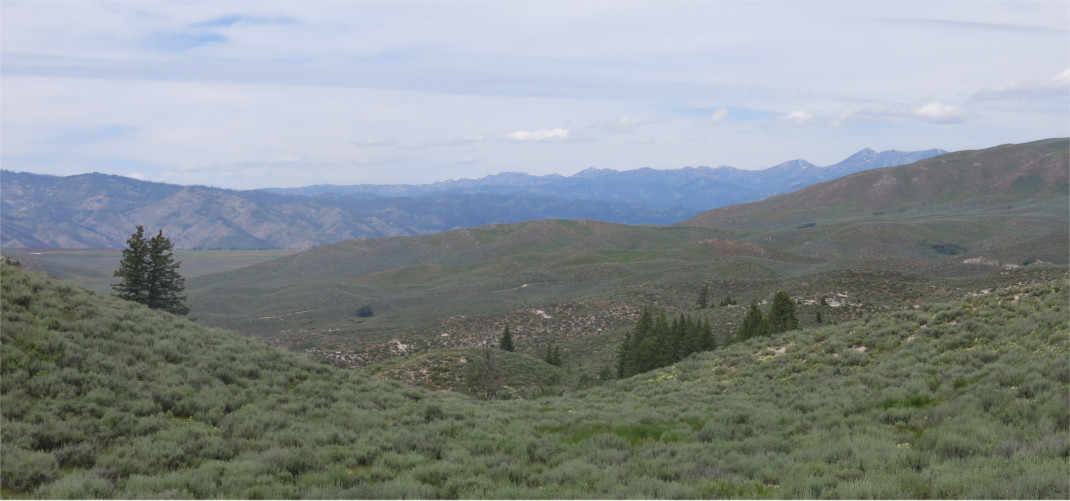 If only there were customers, this would be a beautiful micro brewpub location: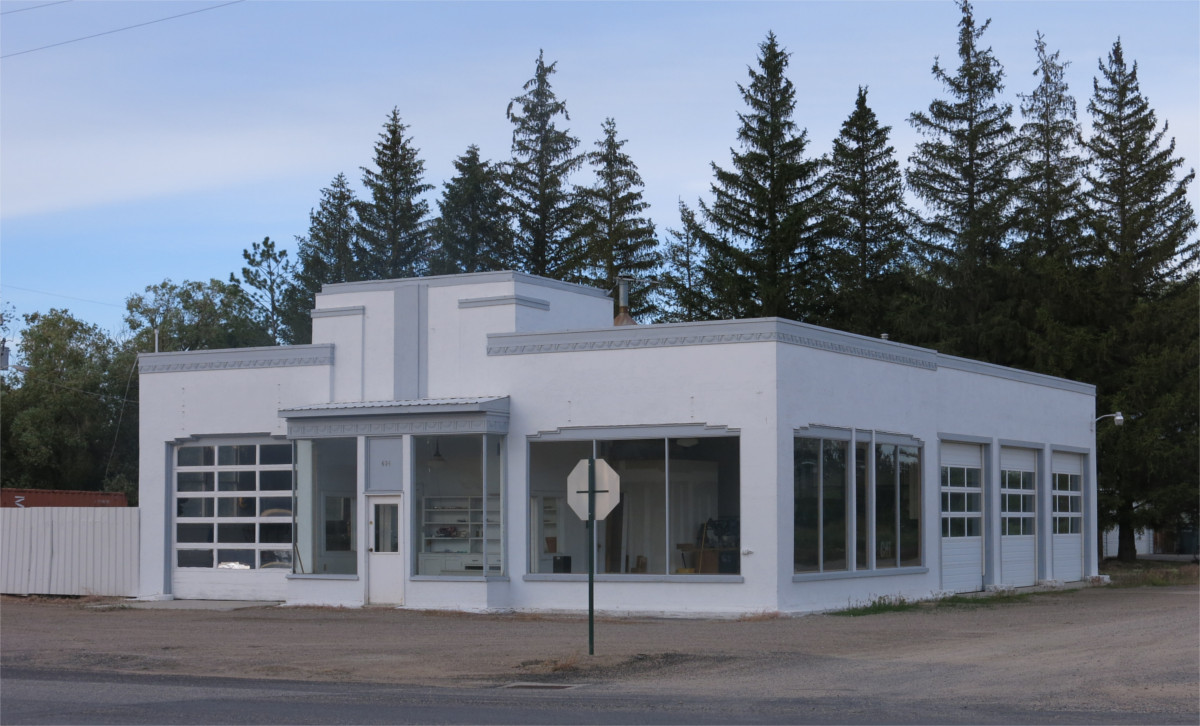 2016-06-12 Day 9 - Fairfield to Craters of the Moon Nat. Mon., ID
Breakfast of pancakes and scrambled eggs with my host, three little dogs and some cats. Suitably fortified I returned to US20 and made it to Picabo against a cold headwind (fleece gloves required) for second breakfast – apparently a very good place for trout fishing. From there, on to Carey and then to Craters of the Moon National Monument with increasingly otherworldly terrain.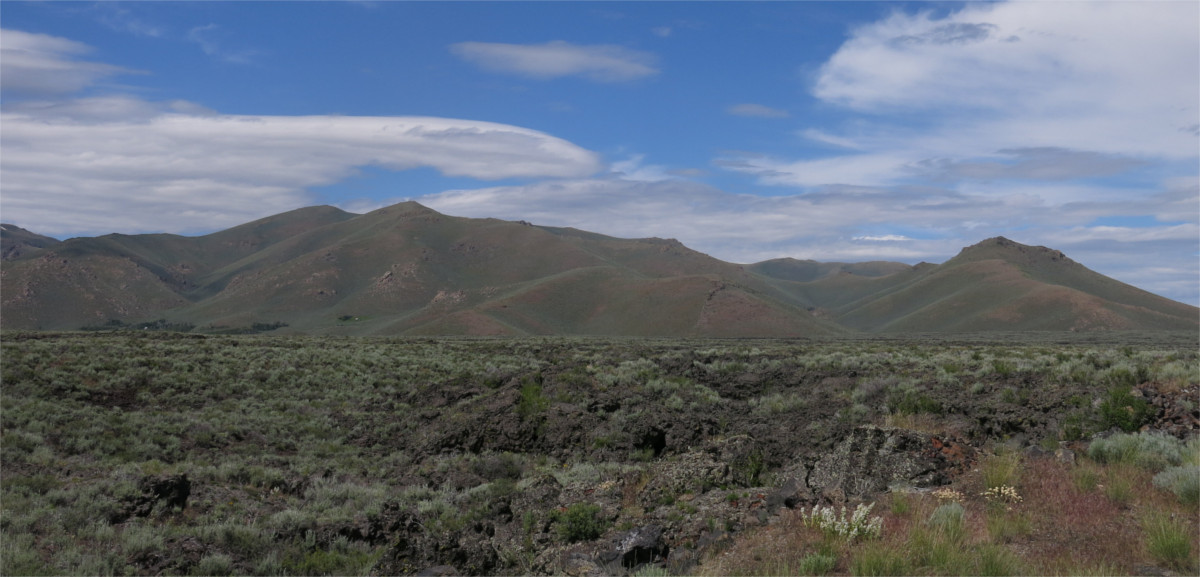 Arrived early (3:30pm) and so had plenty of time to explore. Huge lava flows and an amazing array of wildflowers in the cinder, with chipmunks eating them. Good ranger talk about the moon in the evening. About 73 miles.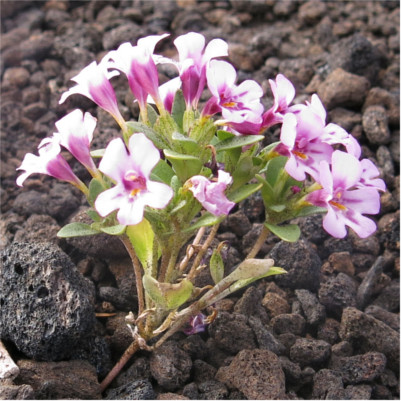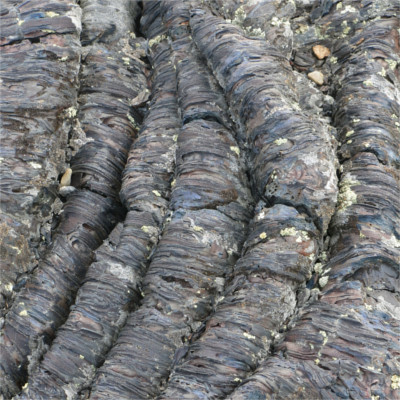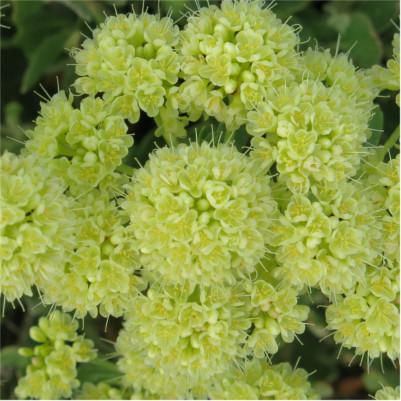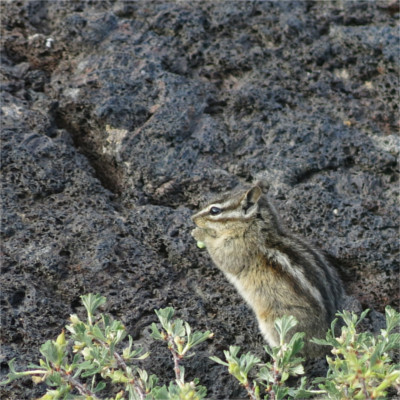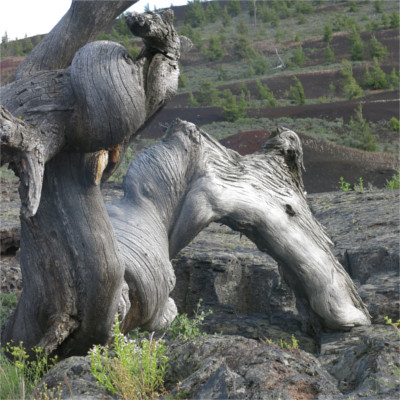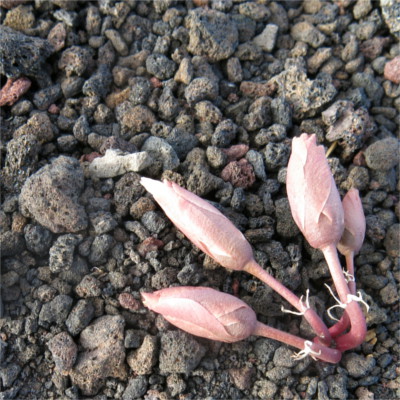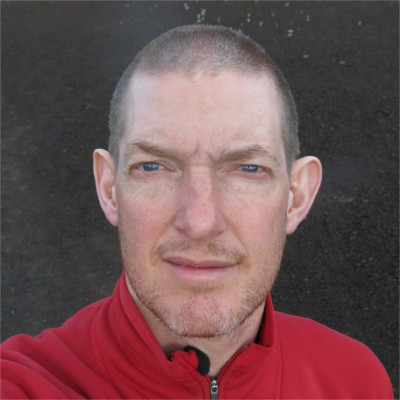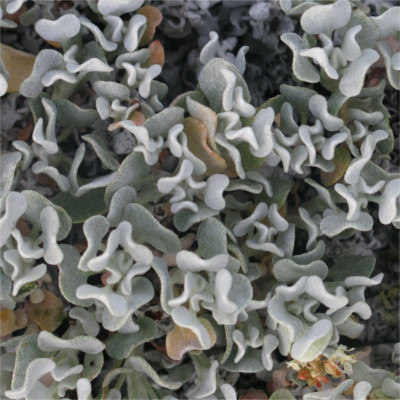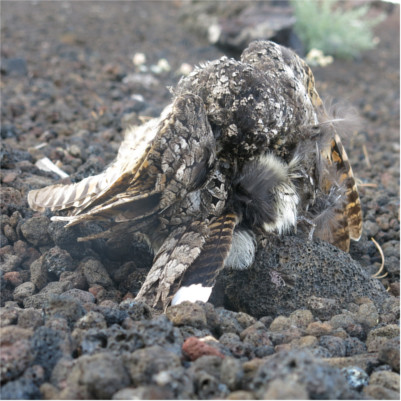 2016-06-13 Day 10 - Craters of the Moon Nat. Mon. to Dubois, ID
Up at 5:30am and the new coffee cup worked well on my Trangia burner. Easy cycling 20 miles to a good breakfast at "Pickles" in Arco. I seem consistently hungry. Decided to go to Rexburgh but later changed my mind to go along the mountains to Dubois because the wind was more favorable.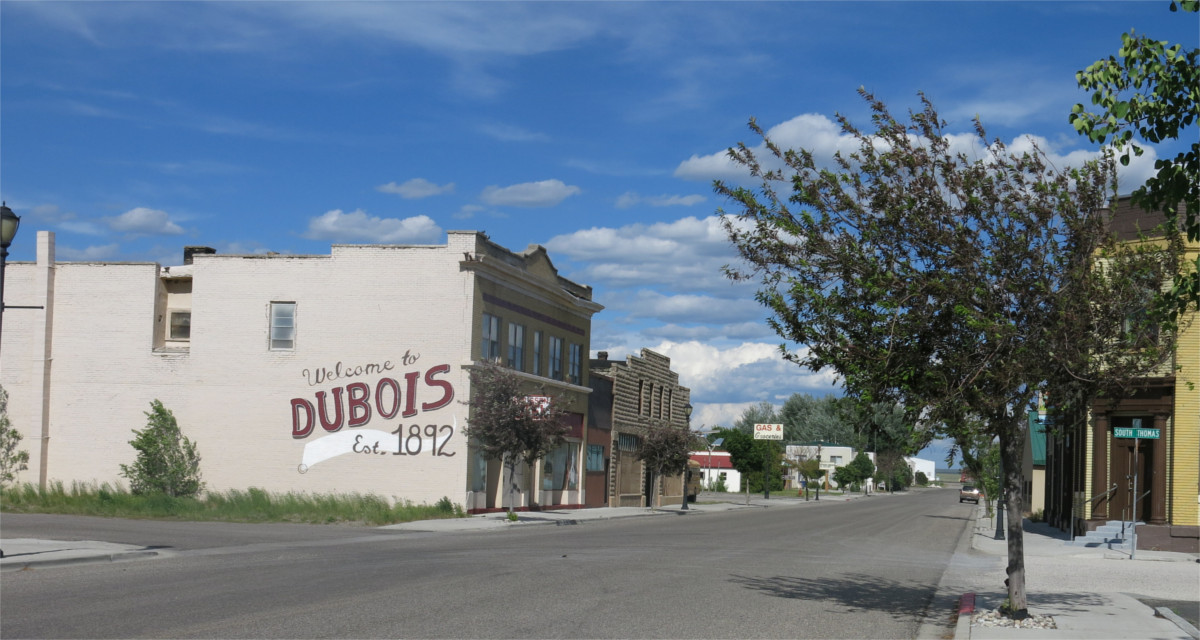 Most of the land I passed is devoted to beef production, but I didn't see any cattle. Hay and alfalfa are grown, baled & shipped.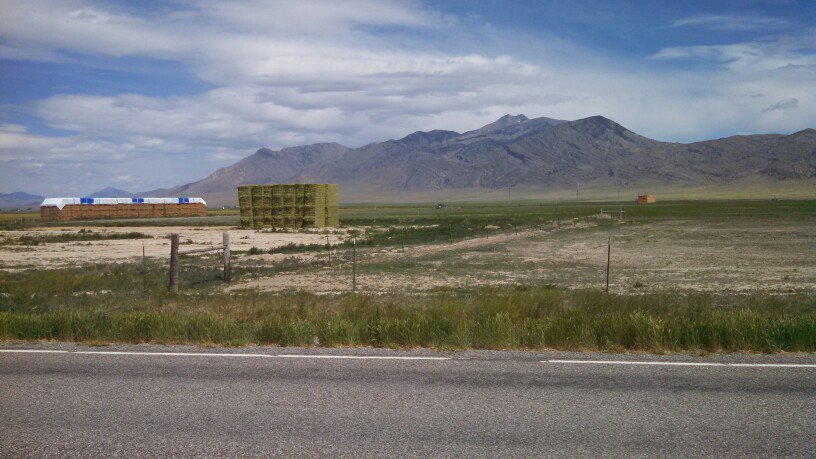 Passed Butte City, population 74, smallest city so far. Dubois is larger but it isn't very lively. Paid $49 for a pretty bad motel room, found a diner for dinner, and got ice cream at the gas station. The bar in town didn't open until Thursday but there was a turkey in my motel room freezer! About 87 miles.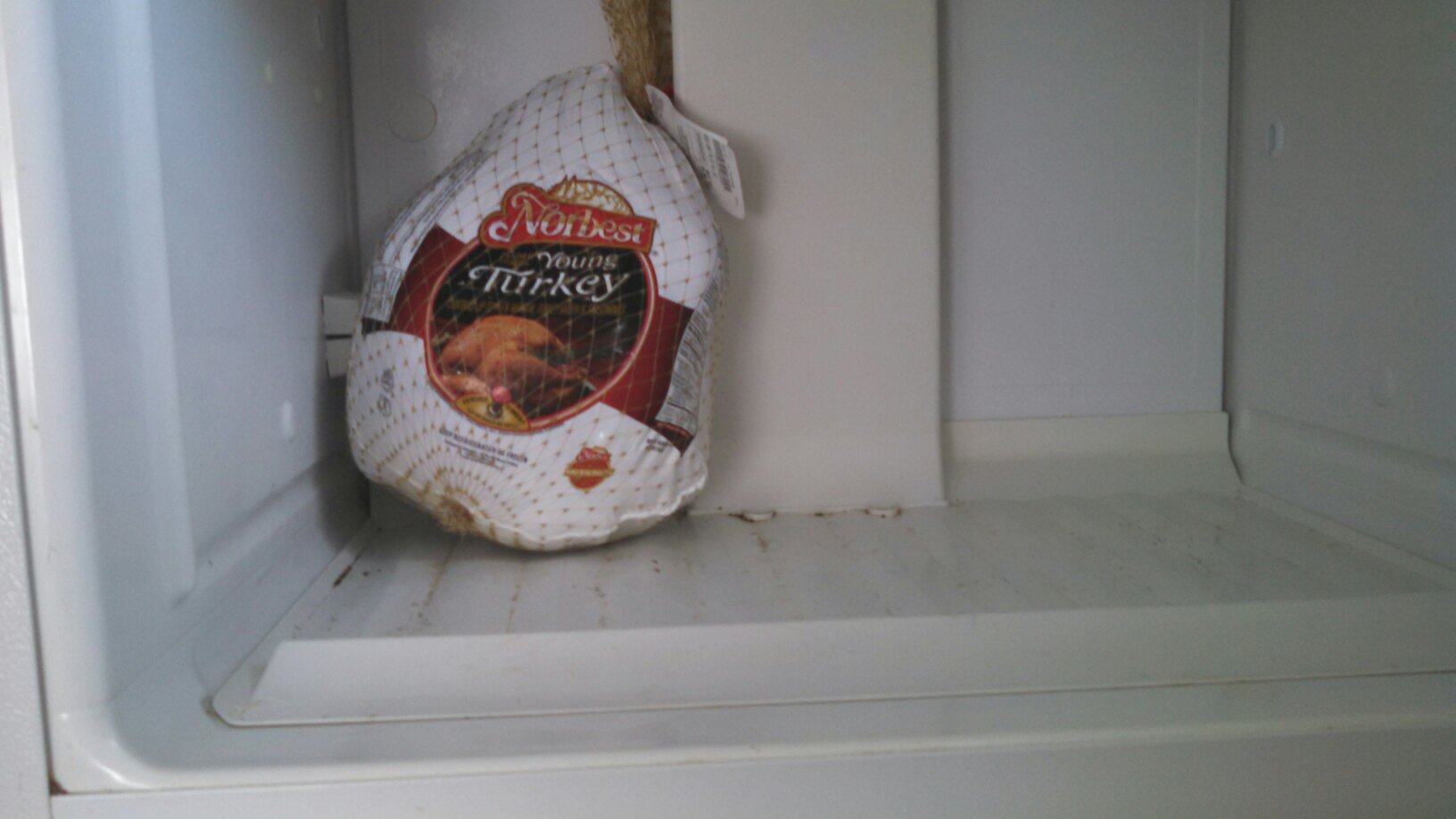 2016-06-14 Day 11 - Dubois, ID, through MT, to Madison campground, Yellowstone, WY
Up at 5:30am and on the road by 6:30am, taking route A2. Felt sluggish. Encountered about 2000 sheep being herded down the road by one guy and a collie, and had to wait for them to pass. Just past Kilgore the road turned to gravel/dirt and stayed that way for the next 14 miles, by which point I was very pleased to find tarmac again!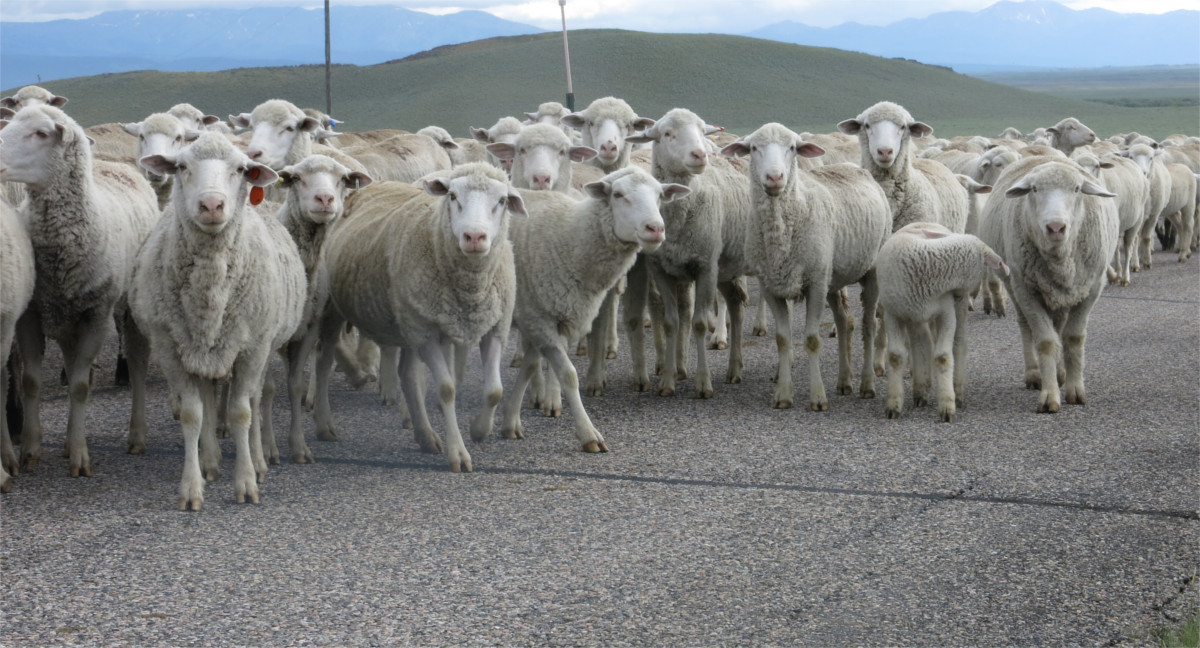 A few sprinkles of rain but nothing of consequence. Rejoined US20 heading north at Island Park and found an OK Mexican restaurant for lunch. A three-state day because I left Idaho, did a few miles in Montana (Maxies sticker on the sign!), and then entered Wyoming.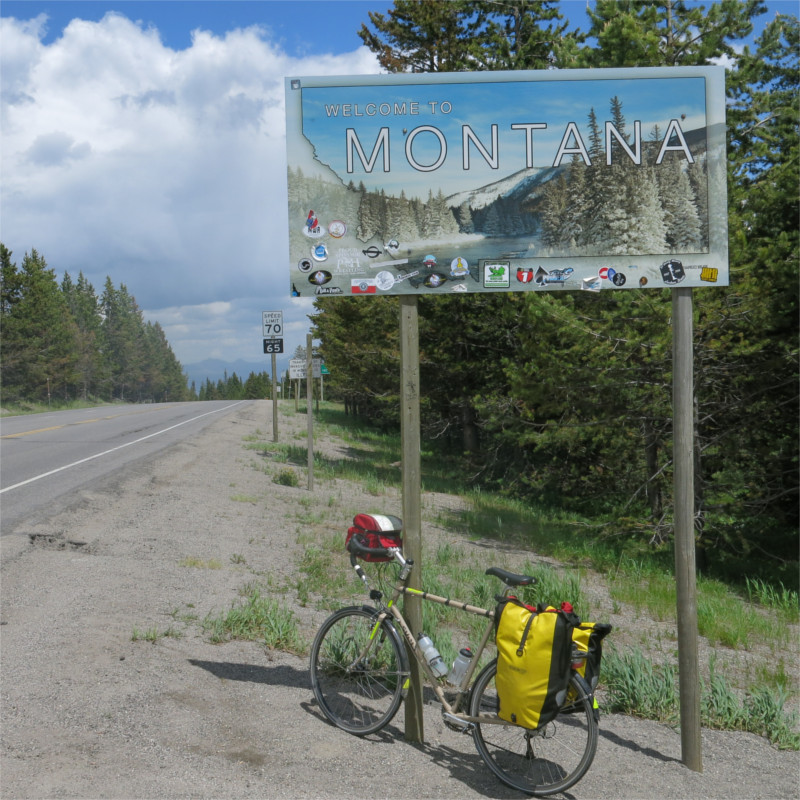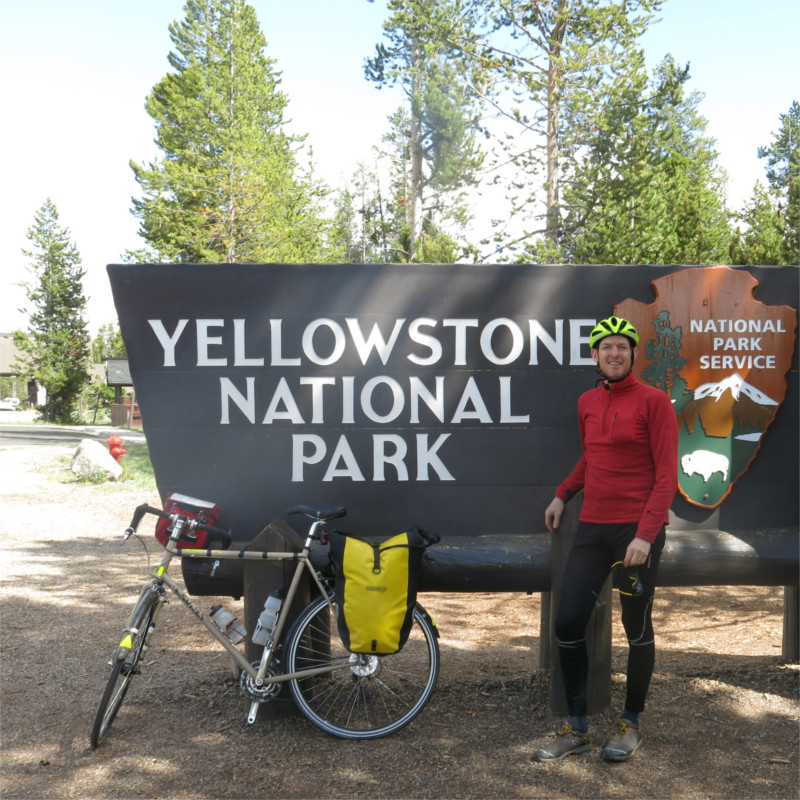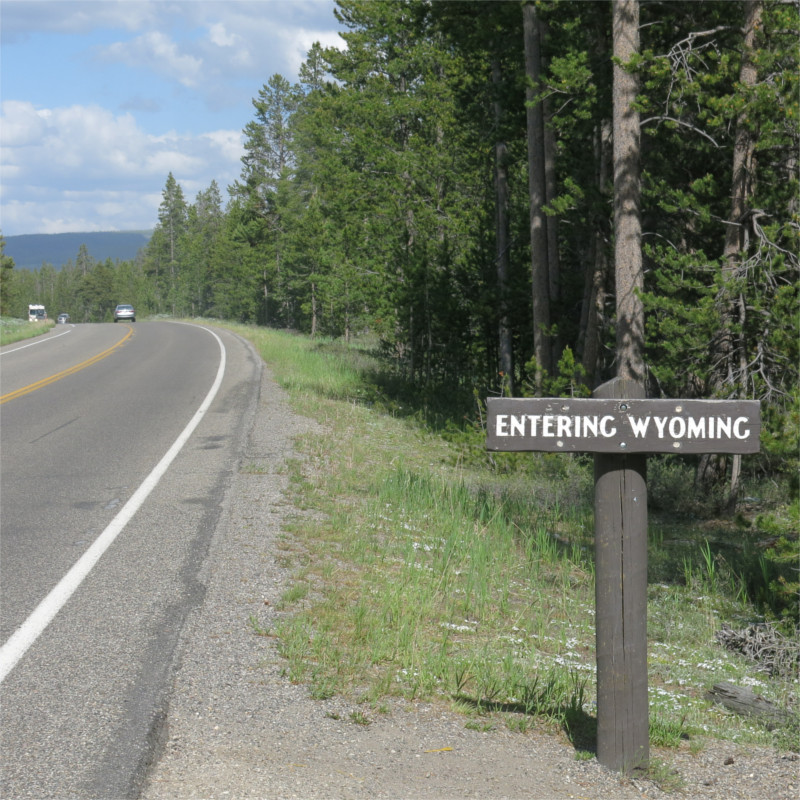 In West Yellowstone I found the park information center. I learned that there is walk-in hiker/biker camping at Madison Campground which solved my accommodation worries. The rangers suggested buying bear spray but the shop assistants said it really wasn't necessary unless I was going to go hiking (which I didn't) – so I believed the shop assistants and hoped they were right.
After ice cream I continued into Yellowstone National Park and to Madison Campground. A friendly Yorkshireman (more recently form Georgia) checked me in for $8.40. Not quite a century, 99 miles.
2016-06-15 Day 12 - Madison campground to Bridge Bay campground, Yellowstone, WY
So excited to be in Yellowstone! Cold (~35F) and rainy overnight but I was warm enough.
Yellowstone lived up to high expectations! Wow! Spent a very rewarding tourist day looking at thermal features, animals and landscapes. Some rain and hail made the day's 60 miles feel real and I passed 1000 miles for the trip so far.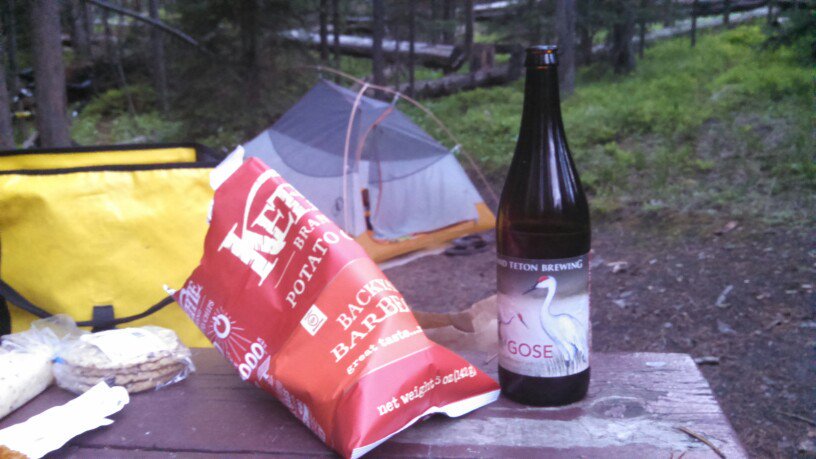 2016-06-16 Day 13 - Rest day
A day spent eating, lazing about and looking at the Tetons from afar over Yellowstone Lake.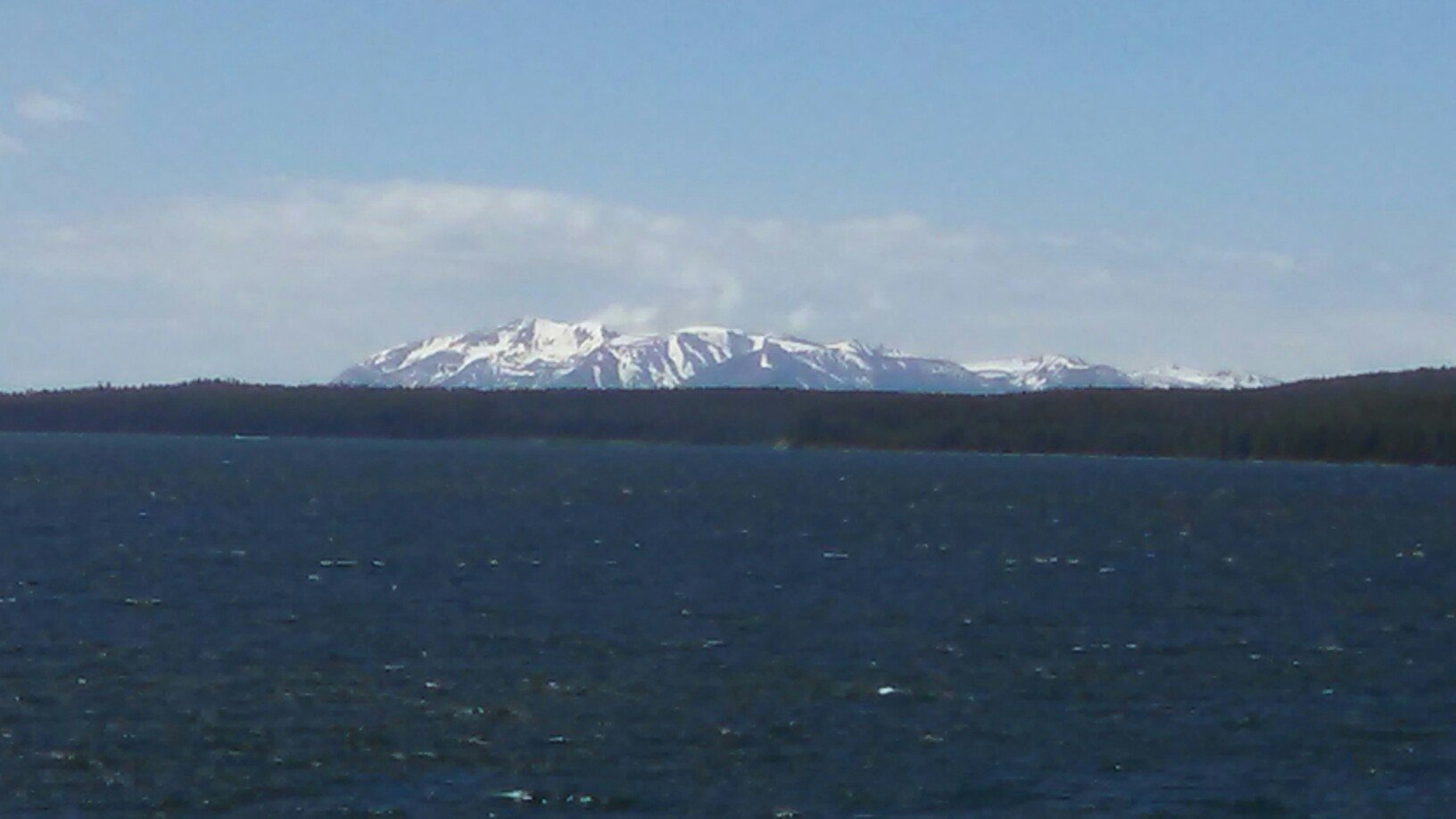 I added a new sticker to bike & read. Camping cost $8.40, a good dinner at the fancy Lake Hotel cost $63 - matching my priorities.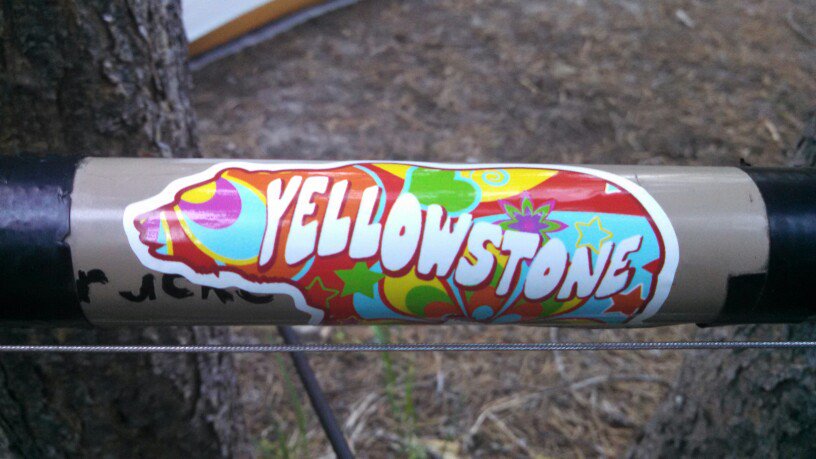 2016-06-17 Day 14 - Bridge Bay campground, Yellowstone to Cody, WY
The route out of Yellowstone to the east is a climb to the top of the 8530' Sylvan Pass. This was followed by a wonderful descent out of the park, then following the Shoshone River against a stiff headwind to Cody.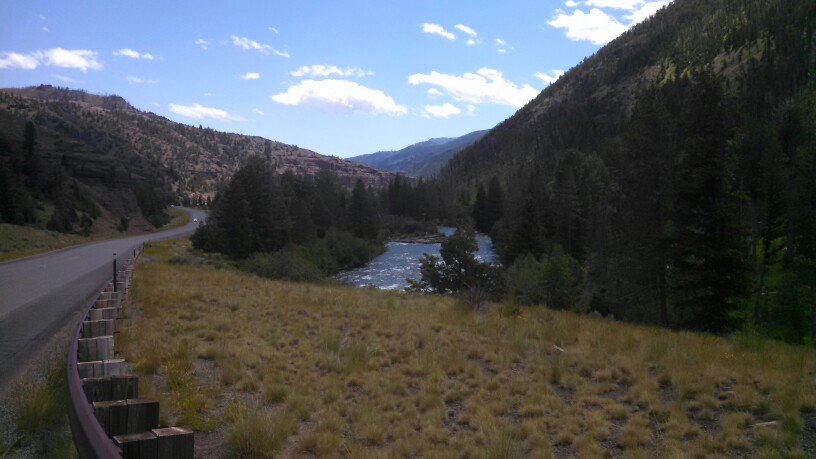 I was told to do 3 things in Cody: Buffalo Bill Museum, eat at Irma, and visit the rodeo. As it turns out I wasn't inclined to any of those so instead I did laundry and picnicked for my dinner.
2016-06-18 Day 15 - Cody to Ten Sleep, WY
The terrain is open leaving Cody to the east. I spent the morning watching the Big Horn Mountains get very slowly closer.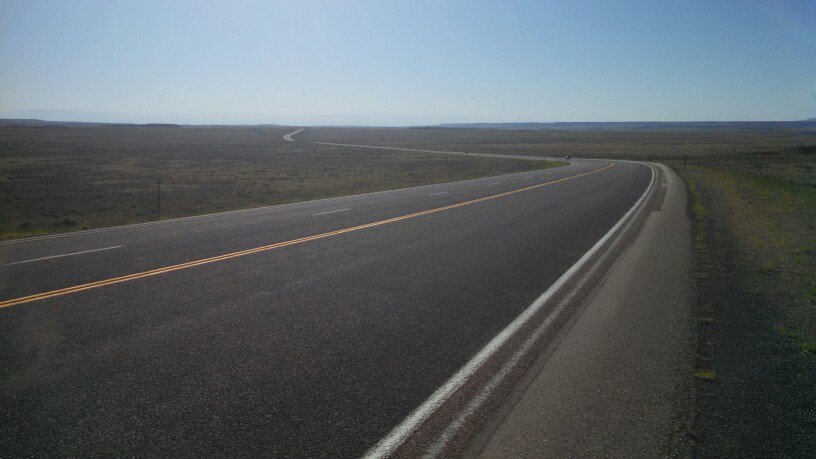 New smallest town for the trip: Otto, WY, population 50.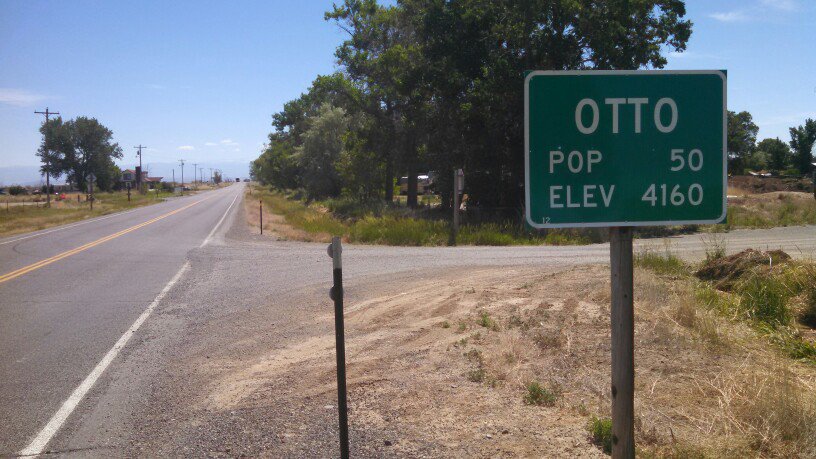 The ride became increasingly hot and sweaty as I descended to 4000' elevation. I was covered in flies stuck to sunscreen & sweat, and had a nagging concern that every foot lost would have to be regained in the climb to the 9666' pass tomorrow.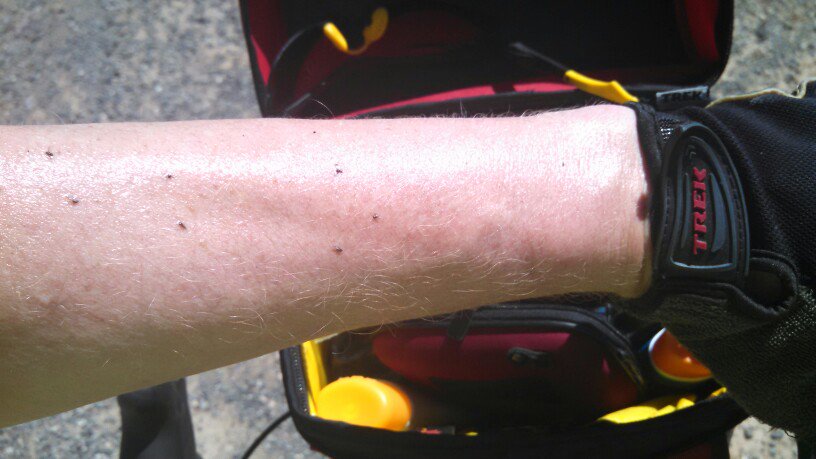 Bit off a bit too much and became increasingly tired and dehydrated as the afternoon wore on. Finally made it to Ten Sleep in very hot weather with sometimes fierce side or head winds. Drank many glasses of water and soda while consuming a huge pizza at the Ten Sleep Saloon. About 105 miles.
2016-06-19 Day 16 - Ten Sleep to Buffalo, WY
Got an early start in order to work on the 5400' climb up Ten Sleep canyon in the cool morning air.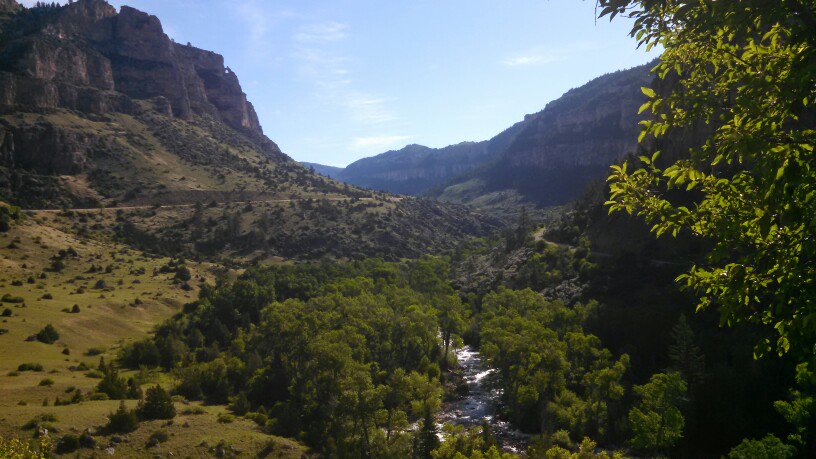 The 9666' Powder River Pass was the highest point of the trip. With a couple of rolling descents and climbs afterwards one still squanders 4600' coming down to Buffalo, WY.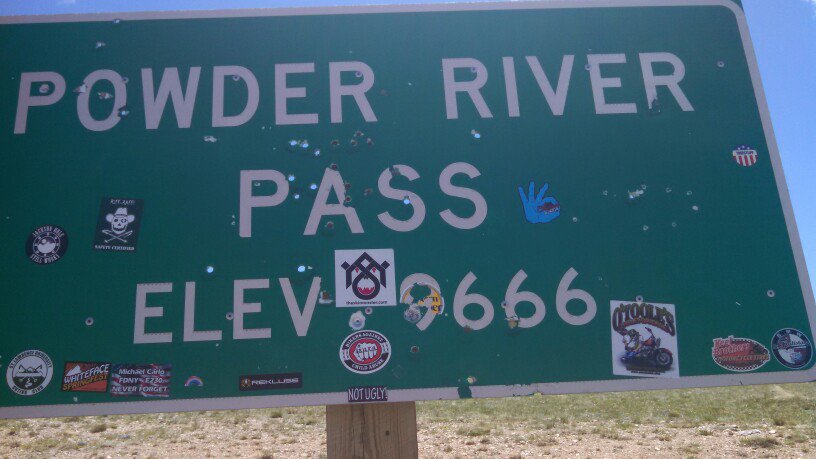 I ate dinner at the Occidental Saloon, "the" place in Buffalo. Visited by Butch Cassidy and others in past 135 years. "Just" 66 miles, but they did include quite a hill.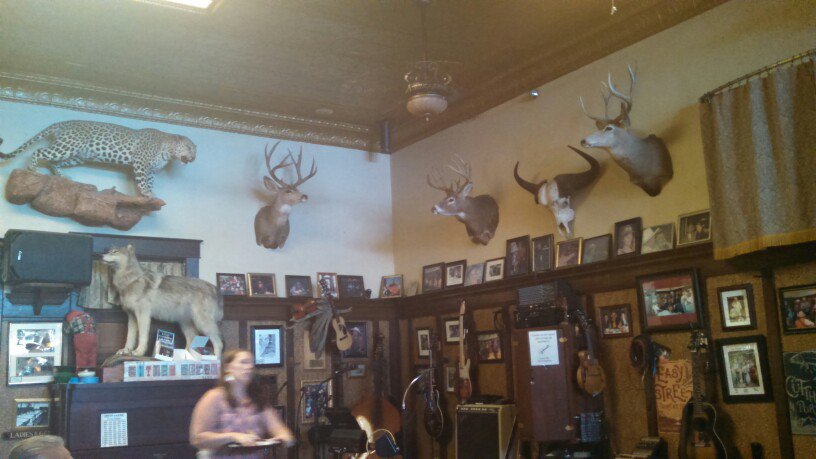 2016-06-20 Day 17 - Buffalo to Gillette, WY
My route started off with 66 miles of I90 to Gillette, no services. This was actually pretty good riding because the shoulder was wide and smooth, even if the cars were doing 80 mph. Unending rolling grassland to the sides.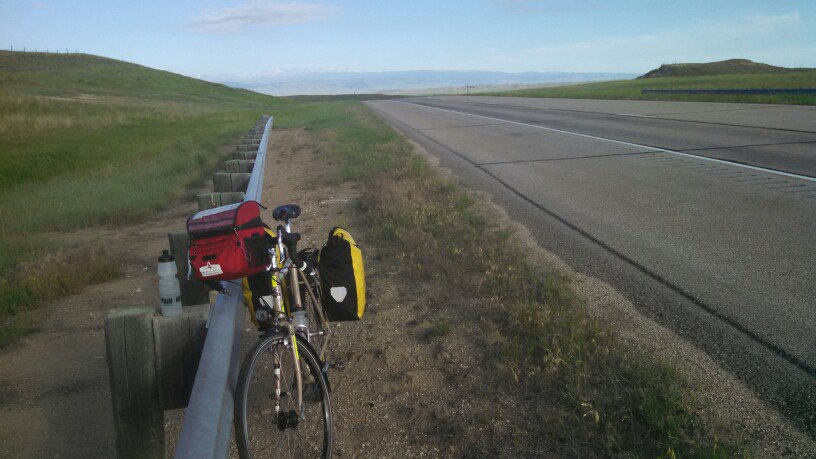 2016-06-21 Day 18 - Gillette, WY to Black Hills, SD
I started riding at dawn, 28 miles to breakfast in Moorcroft, WY. There I turned SE to Newcastle, my last stop in WY.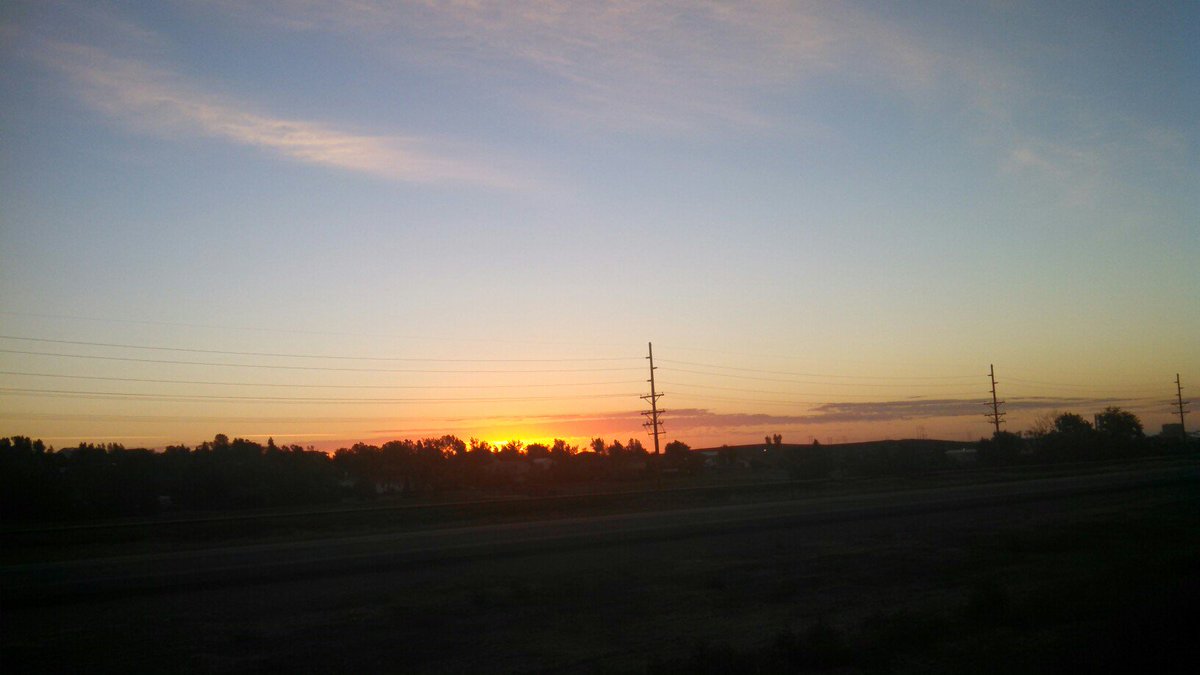 New smallest town: Rozet, WY, population 25. Nice & cool riding in the early morning.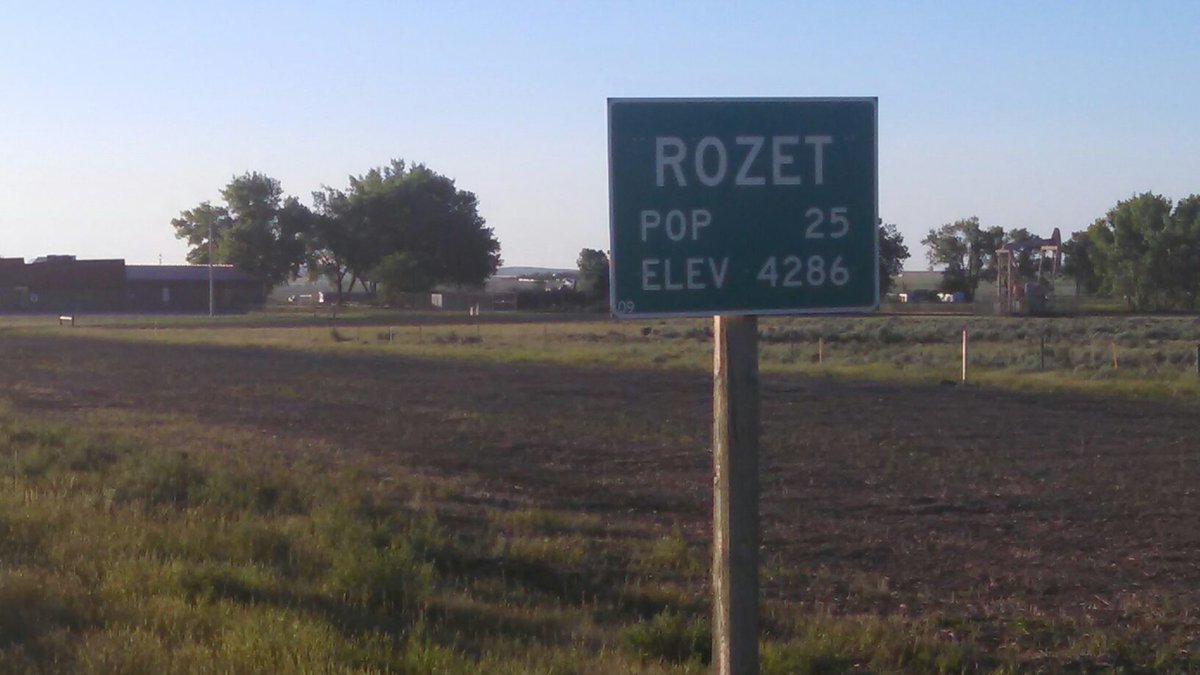 The afternoon was hot, and in a drier landscape: more sagebrush, pronghorn instead of mule deer, snakes instead of rabbits. My plan was to stop at Newcastle, WY but I ended up doing another 29 miles to beautiful campsite in Black Hills SD. About 109 miles.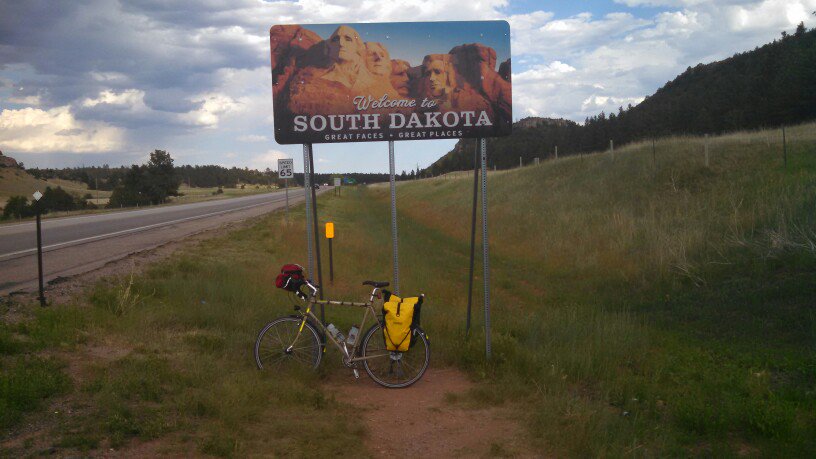 2016-06-22 Day 19 - Black Hills, SD to Chadron, NE
Lovely morning ride through the Black Hills, past Wind Cave and many prairie dogs. Headed for Nebraska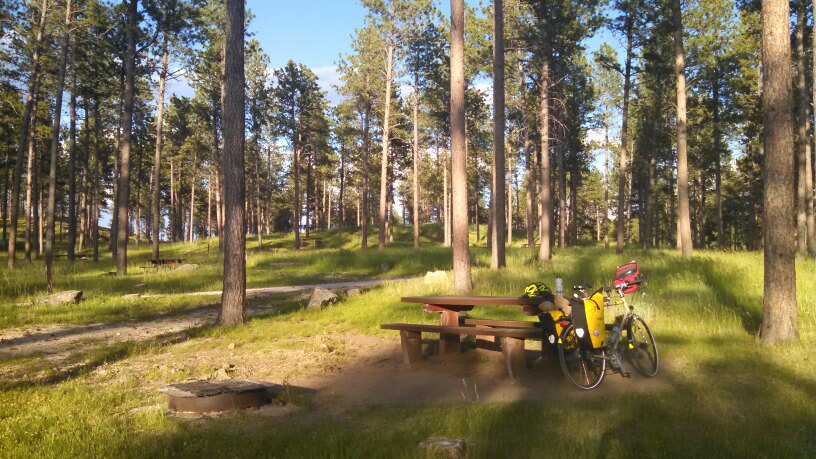 I stopped for a good soak at Evans Plunge in Hot Springs, SD. From there I headed south to Chadron, NE and was reunited with US20. No new states for a few days….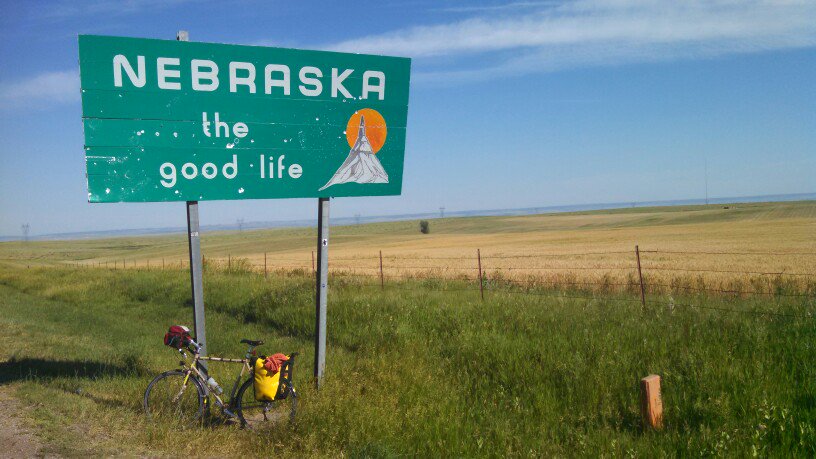 Motel manager: "Here are local restaurants"
me: "Any good for veggies?"
manager: "Nope"
Safeway salad to the rescue…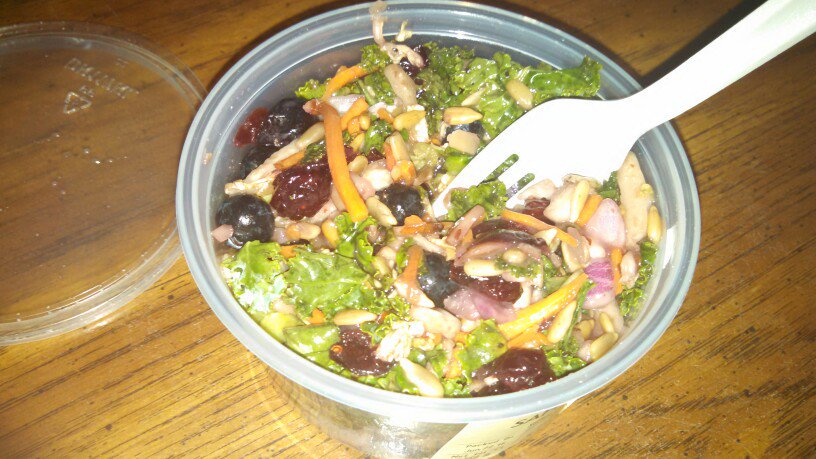 2016-06-23 Day 20 - Chadron to Cottonwood Lake State Rec. Area. near Merriman, NE
Started off slow against 15mph headwinds (where were the promised westerlies?) through gently rolling grassland.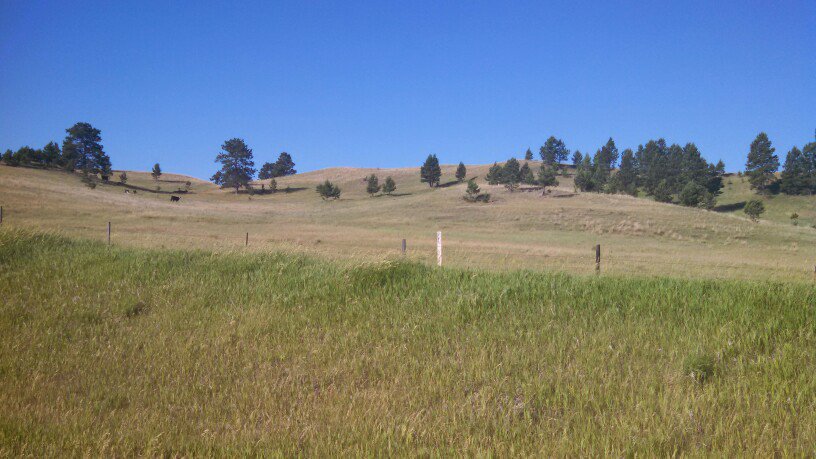 Watching the fields I think I left the cowboys back in Wyoming, in Nebraska folks seem more like farmers. Stopped for coffee in Hay Springs. There seems to have been a shift in cafe/diner signs and slogans between Wyoming and Nebraska. In Wyoming they all about guns & freedom; in Nebraska they focus on love & god. This cafe also had some funny ones.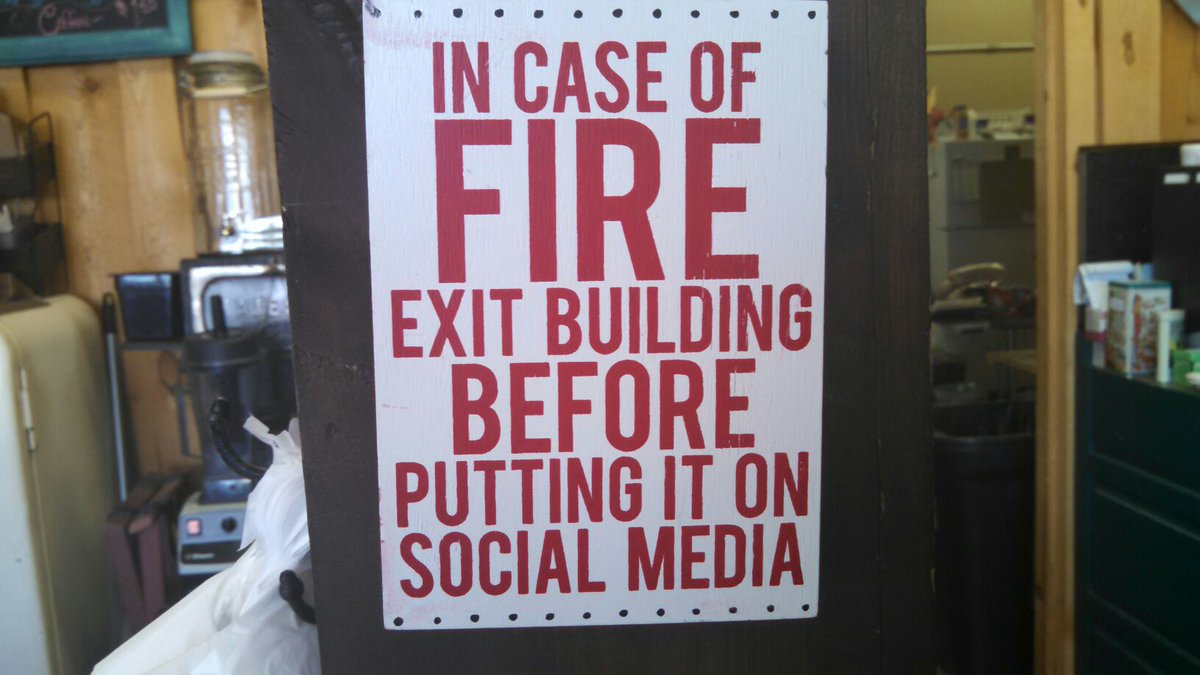 2016-06-24 Day 21 - Merriman to Long Pine, NE
Yesterday's ride ended pleasantly at a state park, I woke to the news of brexit!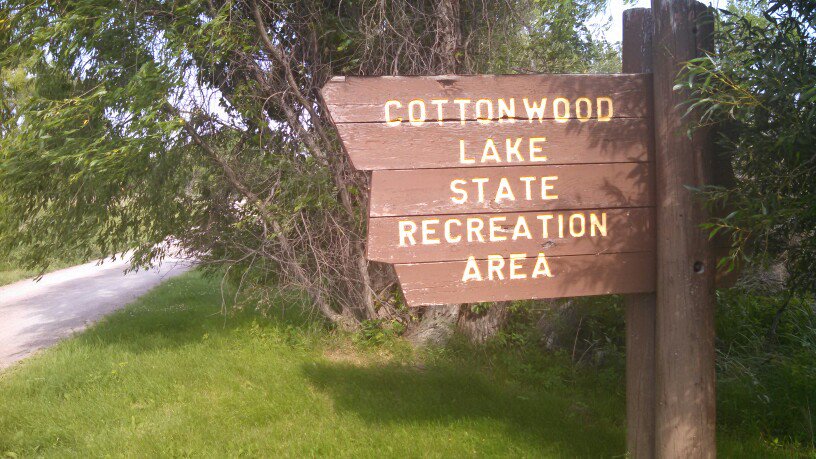 Morning ride to Valentine NE. More rolling grassland & entered central time. Surprise new smallest town: Nenzel, NE, population 20.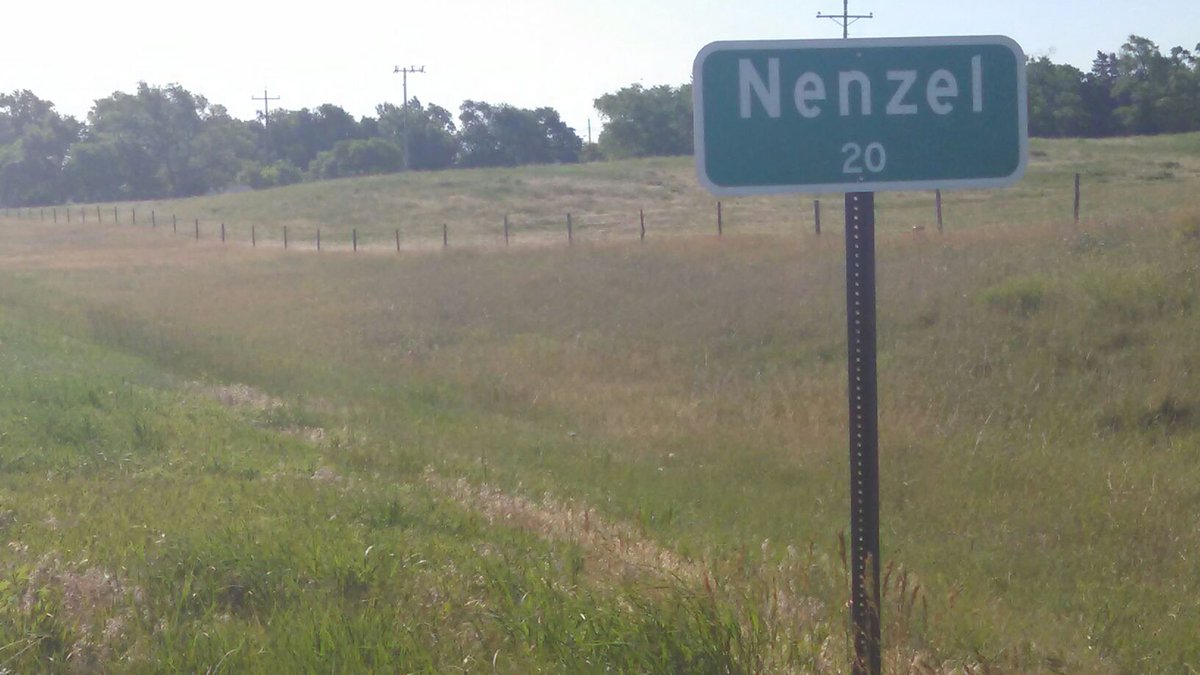 The afternoon ride was tough, hot and fighting a SSE 15-25 wind. I kept on plugging away and racked up my longest ride so far: about 118 miles, and camped at Long Pine.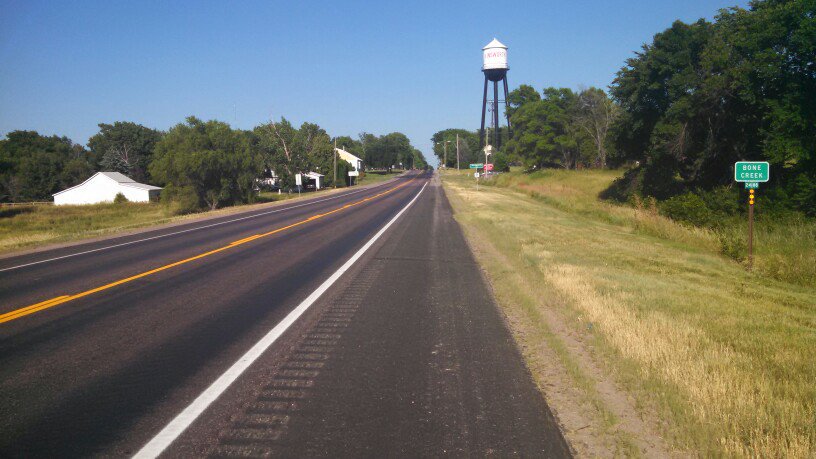 2016-06-25 Day 22 - Long Pine, NE to Onawa, IA
The day started with a chain break and me hitting the dirt. I fixed that and then had a morning of fast and pleasant cycling through flat farmland.
Along with a change in cafe slogans, I noticed a shift in fas station marketing angles. In Wyoming (an oil state) they proclaim "ethanol free gas", whereas in Nebraska (a corn state) they proclaim "ethanol blend gas".
After doing almost 100 miles by lunch time, I got to wondering… how far could I ride on a cool day, without a headwind? I turns out that 210 miles was possible: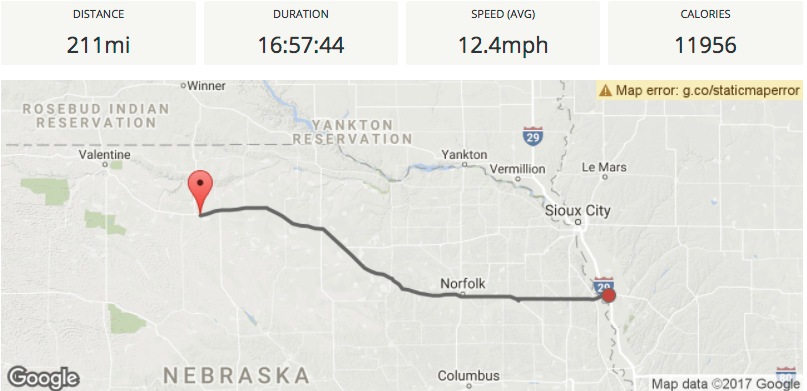 It rained as I cycled around Norfolk and then the land became a bit hillier. However, by then I'd set my sights on the double-century and had to keep on going even when there was a 13 mile stretch with the road milled for resurfacing. As the light faded I crossed the Missouri River (on a bike unfriendly steel bridge). I couldn't find any camping or cheap motels so ended up in a chain motel by I29.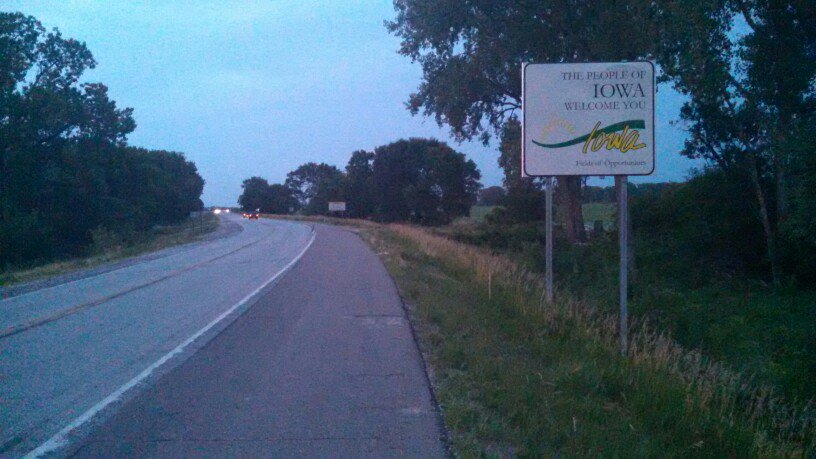 2016-06-26 Day 23 - Onawa to Swan Lake State Park, IA
Tired from the previous day's ride I slept in until 9am, eventually heading out into a hot still day. The eastern edge of Iowa has beautiful Loess Hills (recall highschool geology).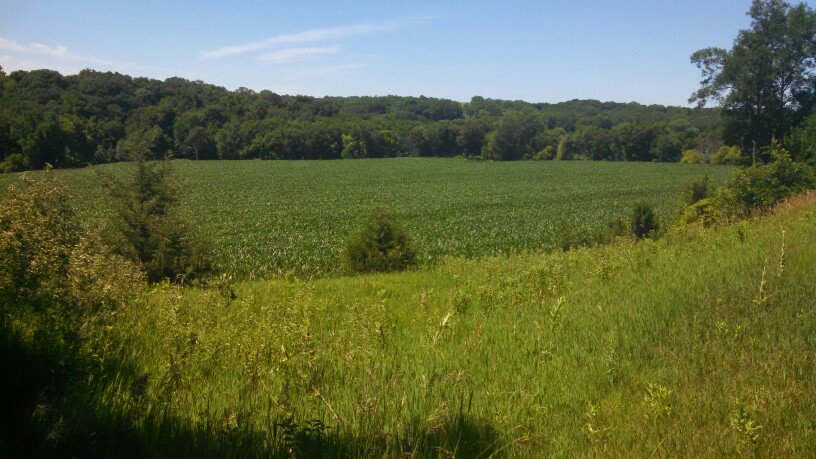 "Iowa tackles the litter problem head on with strong deterrents" (was $1000 in Nebraska).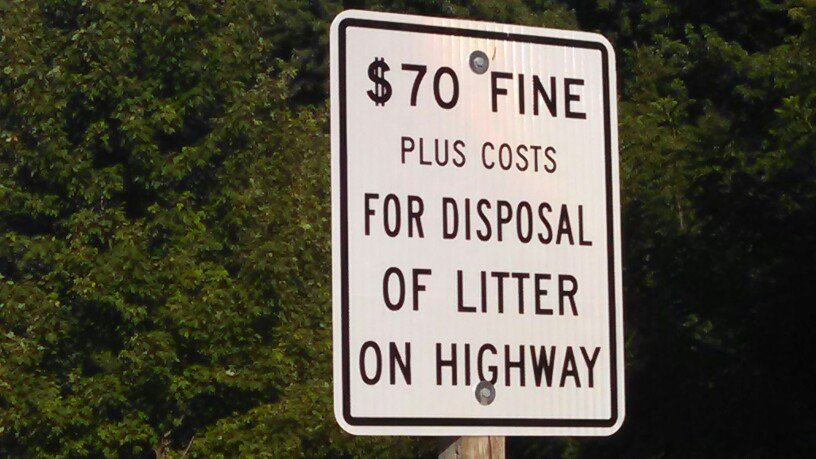 I was reminded that while roads on a grid may signal level ground, it may simply be that the designer had no respect for geography, physics, or both. The latter case seemed to apply.
My late start meant a hot ride. Lots of corn and soybean. I ended up camping at Swan Lake State Park near Carroll, IA. Passed 2000 miles total so far.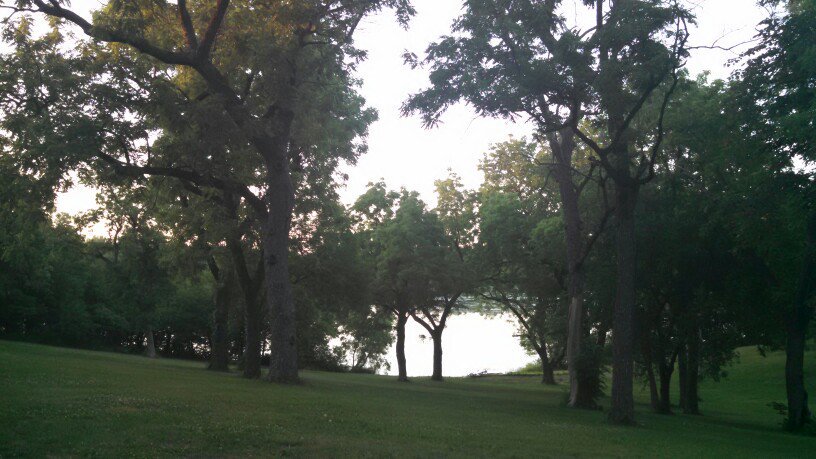 2016-06-27 Day 24 - Swan Lake State Park to Ames, IA
Corn, corn, corn, soy, corn, soy, corn, corn, corn… Stopped for breakfast if Jefferson IA, and then continued to Ames.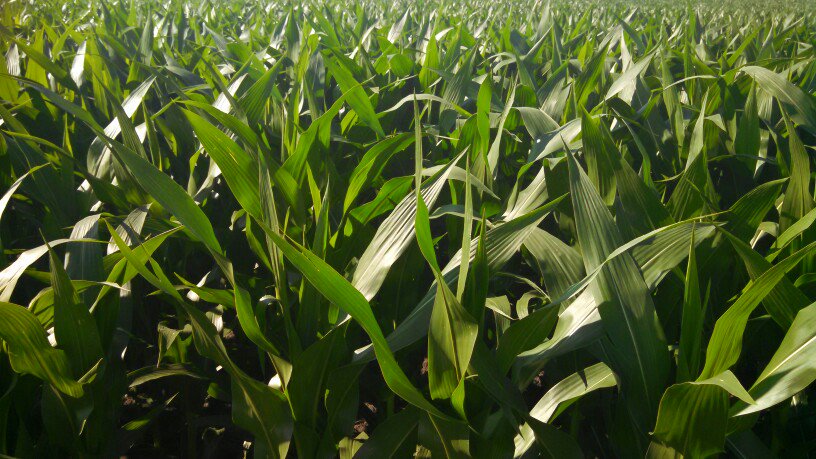 Espresso, my friend! First shot in three weeks, not bad at all.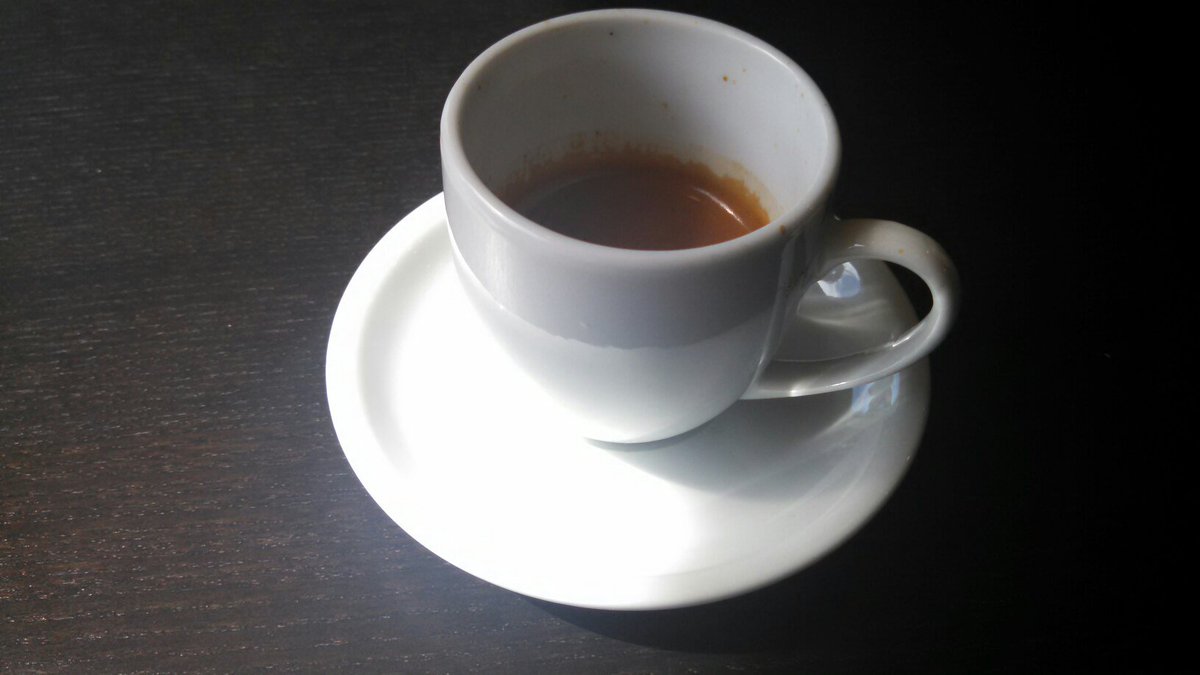 When I reached Ames, IA, I have a delicious lunch at Cafe Baudelaire, washed down with a very good "Saison Des Moines" (slightly sour).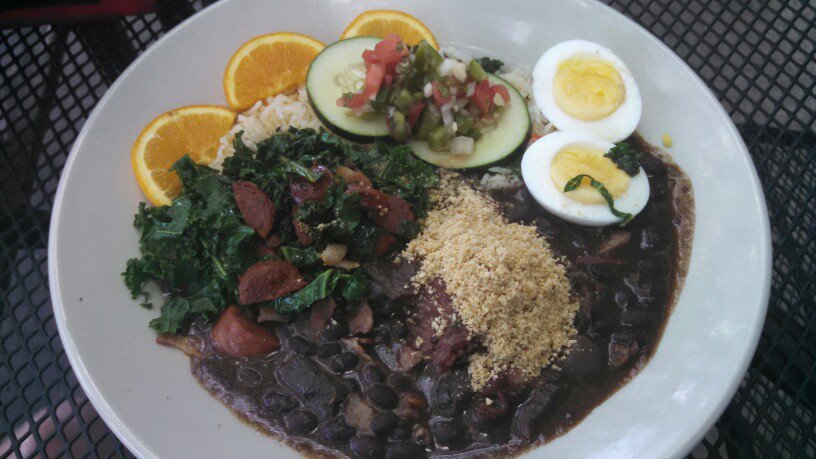 2016-06-28 Day 25 - Rest day
A day of physical rest but with 3 weeks accumulated work emails to wade through. That took me most of the day.
2016-06-29 Day 26 - Ames to F.W. Kent Park, Johnson, IA
In spite of superb hosts I was itching to get back on the road. I thought that I must be > 1/2 way through IA because I passed a town called "State Center":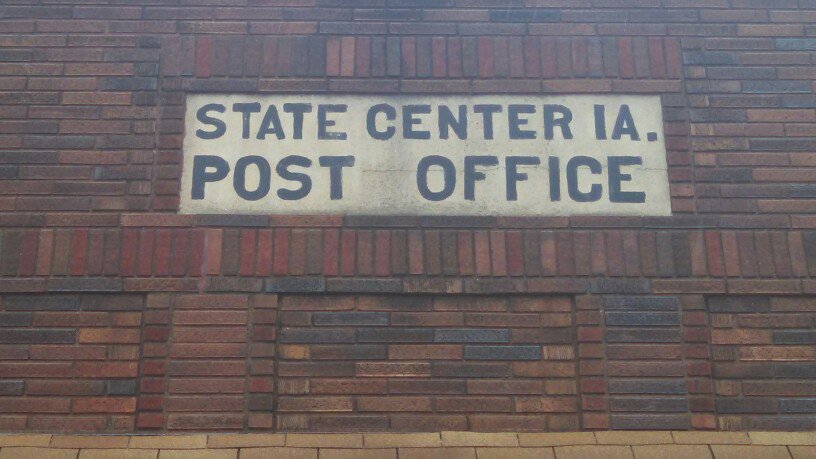 Occasional relief and trees but still mostly corn & soy.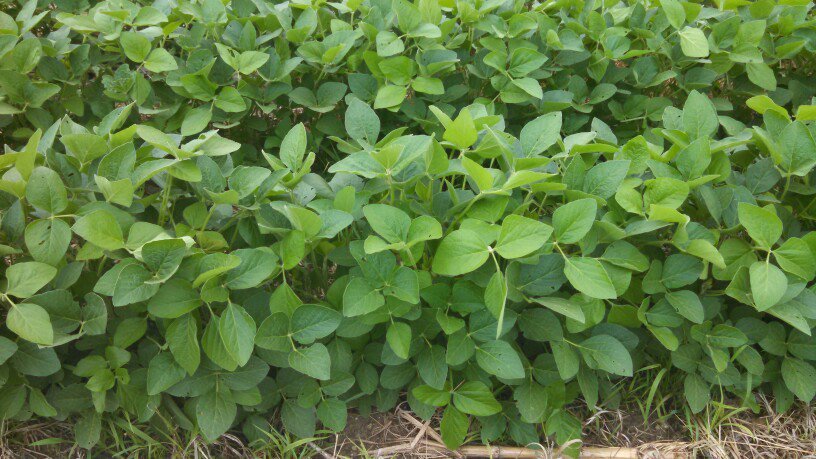 I ended a good day at F.W. Kent Park near Tiffin, IA, just short of Iowa City. I realized that it must have been 3 days since I had ice cream, and made plans to fix that that the following day.
2016-06-30 Day 27 - F.W. Kent Park, Johnson, IA to Orion, IL
The day started off with light rain but then poured as I got to Iowa City. I retreated to a cafe, and Hobbit-like, started work on a second breakfast. I was eating a lot, certainly not trying to restrain myself, but still losing weight (though not as fast as on mountaineering trips).
News headline "Grizzly bear kills cyclist riding forest trail in Montana" - made me happier that I didn't see a grizzly in the Rockies.
The verges changed to a fine display of daylilies.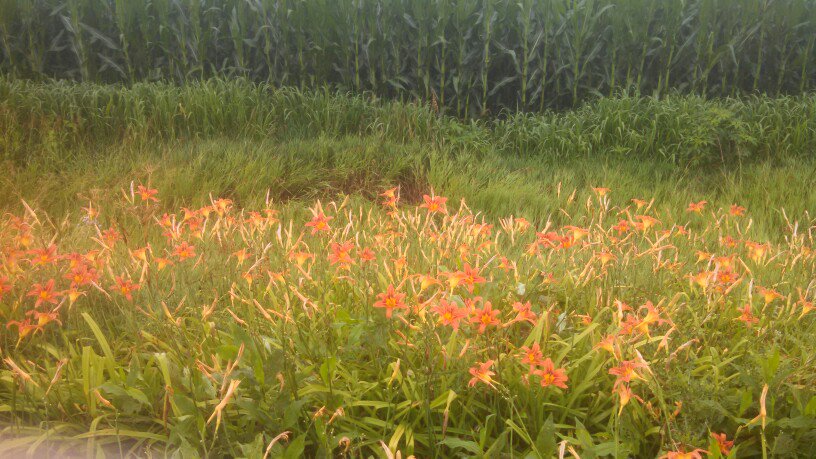 I ate lunch by the Mississippi. From there I rode over the bridge into Illinois, the day turned sunny but a pesky SE breeze developed.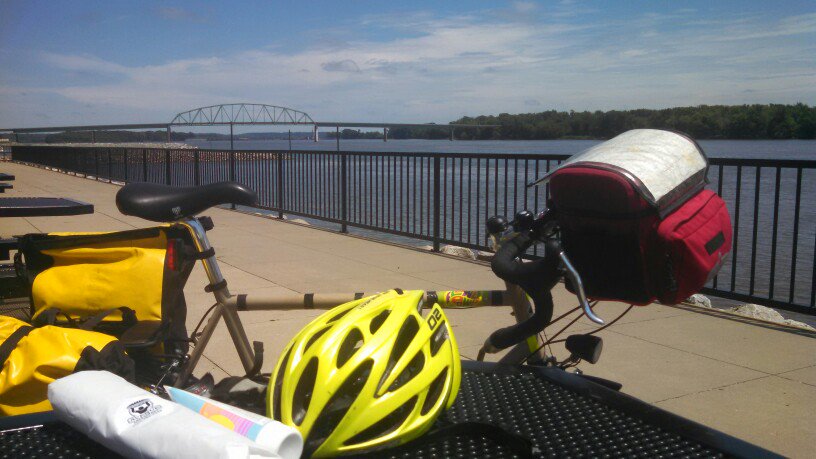 Into Illinois and I planned to follow a portion of ACA Northern Tier route 800 miles to near Buffalo NY.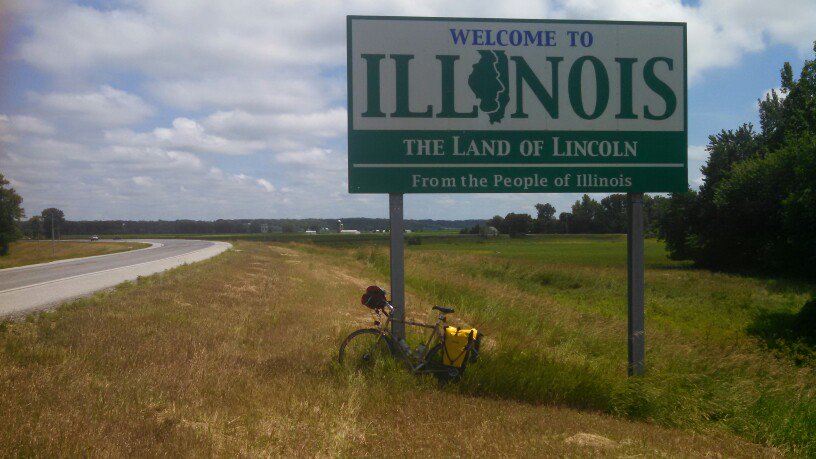 I stopped to camp at Orion, IL. The host at my nearly deserted campground commented "There's a pool if you'd like me to unlock it" … "Sure, that'd be GREAT!", and it was!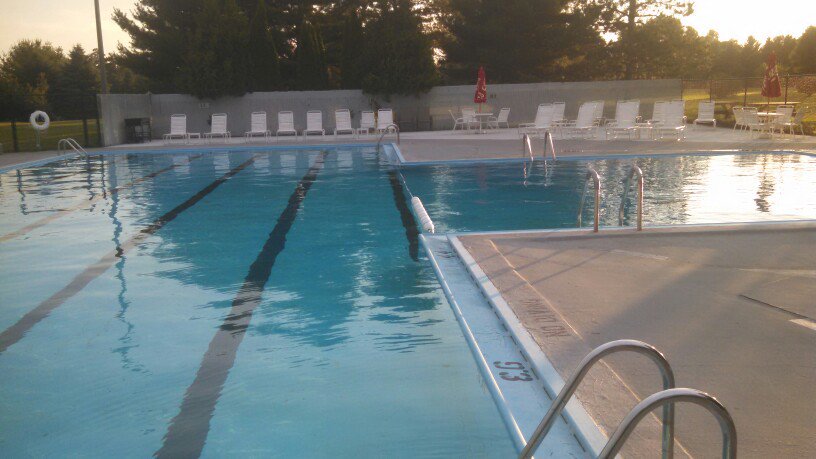 2016-07-01 Day 28 - Orion to Henry, IL
Day 28, the end of 4 weeks, a new longest trip ever. I was intrigued by advertisements for "precision" farming equipment. The very even rows of corn with almost every see germinated and grown seem to demonstrate this reality.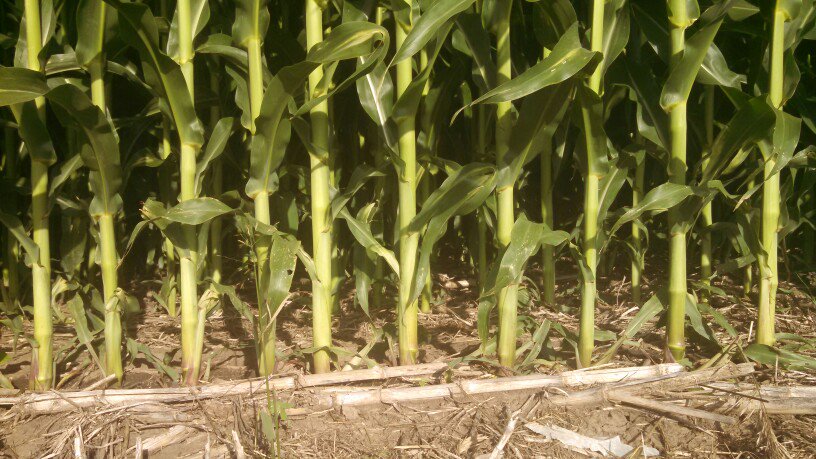 The roadside color changed from daylilies to the humble aster.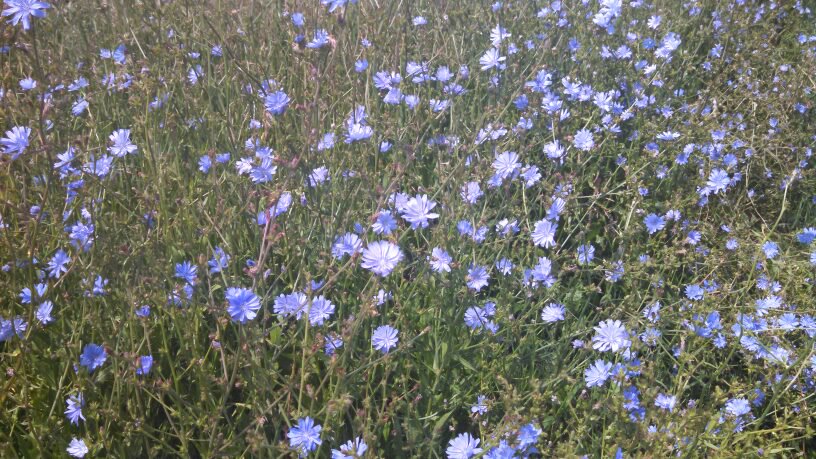 I finished my ride for the day in Henry, IL, on the Illinois River. Confirmed with local police that it was OK to camp for the might in the park by the river, and watched huge sets of barges motoring slowly upstream.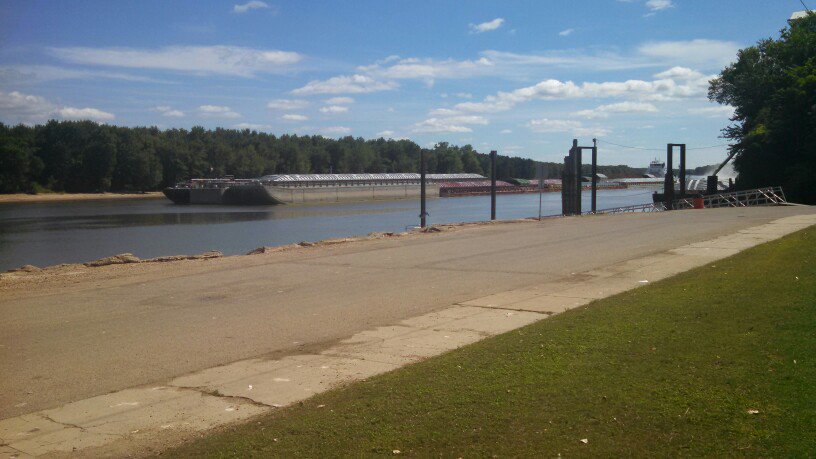 2016-07-02 Day 29 - Henry to Iroquois, IL
In the early morning I was woken by a cackling and honking of geese. I'd seen a large flock head out to an island the following evening and all swam back to the park in the morning.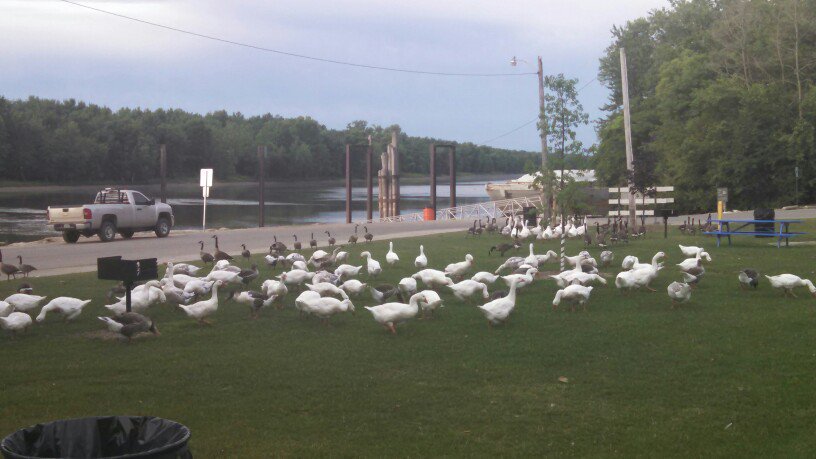 I passed through Cornell, reminding me of my workplace, but it was Saturday nobody was there so I kept on biking.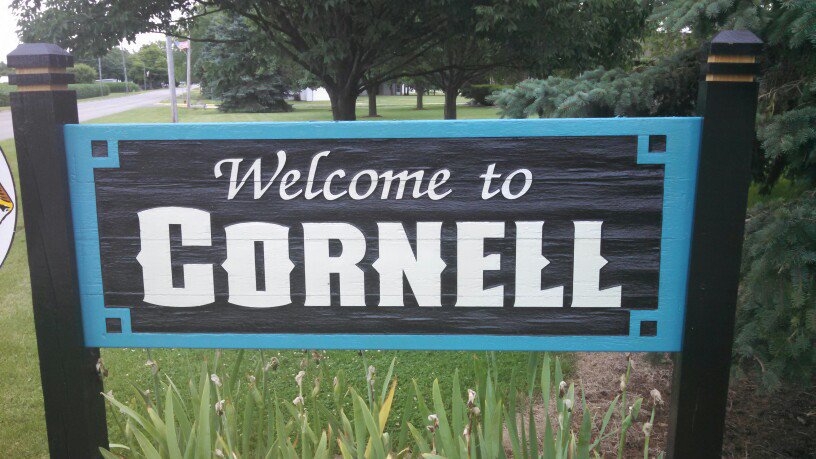 My impression of Illinois was that it seemed very tidy. Most houses I passed were modest but well kept with tidy lawns, there were very few derelict buildings, and even tidy farms with mown verges around the fields.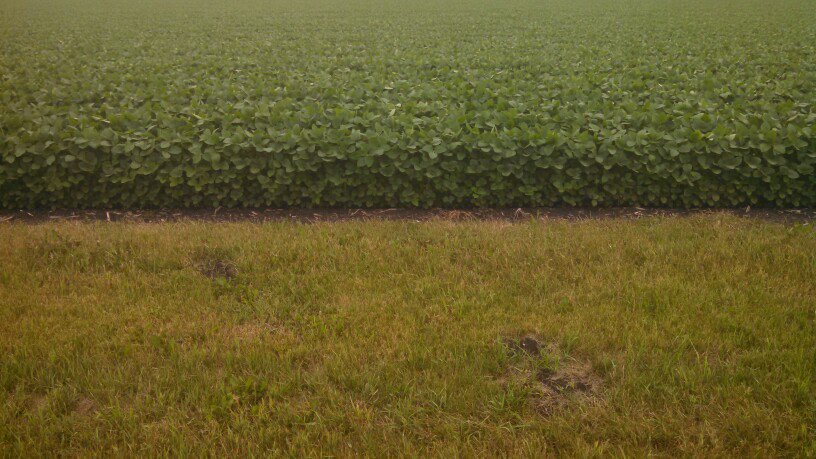 Even the road layout is very tidy, it often looks like a 1 mile spaced checkerboard.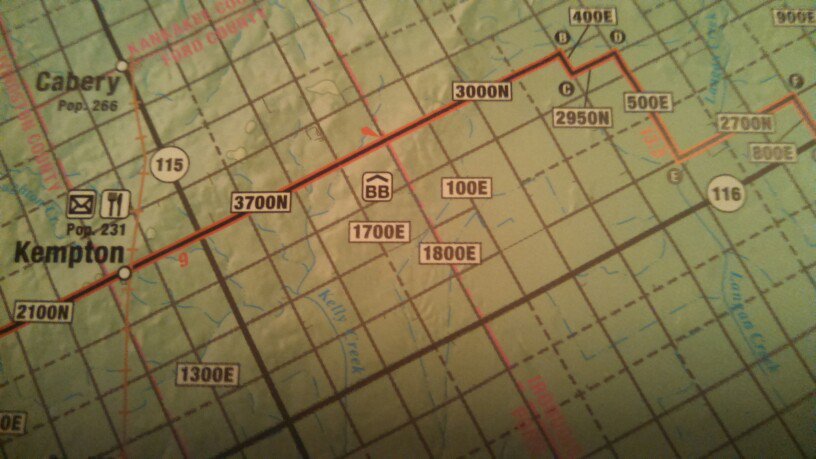 I stopped for lunch in Odell, and then continued to Iroquois, IL where I hit the jackpot for convenient accommodation. The small town (population 200) provides cyclist accommodation in the city park which is just opposite a fun bar with good food and beer!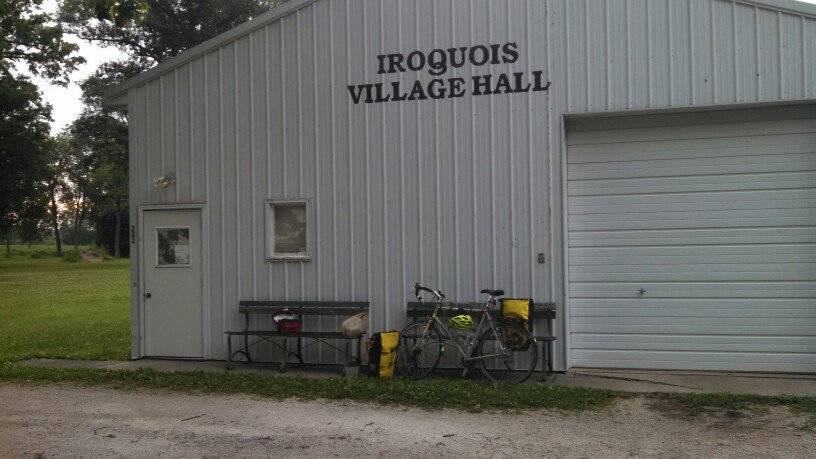 2016-07-03 Day 30 - Iroquois, IL to West Point, ID
In the morning I passed 2500 miles total and crossed into Indiana. With help from Warmshowers I found hosts willing to put me up for the nights the 3rd and 4th of July and thus set a path to Lafayette and West Point, Indiana to rest and to sample Hoosier hospitality on the 4th.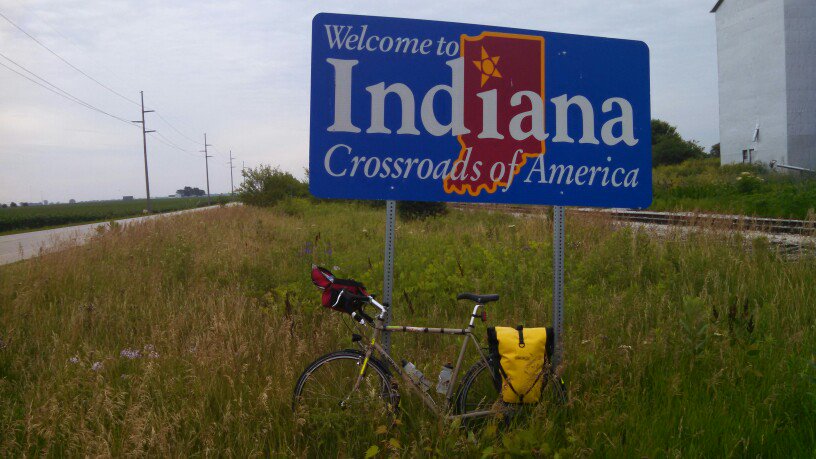 I had a choice in Fowler, IN, "Ade Way" or the highway? Given my long history of climbing with Ade I picked AdeWay.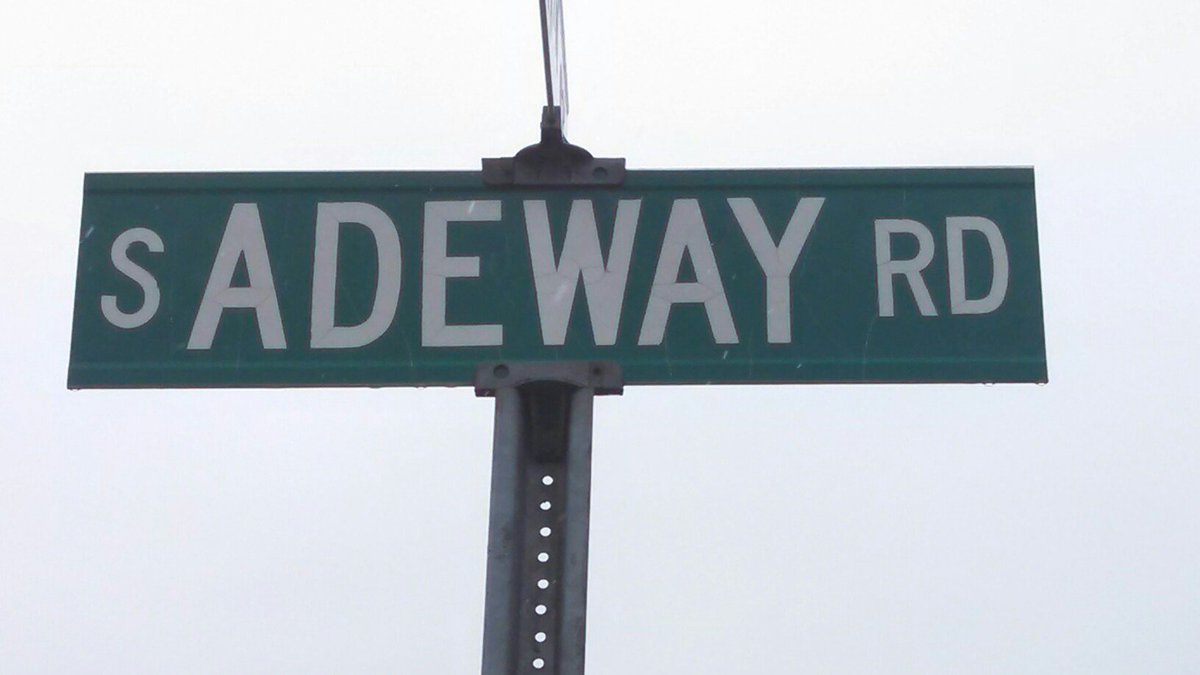 The day turned out to be somewhat tough going: the usual corn and soybean mixed with hours of wind and rain. At Lafayette I found a brewery which gave me a chance to dry out (in one sense).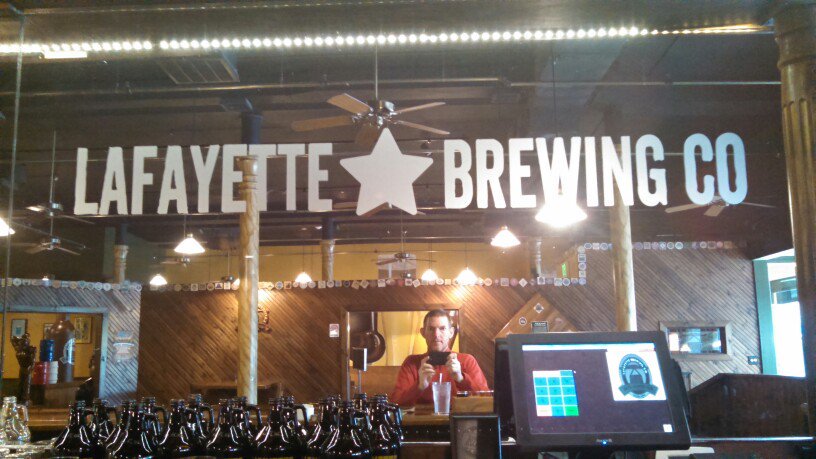 From there I cycled the short distance to my hosts' house in West Point, IN. They have a wonderful menagerie including cats, a dog, and 4 llamas. And they had five homebrews on tap…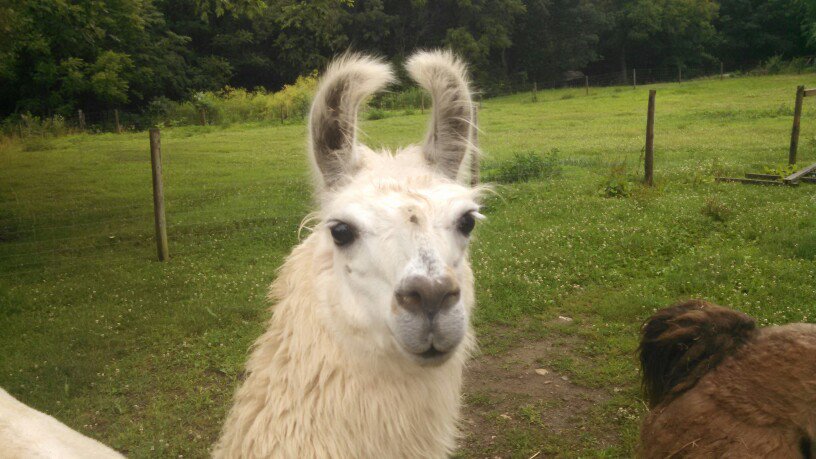 2016-07-04 Day 31 - Rest day
A rest day for me with a morning of reading and coffee drinking. In the afternoon I got to hang out with my wonderful hosts Steve & Lydia, cyclists & brewers. Steve works at Blichmann Engineering, makers of fine brewing equipment, too!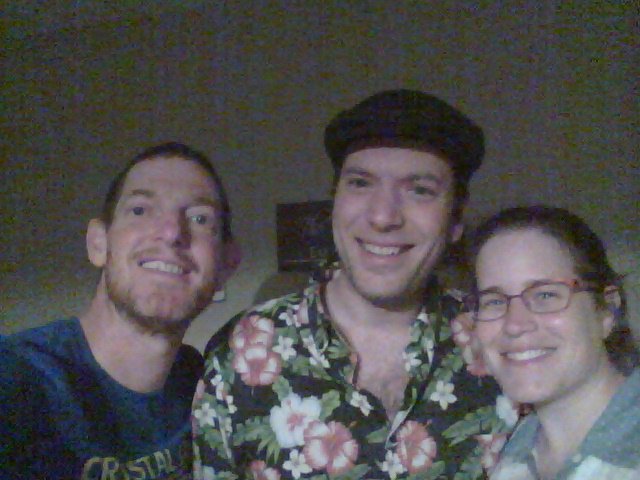 2016-07-05 Day 32 - West Point to Huntington, IN
Back on the road. Left West Point, through Lafeyette and to breakfast in Delphi, IN. The day started overcast but got brighter. From Delphi I went on through Logansport hung with colorful flower baskets.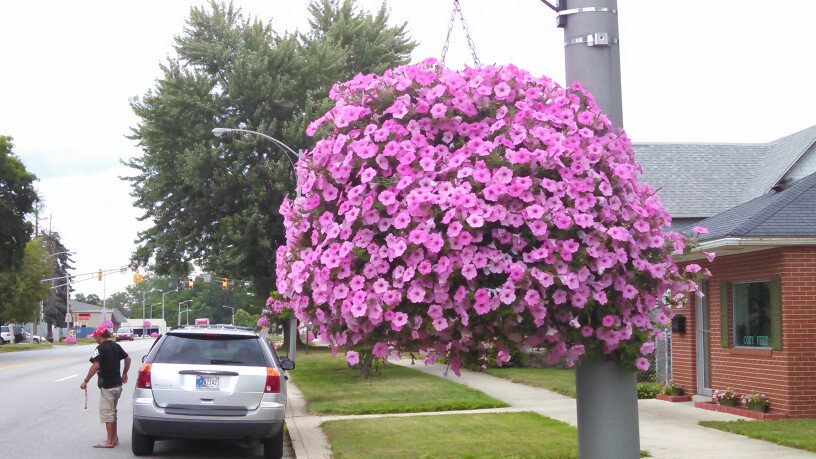 On through Peru which was apparently home to Cole Porter, through Wabash, and ended up in Huntington, IN after accidentally doing 113 miles (not doing very well at slowing down), somehow I missed Wabash downtown and failed-forward looking for dinner.
I got adopted by a lovely couple, Sam and Jodi, who paid my dinner tab and then gave me more beer and a bed at their grand Victorian house. Lucky me!
2016-07-06 Day 33 - Huntington, IN to Broughton, OH
Still in the realm of soy and corn but I started to see a few more trees and some undulations. Breakfast in Monroeville, IN, tab paid for me again!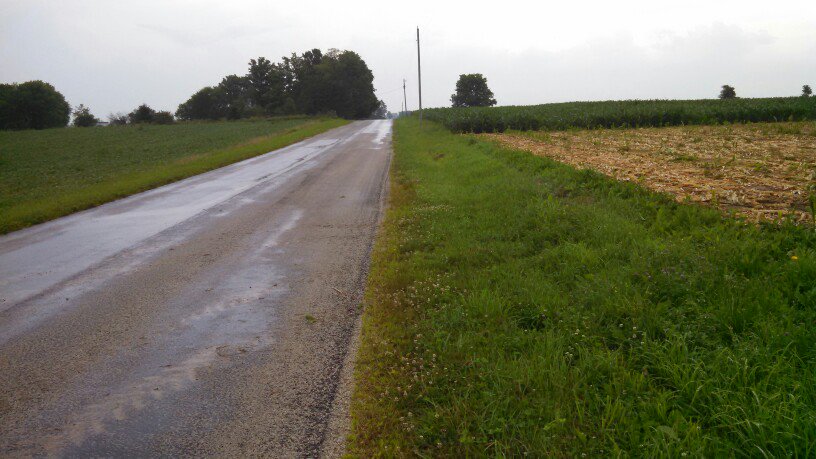 I passed a 25' yacht in 150' "ocean", how odd!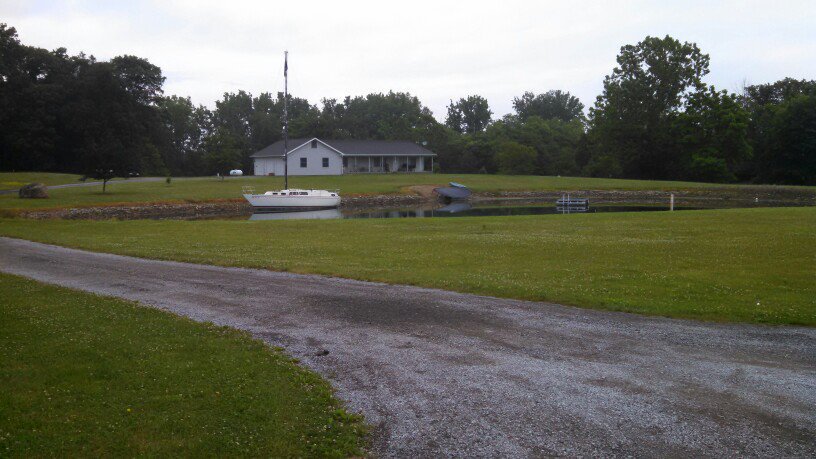 Into Ohio and a stop for rhubarb pie and groceries in Paulding, OH. I saw unusually many Red Headed Woodpeckers by the road. Very elegant birds.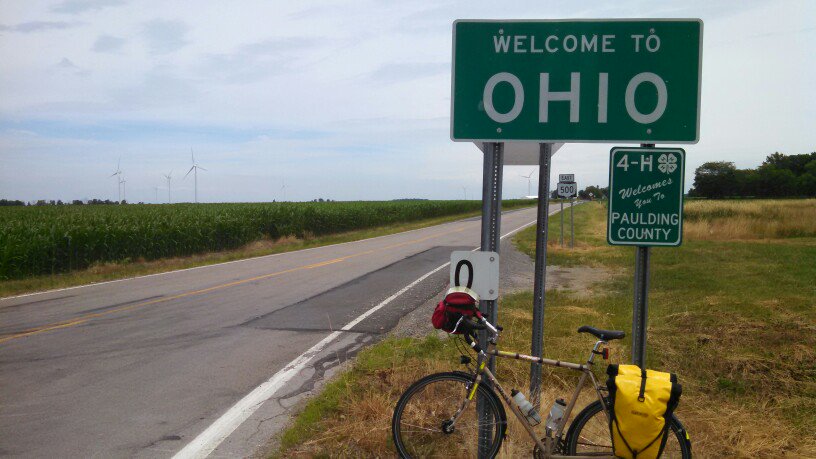 Restraint in distance was successfully deployed, I stopped after just 75 miles with about 5 miles off-route to a campsite in Broughton, OH. That with a tailwind too.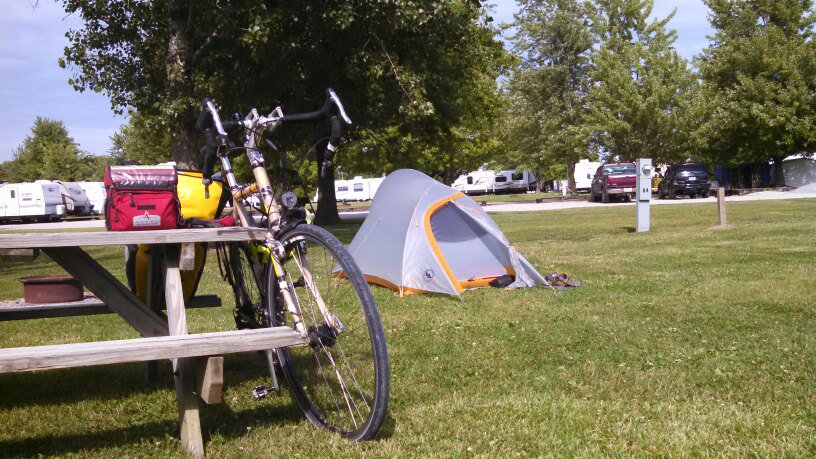 2016-07-07 Day 34 - Broughton to Gibsonburg, OH
A morning of great town names: through Defiance to Independence, and on to breakfast with Napoleon, OH. Lovely riding along the Maumee River.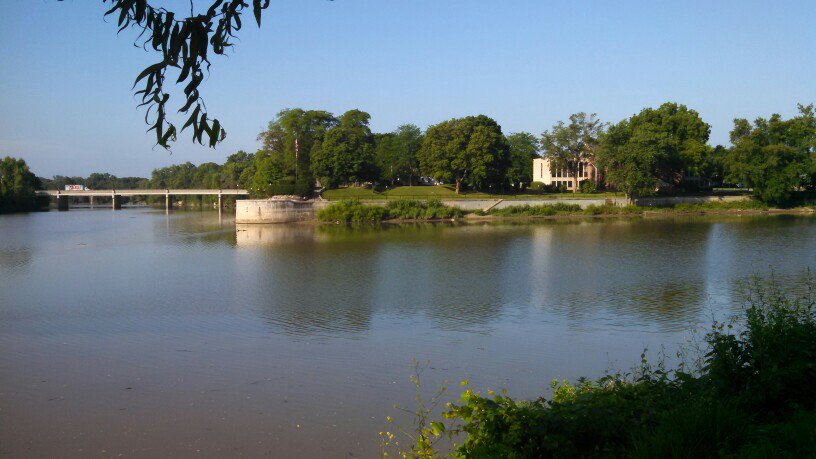 I spent hottest couple of hours of the day reading under a tree at Grand Rapids, OH. Sampled an excellent lime sherbet too.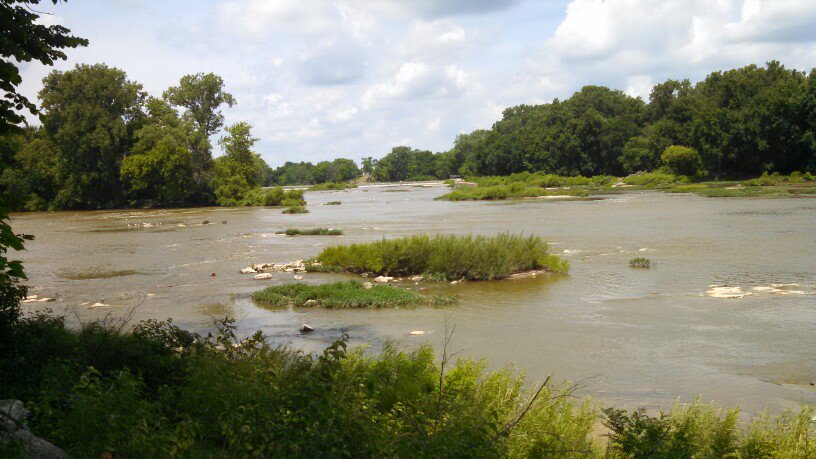 "Ohio solves out-of-work abstract artist issue by recruiting for road repair?"
I stopped for the day to camp in Gibsonburg, OH. The afternoon was hot and I was thankful for some clouds that showed up. After so much corn and soy the crops became a tad more varied: now including wheat.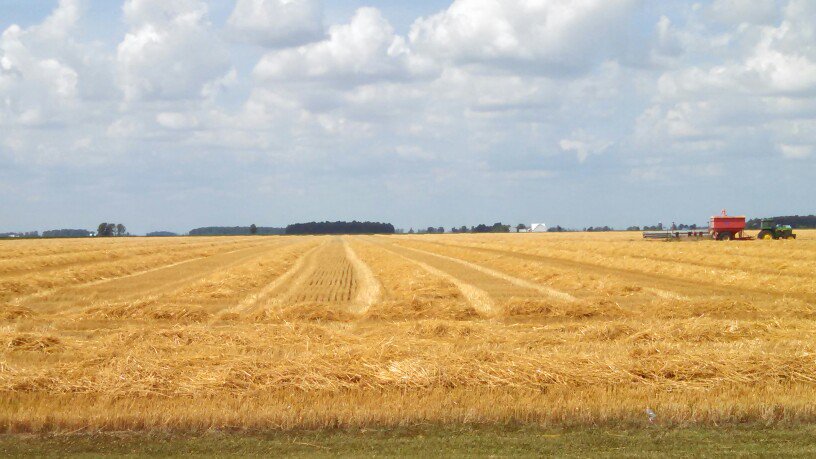 2016-07-08 Day 35 - Gibsonburg, tourist detour to Kelleys Island, then to Huron, OH
A day for a tourist detour. I got the ferry to Kelleys Island OH, ate a good breakfast and then set off in search of massive glacial grooves on the north side of the island.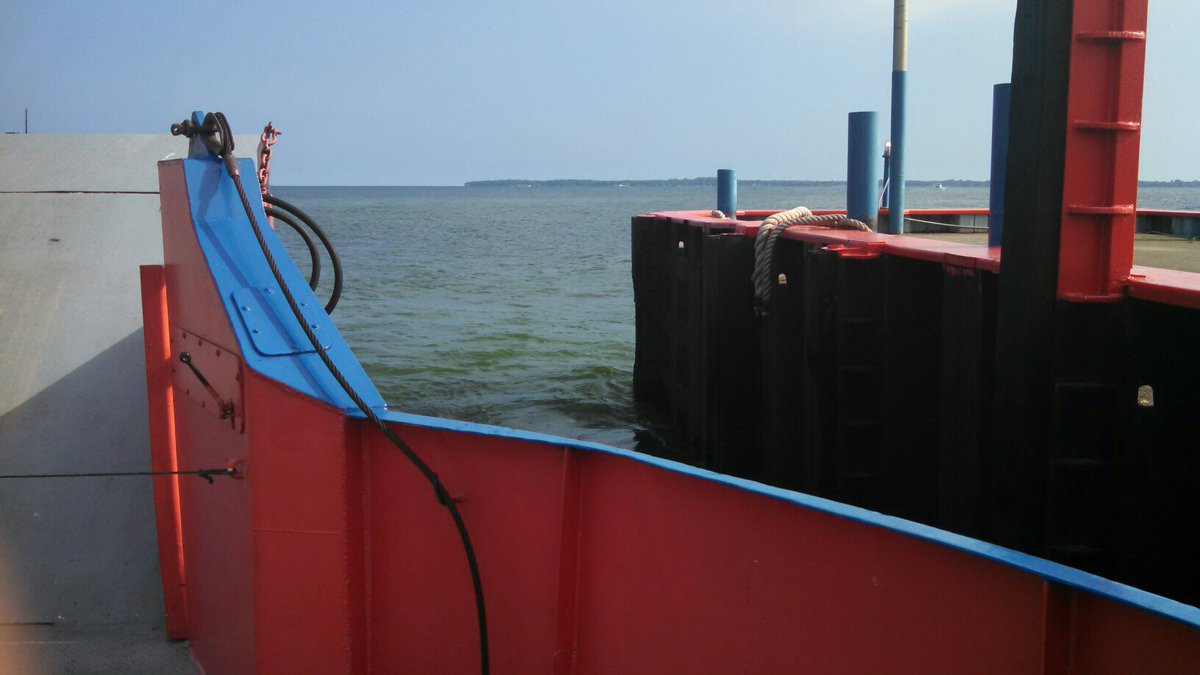 I saw the glacial grooves and they were… wait for it… groovy. Also sampled at Kelleys Island Brewery.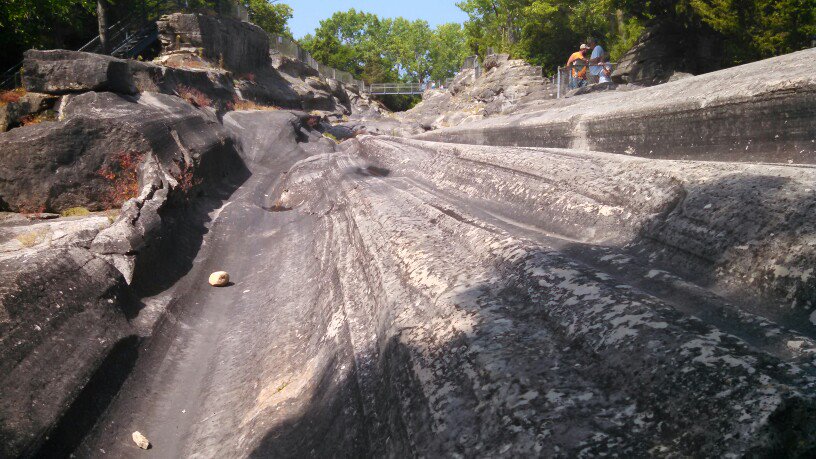 My "short day" ended up being another century because I found out that bicycles are not allowed on a key bridge of my route, meaning 30 miles extra. I ended the day in Huron, OH, and had a great evening hanging out with hosts Geoff and Kristi, and their children.
2016-07-09 Day 36 - Huron to Wickliffe OH
Spent a very pleasant morning riding along Lake Erie, and stopped for second breakfast in Avon Lake, OH.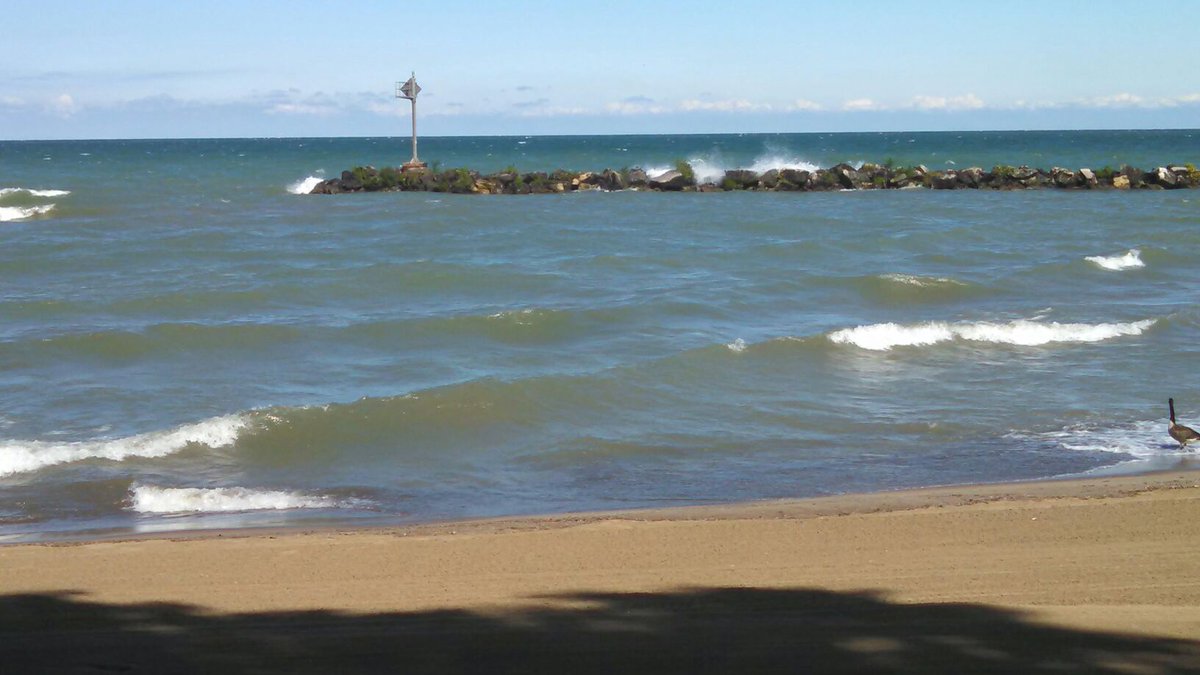 Breakfast confirmed that I must have reached the east: home fries instead of hashbrowns. That was good but I also noted that the drivers are more aggressive, and that bikers and even cyclists are less likely to return a wave.
What do we know about Cleveland OH? Yup, home of Great Lakes Brewing :-)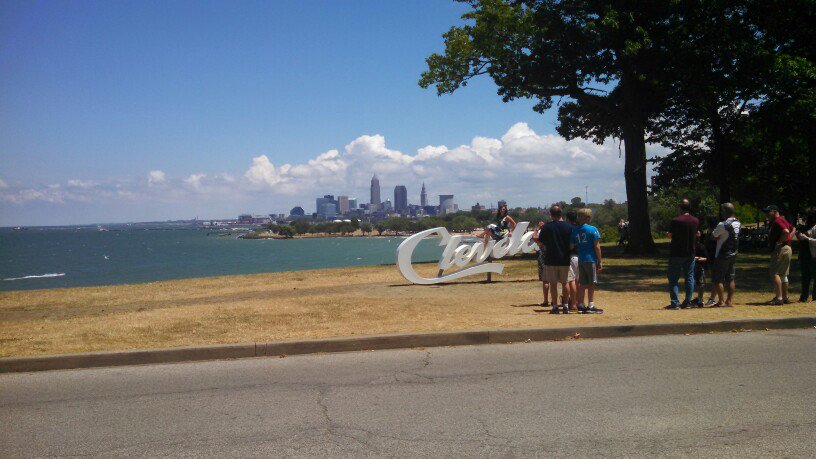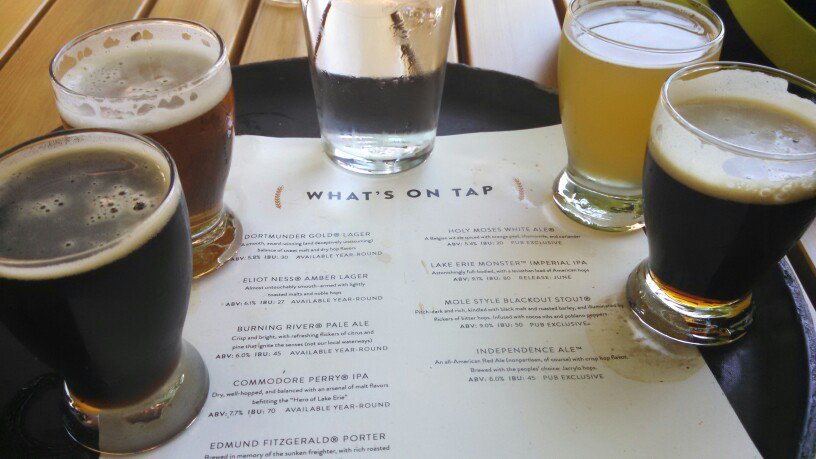 From there I moved on to eat an excellent Cambodian lunch and then more sampling at Nano Brew. Their brew system is only a tad larger than mine (thanks to recommendations from @anarchivist).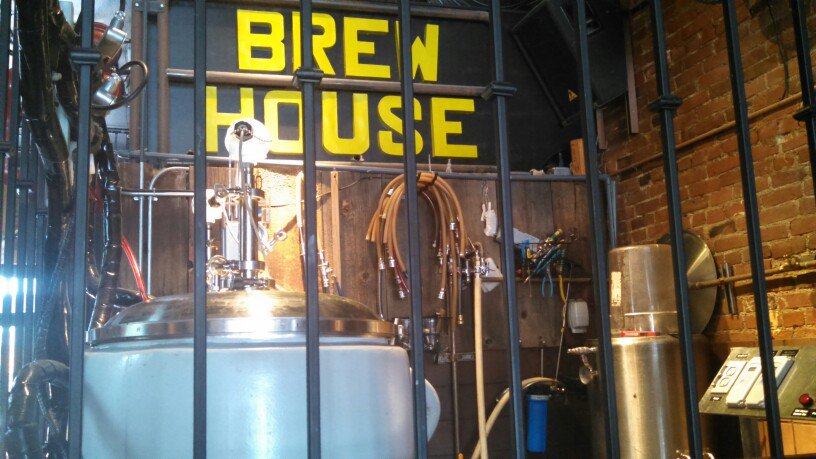 My day ended in a motel in Wickliffe, OH, just a few miles north of Cleveland. Just 67 miles for the day but with good food & beer. Passed 3000 miles total and gave the bike a check over finding nothing wrong, just a couple of bolts to tighten.
2016-07-10 Day 37 - Wickliffe, OH, through PA, to Lakeside Campground, nr. Ripley, NY
From Wickliffe to breakfast in Geveva-on-the-Lake OH (not NY), beautiful morning. I liked a electric company gate with insulator decoration: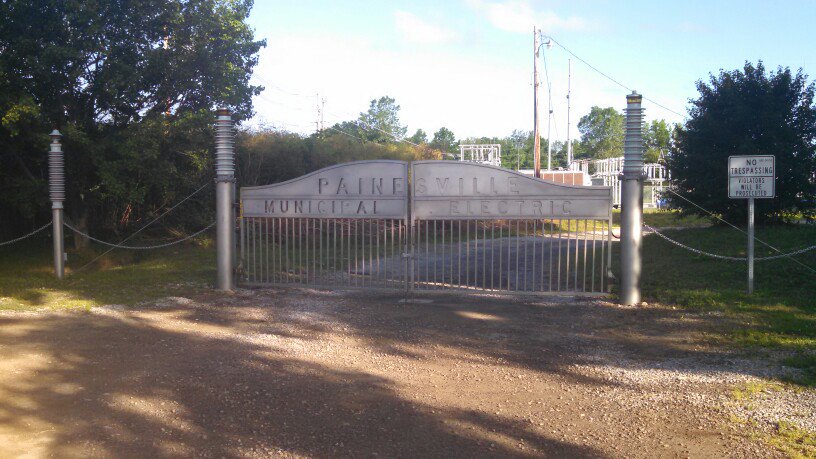 Through Ashtabula, OH – great name and quite cute for a post-industrial port town. Today's spectacular weather helps too. Riding along the US side of Lake Erie made me think that an Erie circumnavigation might make a great tour some day.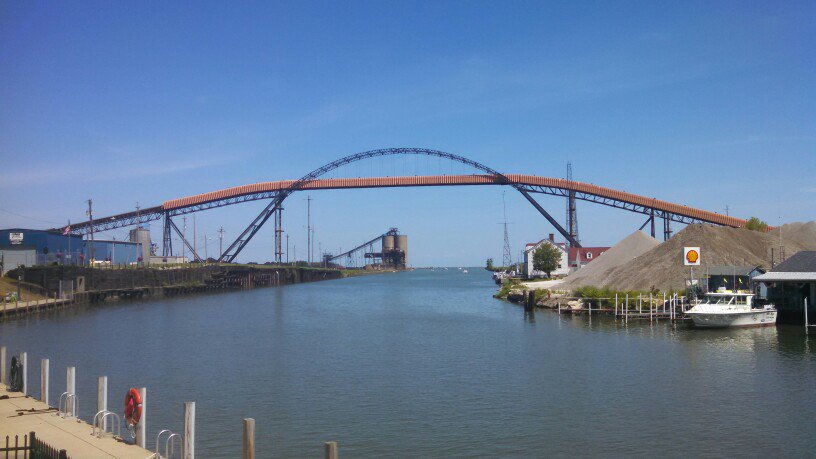 Welcome to Pennsylvania and to my first puncture in 3000 miles. It was easy to see the cause!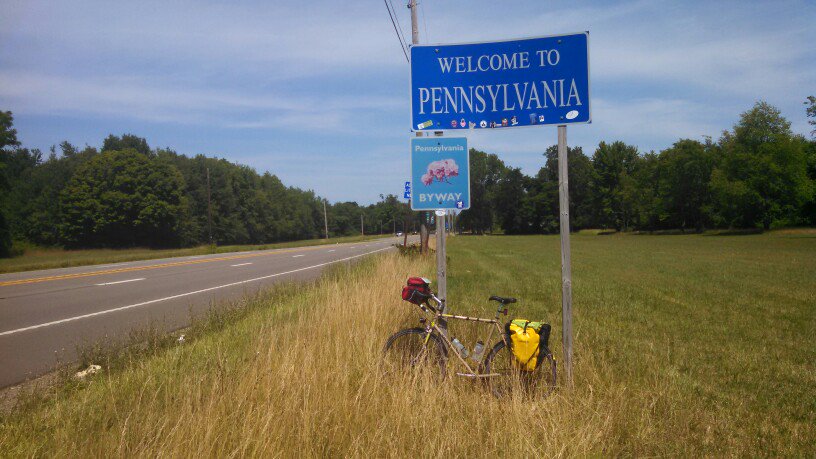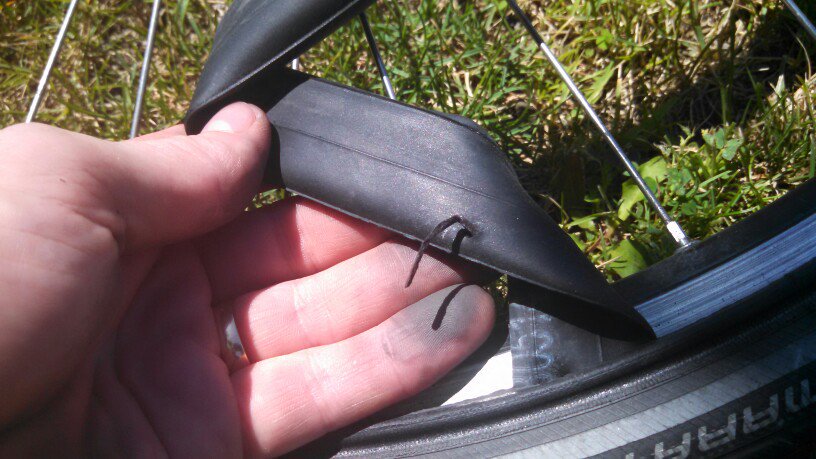 Just 40 miles later and I crossed from Pennsylvania into New York, home state. I stopped to camping near Ripley, NY a nice campsite by the lake. Like many they usually cater only for seasonal rentals but were happy to provide a space for my and my little tent. I ate a big spaghetti dinner in preparation for a rest day the following day.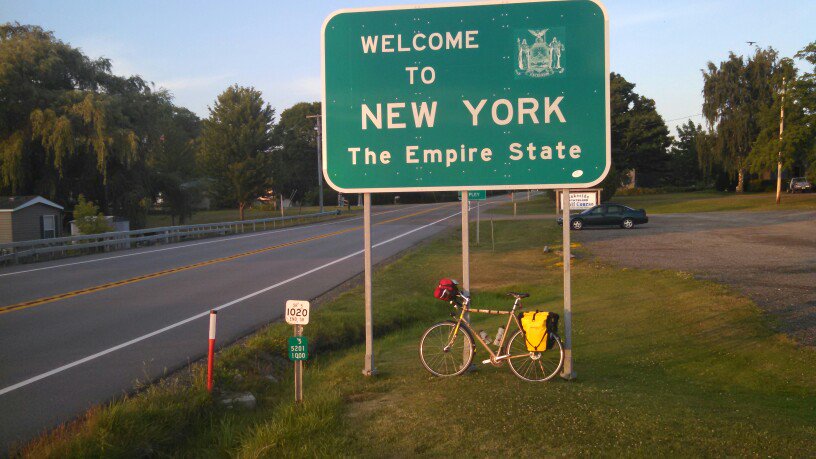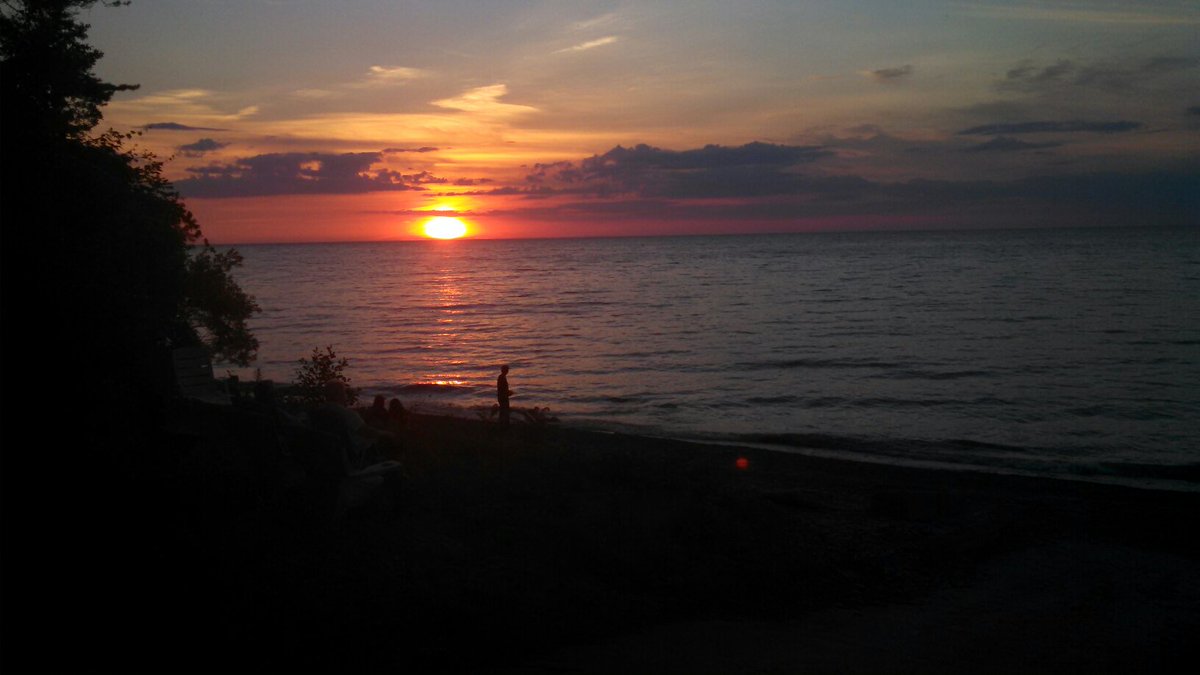 2016-07-11 Day 38 - Rest day
I started my rest day with a little bicycle checkup and maintenance. I swapped tires as the rear tire was badly worn - both were new at the start. I swum in the lake and then headed out on a little winery tour.
How do you make a 32lb Surly touring bike feel like a zippy race bike? Take the 40lbs of gear off it!
2016-07-12 Day 39 - Lakeside Campground, nr. Ripley to Buffalo, NY
Refreshed after a rest day, I started early and stopped for breakfast in Dunkirk, NY. I spent middle of day reading under a tree in Evangola State Park which was lovely, and then continued to Buffalo, NY. I had perhaps the scariest time of my ride on the way into Buffalo. The road I was cycling along became more and more busy, to a point where I found myself riding at the side of 3 lanes moving 55-60 mph, and where the shoulder entirely disappeared at bridges. I made a hasty exit and use Google maps to help plot a less busy route into town.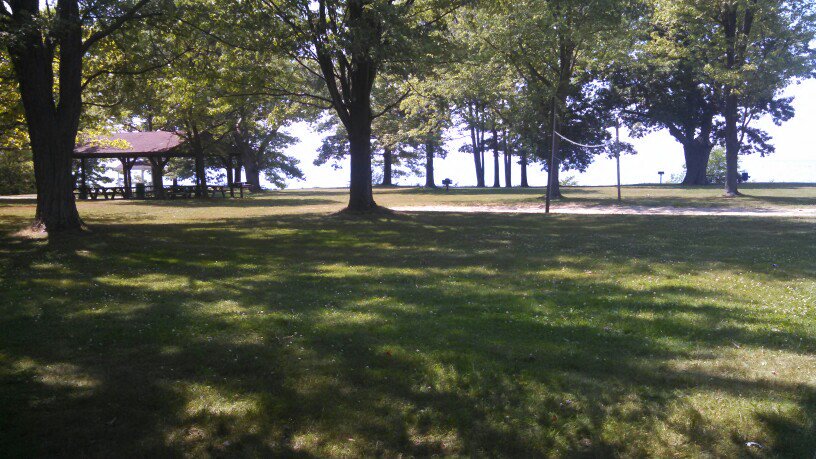 2016-07-13 Day 40 - Buffalo to Albion, NY
By 7:30am it was already a tale of tragedy and salvation: I forgot to get coffee grounds the day before but found excellent espresso at Caffeology. There were some great bike paths around Buffalo and along the river. Inadequate signs though, I was unable to follow the paths without help from Google.
I decided to make a side trip to Niagara Falls which always inspires awe in me.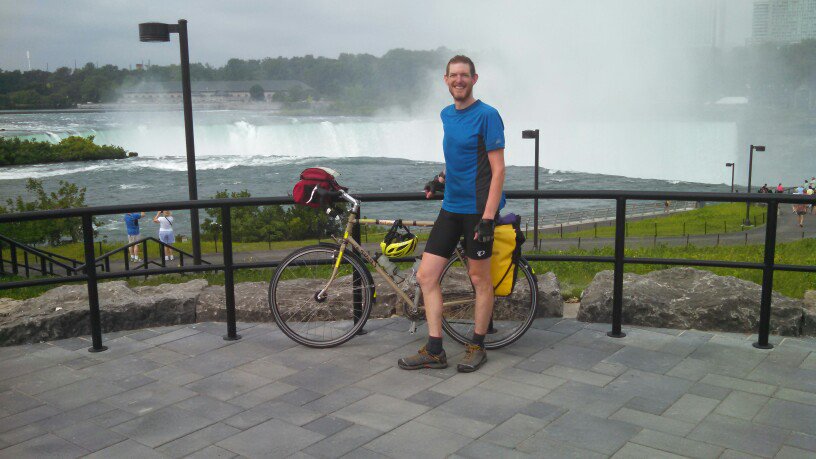 From there I found breakfast en route back to Tanawanda and then picked up the Erie canal trail. The rest of the day was spent cycling the Erie Canal trail from Tonawanda, through Lockport (pictured), via snacks in Middleport, and on to Albion where I stayed with Ingrid and Roger. A feast was prepared for my supper, which I devoured.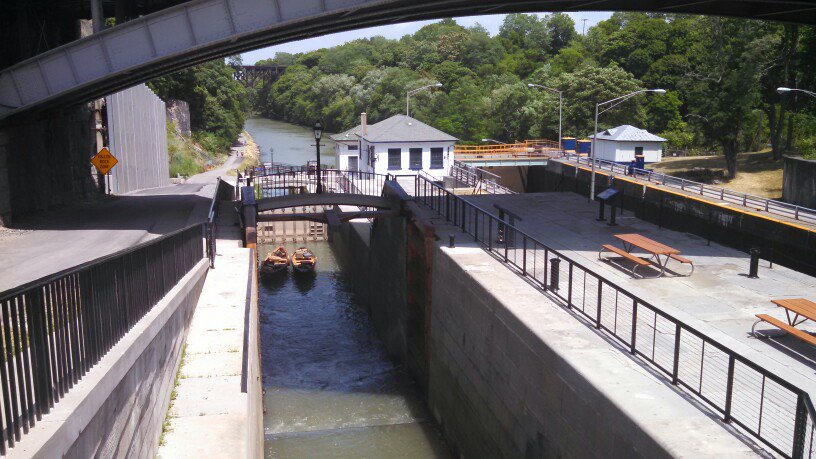 I did a phone interview with a local journalist who then wrote a nice article in the Orleans County news hub.
2016-07-14 Day 41 - Albion to Livonia, NY
Surprised that I could move the after huge breakfast with Ingrid and Roger, I continued along canal from Albion to Spencerport, NY.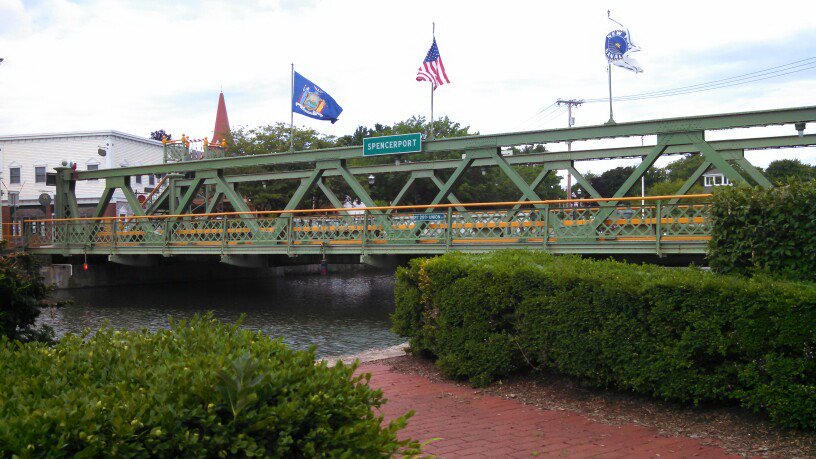 And then on to Rochester, NY, and the junction of Erie canal and the Genesee river.
After a detour into Rochester for lunch, espresso and a to buy a new book, I headed south on the Genesee Valley Greenway. The greenway was very pretty but rough in places. I eventually arrived hot and tired in Livonia, NY, to be revived by friends Jenny and Erik.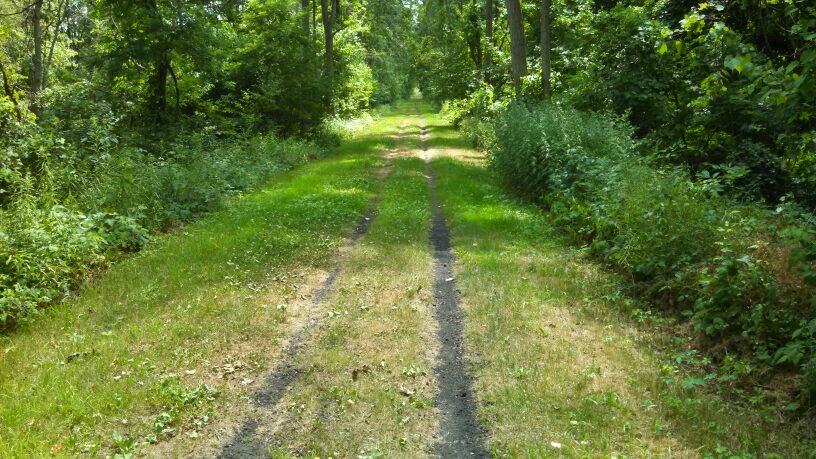 2016-07-15 Day 42 - Livonia to Geneva, NY
A short day to Geneva and to meet with Kata in the evening! I had a lazy start with good conversation and a tasty breakfast courtesy of Jenny & the ladies pictured.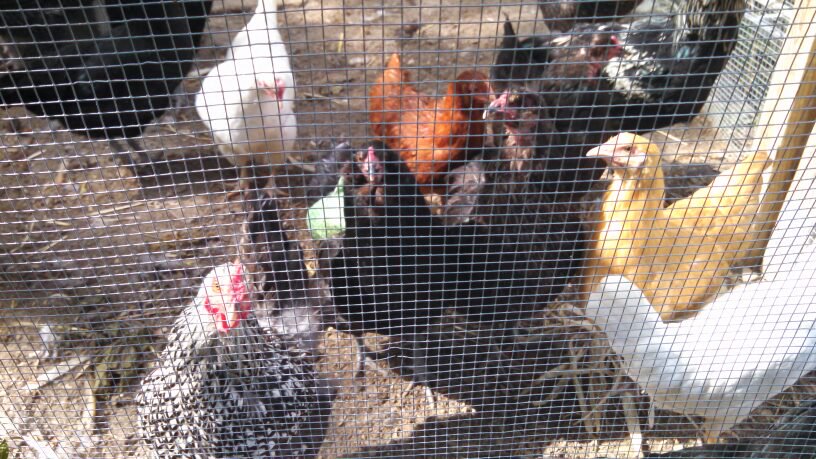 My route went back to US20 and included a break at Naked Dove brewery. Completing the ride to Geneva got me to a total of just 43 miles for the day, my shortest day. With a tailwind and no significant hills it felt like cheating. Excellent Bela Fleck & Chris Thile concert at the Smith Opera house where in addition to Kata I met fellow Ithacans Carl, Sandy, Amy & Kevin.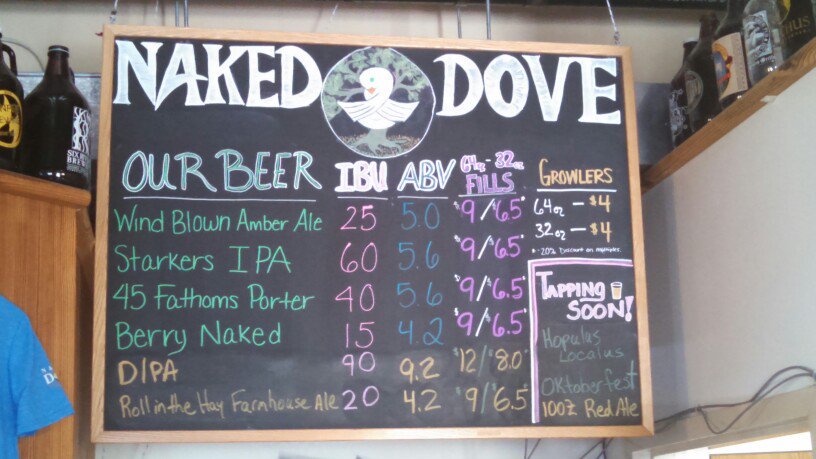 2016-07-16 Day 43 - Geneva to Marietta, NY
Cycling with Kata we headed off north on a loop towards Auburn via an ice cream stop in Port Byron.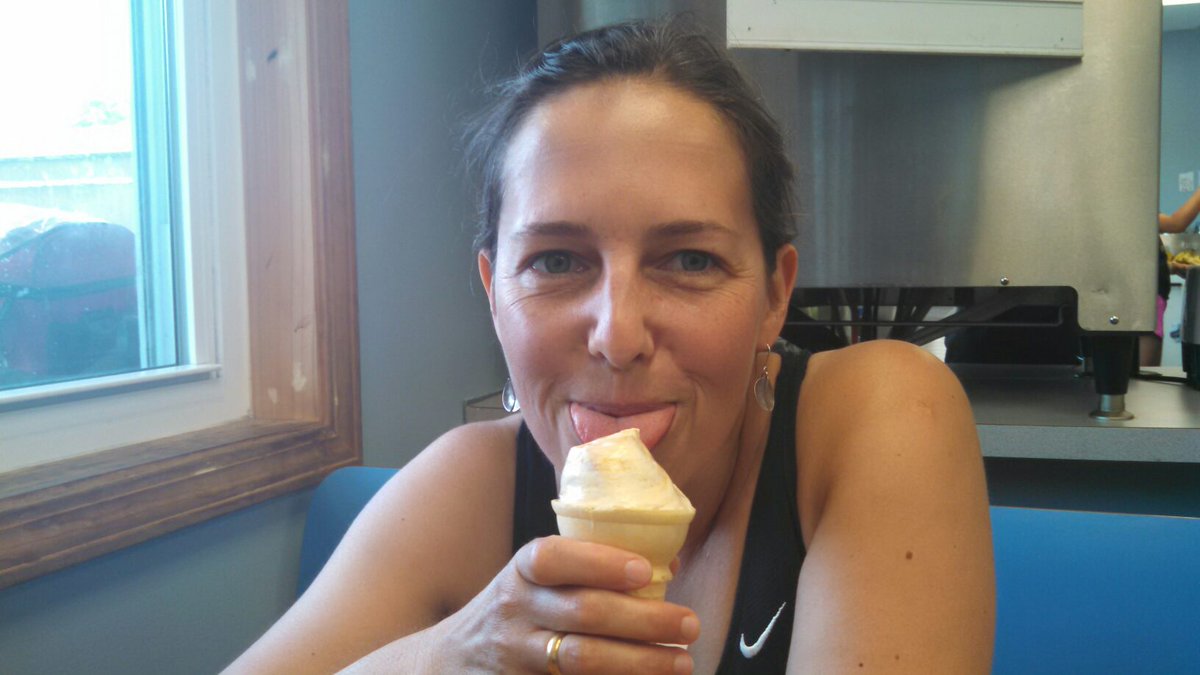 In Auburn we met up with Jim & Karen and all cycled together to their house in Marietta. Deb and John joined us for a BBQ. Passed 3500 miles during the day and also started riding away from home toward the Atlantic.
2016-07-17 Day 44 - Marietta to Glimmerglass State Park, NY
Kata left heading west to cycle back to the car in Geneva, I left heading east with Jim and Karen for a few miles. They left me at the foot of the hill to Fayetteville (why there?) from where I went on to Pompey, NY for second breakfast with Lucie.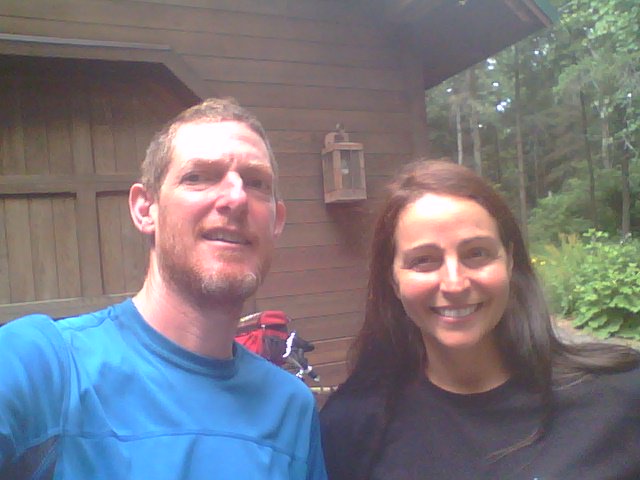 Still only 1/3 along my route for the day I stopped (briefly) at Empire brewing in Cazenovia, NY. They had an impressive new building.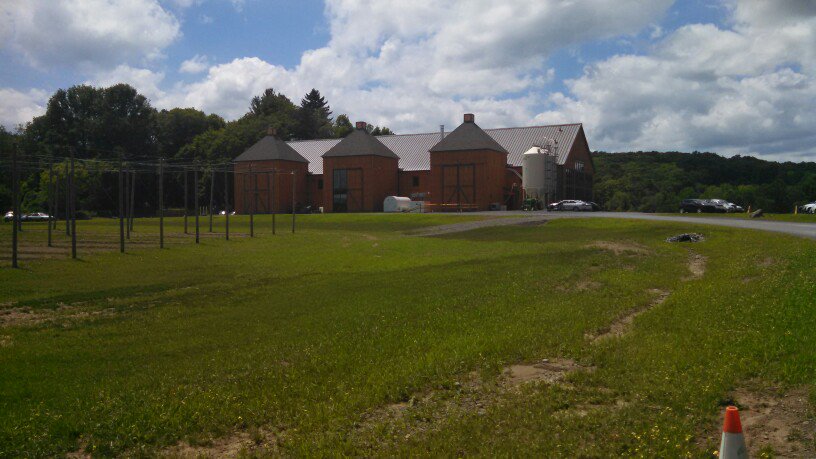 As the day went on I was strenuously reminded that US20 has significant hills in NY. It turned out to be quite a long day, 99 miles, to camp at Glimmerglass State Park (in our usual spot).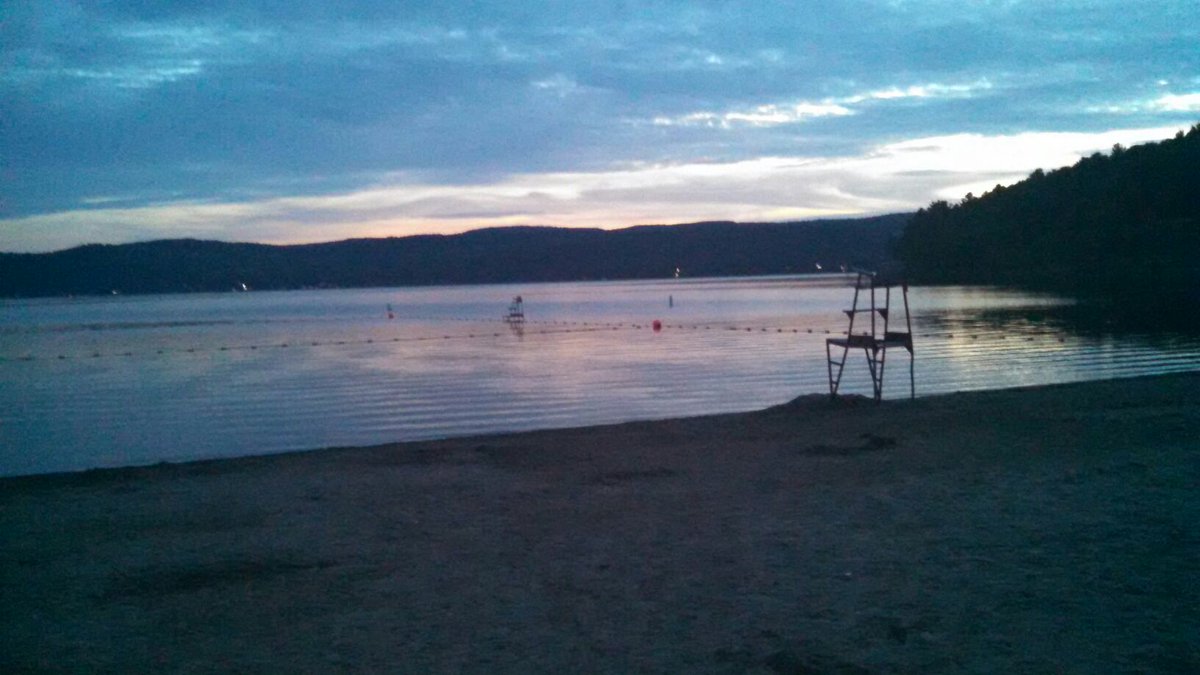 2016-07-18 Day 45 - Glimmerglass State Park to Rensselaer, NY
Heading northeast from Glimmerglass State Park I crossed the "Susquehanna-Mohawk divide" and then enjoyed lots of coasting down to Fort Plain, NY. I found a diner for breakfast and then cycled along bike paths following the Mohawk toward Troy (part of the Mohawk Hudson Bike/Hike Trail). I stopped for lunch in Schenectady and conveniently watched a shower from inside the cafe.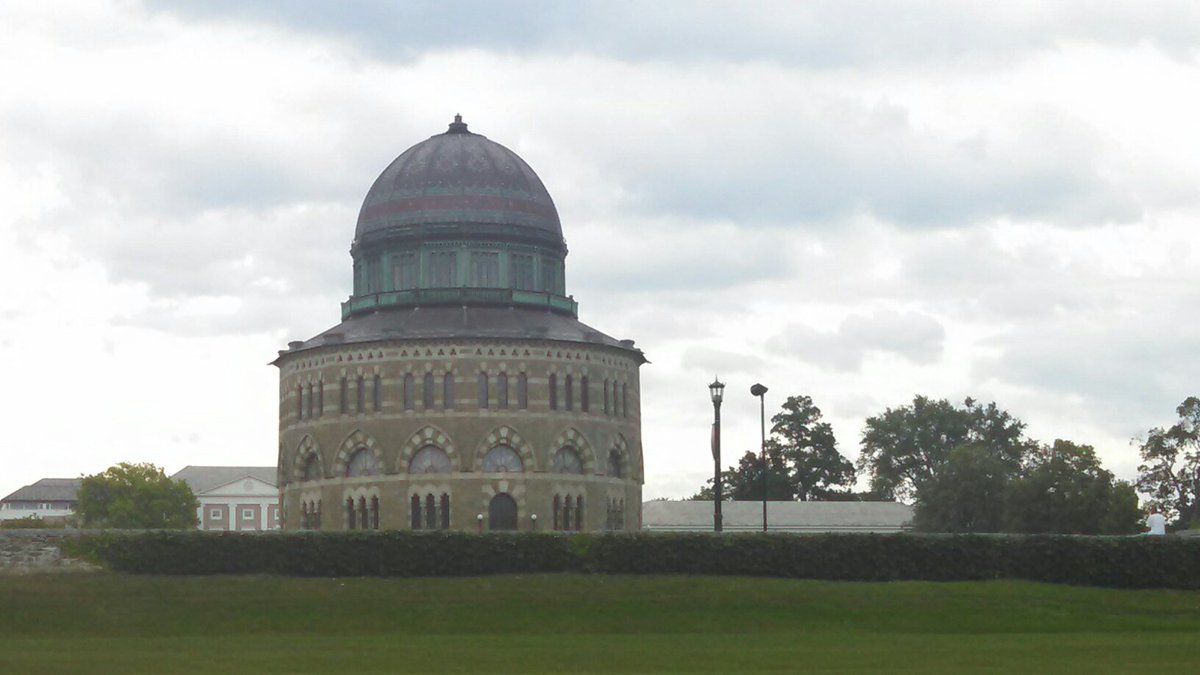 Jenn met me on the Hudson trail and we headed south to Albany. Had a beer sampling at Albany Pump Station, and then a jolly dinner with Jenn, Bryan, Alexa, Bri & Matt.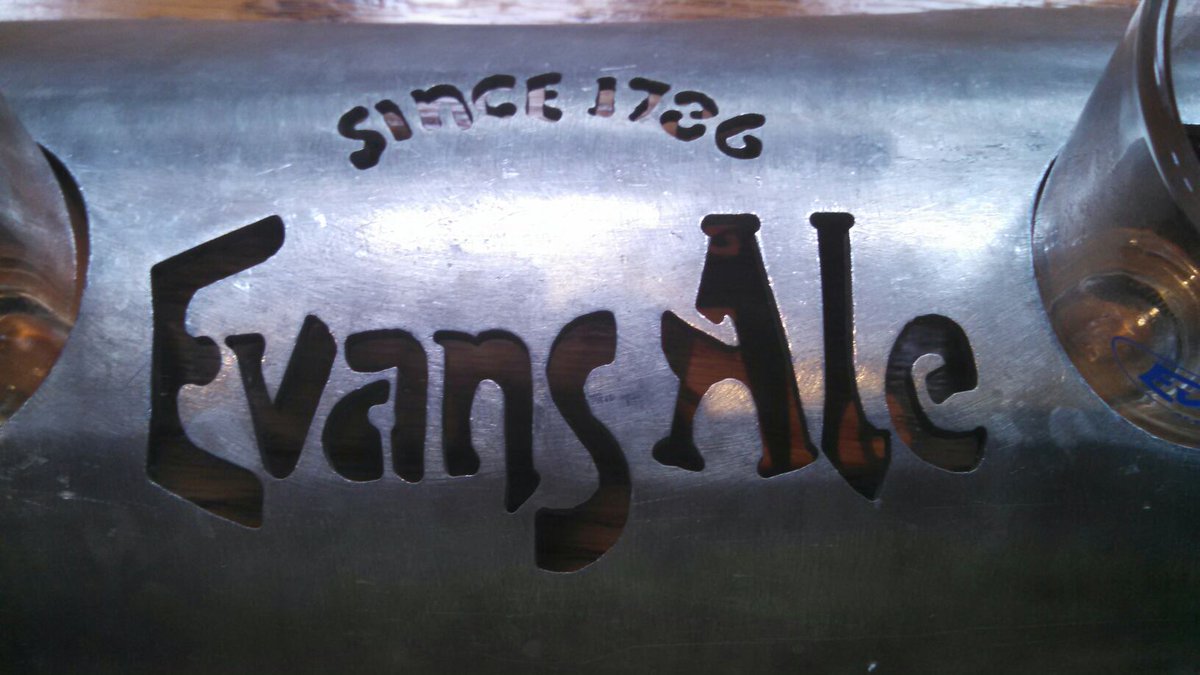 2016-07-19 Day 46 - Rest day
A relaxing rest day in Rensselaer, NY at Jenn & Bryan's. I enjoyed hand-pulled espresso from Bryan while contemplating the remaining 200 miles to the Atlantic.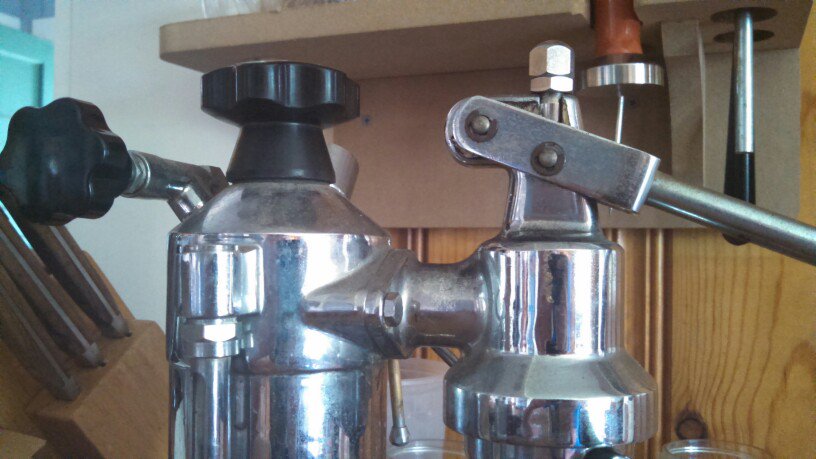 2016-07-20 Day 47 - Rensselaer, NY, through VT, then to Conway, MA
I felt well rested after hanging out with Bryan, Jenn & Alexa in Rensselaer, NY. Jenn set the pace for about 15 miles north along the Hudson before she turned around to go to work back in Albany.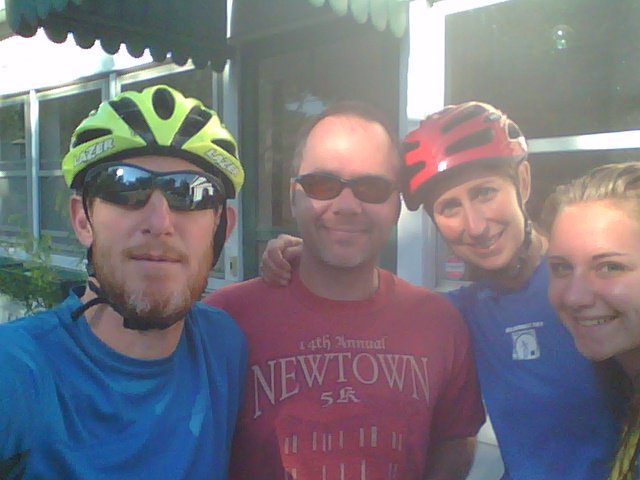 At the junction of the Erie canal with the Hudson, I turned east again and uphill. Beautiful morning!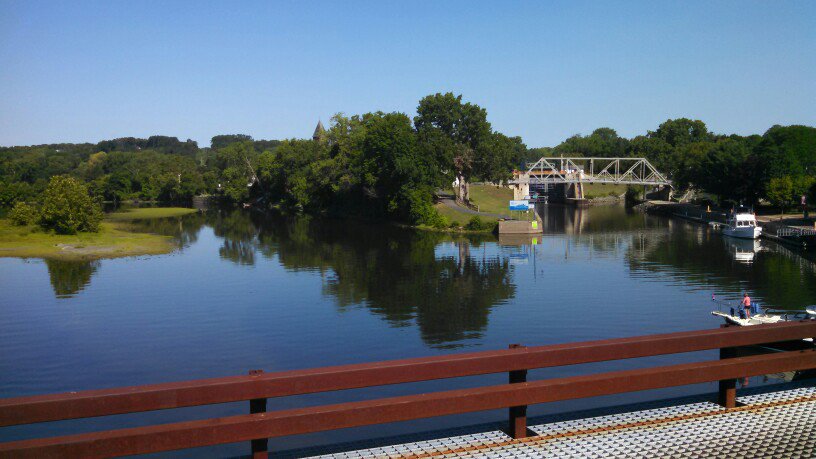 I stopped for lunch at the Man of Kent, washed down with an Abbot Ale. That place has many happy memories of stops associated with trips to Vermont and points east with Polar (one of the inspirations for my ride) and others. Soon after I crossed into Vermont.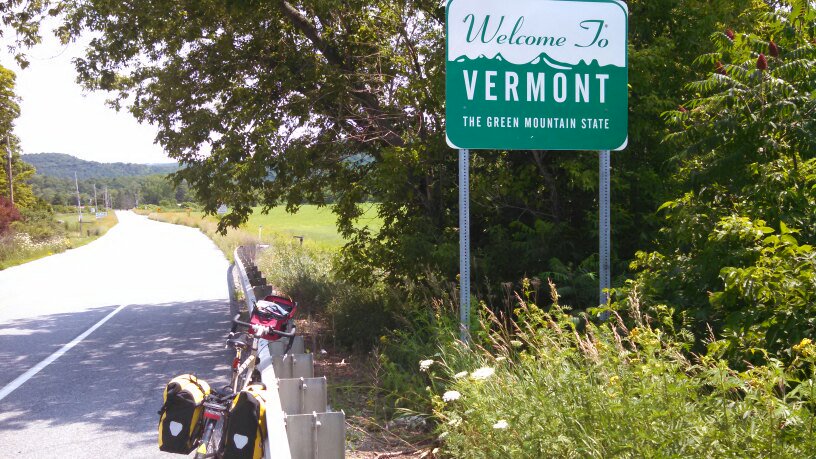 In Vermont I met another cyclist, Dave, a librarian from Williams College out for a lunch-time ride. He slowed enough to ride with me for a while and chat. At some point we crossed into Massachusetts, my last state, but I missed the sign. I carried on to Bill and Mary's house in Conway, taking a harmless crash as I turned too sharply onto their sandy driveway.
2016-07-21 Day 48 - Conway to Shrewsbury, MA
Day 48 for me, day 1 for Bill. We rode from Conway to a coffee stop in Amherst, MA. I enjoyed the good company.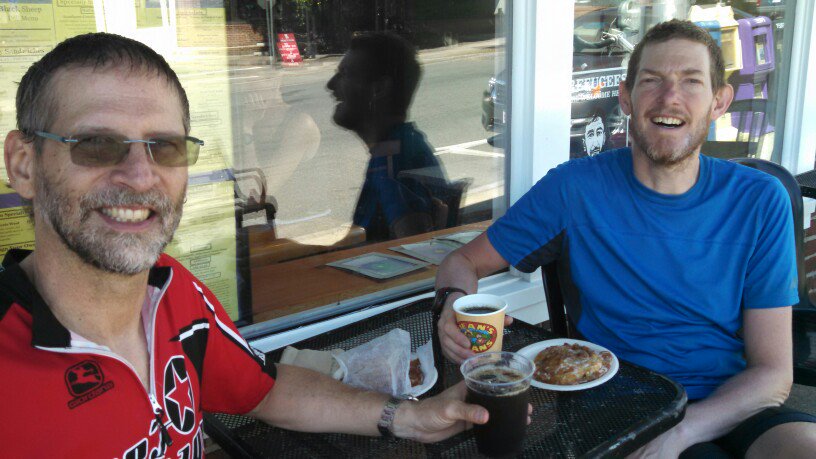 For lunch we stopped at a surprisingly good Chinese restaurant in West Brookfield. The fortune seemed ominous however.

As the day progressed my chain started to come apart again and I had to spend some time fiddling it back together. The whole thing was pretty loose by this point and due for replacement at the end od the trip. Drivers around Worcester seemed crazy but we continued without incident to Shrewsbury, MA. There we found a motel and sought out a special tonic to restore our electrolyte balance and induce happiness – it worked!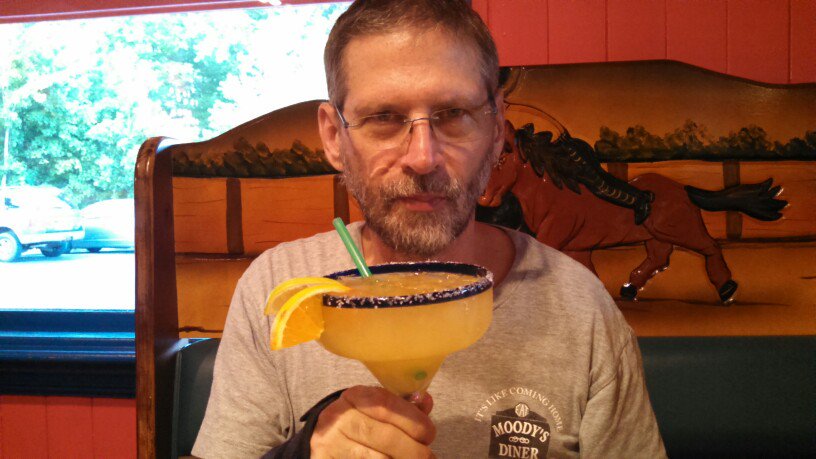 2016-07-22 Day 49 - Shrewsbury to Beverly, MA
Day 49 for me, day 2 for Bill. Through Clinton, lunch in Concord and headed for Beverly MA…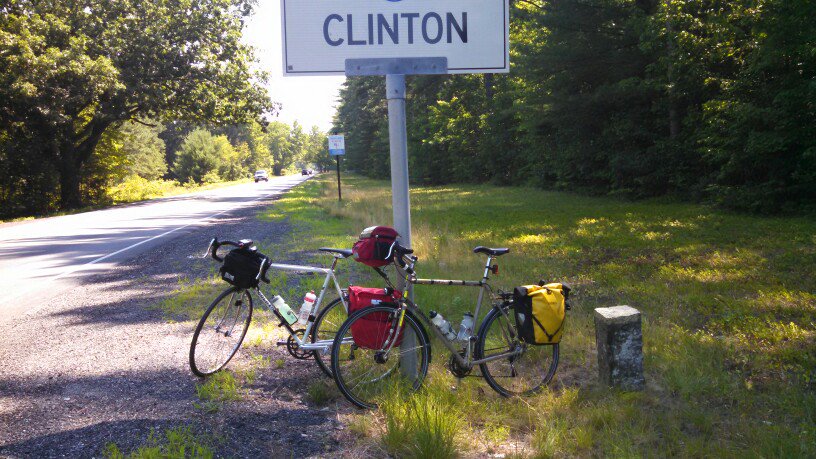 We passed Walden Pond where angry rangers shouted at frustrated tourists "we're closed until 1:30!"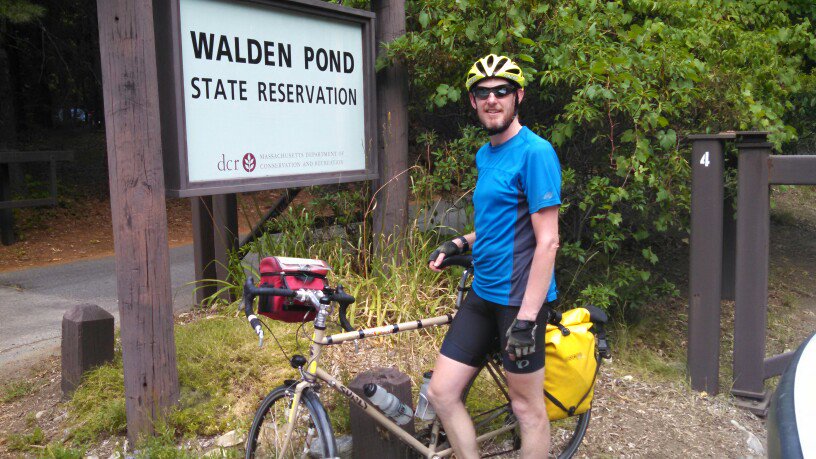 We followed part of the Minuteman Bikeway before turning north toward Beverly. We got a great view out into the Atlantic from the last bridge over to Beverly, MA. By that time we were almost at Brad & Suzie's, and I had passed 4000 miles. If we had come up short by taking too direct a route, I would have had to do an extra loop!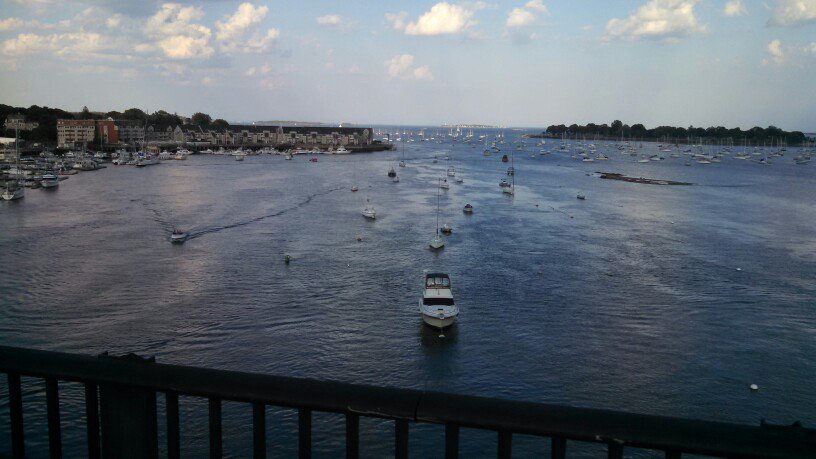 We were provided free beer from Gentile brewery in honor of the trip! There was much jolliness in Beverly that evening, with Kata, Brad, Suzie, Chris, Barb, Ed, Alison & Mary.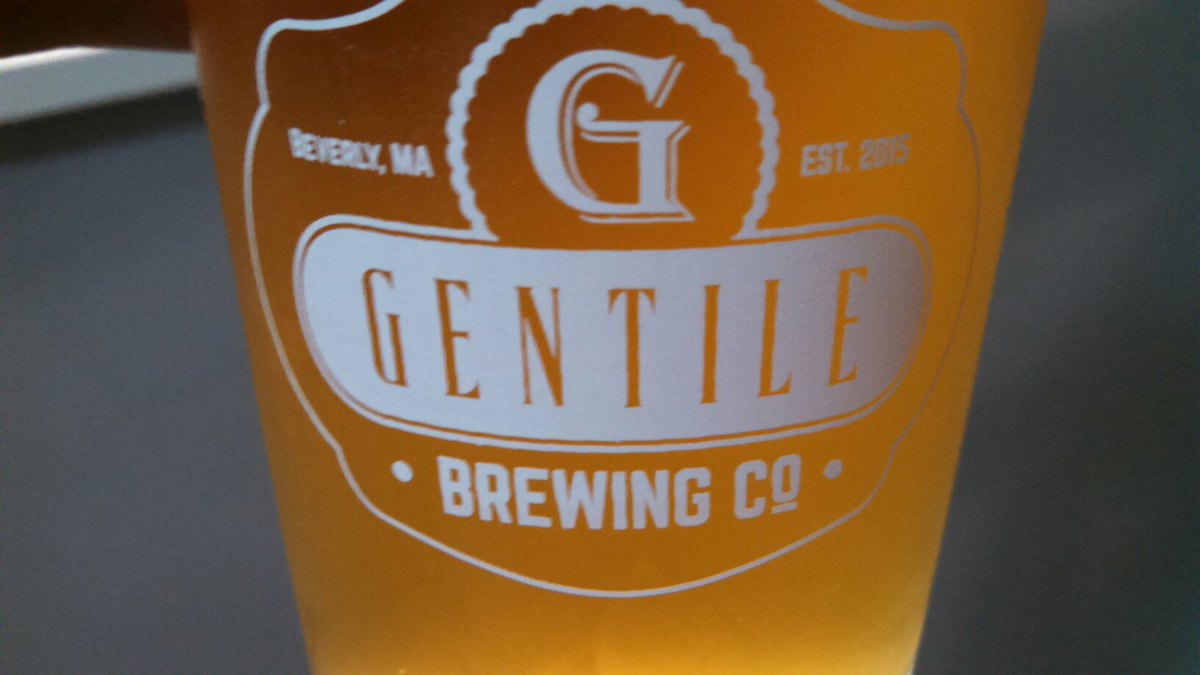 2016-07-23 Day 50 - Ceremonial mile from Beverly, MA to the Atlantic Ocean
No hurry today. After a good breakfast I made the one mile trip to the Atlantic with Kata. We drank champagne & beer with Brad, Suzie, Bill & Mary on a beautiful New England day. And the coast to coast ride was complete, a great trip!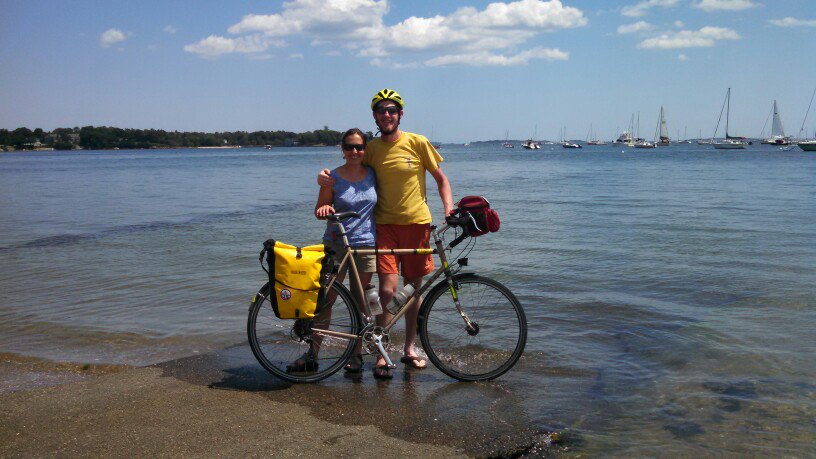 Reflections and notes
I had a wonderful trip. I was lucky with the weather, with my equipment (no major machicanical issues and just one puncture), and with the kindness I found along the way. Most of the time I planned just a day or two in advance to allow for flexibility depending upon how I felt. There were a few times when I was concerned about finding a place to stay but it always worked out.
My approach was to go fairly light but I didn't feel that I was lacking in gear or clothing. At end of trip my two back panniers weighed 24lbs together, and my handlebar pack 8lbs, without water or food (so 32lbs total + water and food). I had some additional warm clothes at the beginning of the trip that I mailed home after the Rockies. In part this approach relied on a willingness (eagerness?) to buy meals along the way and to stay at motels when convenient.
Direct road routes from Seaside, OR to Beverly, MA are about 3200 miles. By my estimation I did a little over 4000 miles in total. Over 49 days that is about 82 miles per day on average, or about 91 miles per day if the 5 rest days are omitted. After a week or two on the road this pace seemed quite comfortable most of the time.
Some numbers:
4009 miles
49 days of which 5 were rest days (and not counting the final mile)
22 camping nights, 10 with friends I already knew, 9 at motel/airbnb, 7 with warmshowers hosts, 1 in Iroquois Village Hall, IL
10 century days (of which one was a double) and 2 days just short at 99 miles
14 states (OR, ID, MT, WY, SD, NE, IA, IL, IN, OH, PA, NY, VT, MA)
1 puncture, 1 chain break, 2 crashes (chain break and Bill's driveway)
9 breweries