Some days…
I love a plan. I love a plan even more when it is going well. Take garden refuse to recycling center… check. Pay water rates… check. See HR person about visa… check. Clear email… check. Leave to drive to airport in good time… !?!?, where's my car? People digging up the road, DPW signs saying "vehicles towed at owner's expense", rats. I wonder if Carol moved her car in time? "Carol, where is your car parked?", "Down on College Ave., why?", "Not any more, we've been towed", "!?!?". A number of phone calls later we found out which (different) towing companies had our cars, borrowed Rosemary's car (THANKS!) and Carol (THANKS!) drove me over to bail my car out for $60. So much for "in good time" but at least I was back with the plan and driving north.
TSTMS is code for thunderstorms, apparently. When there are TSTMS planes can't land or take off. When there are TSTMS at all NYC airports then fights get royally messed up. I got to Syracuse in okay time to find my 4:53pm delayed to "maybe" 8:30pm, which is not so good for catching the 6:35pm to London, or even last option: the 8:25pm to London. Time for beer and pizza, those rose tinted glasses for air travel. Relieved to find that bud and bud-light were the not only options; Sam's the man. It is somehow a little extra crushing to get to the gate of the 8:25pm, delayed to 8:35pm, at 8:30pm only to be told that it "has left" when it manifestly hasn't. I verified this fact by looking through the adjacent window again, it even had the umbilical jetway still connected. (Where did "jetway" come from? They called it an "airway" in Birmingham.) After a hour in the line at the customer service desk, listening to an extremely irate Portuguese man ranting at a progressively more irate customer service agent, I got confirmation that the 8:25pm was indeed that last flight to London and they'd happily rebook me on the 6:35pm tomorrow. Not if I can help it. "What about the 9:50pm to Birmingham?", "Hmmm… we are cutting it very close", "That would be because I've spent the last hour in this line", "How would you get from Birmingham to London?", "Oh! No problem, just get me on the flight". In that last statement I realized how wonderful it is to just know that there will be reasonable public transport options – just imagine arriving at Albany instead of Syracuse and trying do the last bit with public transport. Due to the peculiarly convenient location of my parents' house I could be fairly sure of getting to within 1/4 mile of their door without too much hassle.
Safety, everywhere safety, but to what effect? Just after getting on the train at Birmingham an announcement reminded me to check the safety information posted in the vestibules. Train safety: Don't get out unless the train is stopped? If the train crashes then get out and away if your body is still able to perform such a task? I didn't see a surge of people headed toward the vestibules to read the sign. They probably read it before.
Also, why are there multiple announcements reminding customers traveling on "Virgin Value Tickets" to "make sure they are traveling on the correct day and train"? What are they going to do when the realize they are not? Indeed, they are going to hope the ticket collector doesn't notice.
Now to relax on my favorite mode of transport, countryside slipping past, espresso coursing through my veins, should arrive home by 1:30pm. It could be worse. Later…
Into Euston; Northern line to Waterloo; look for train to Guildford via Cobham. Nice that some things don't change (it is hard to move a tube/subway). Twenty minutes to spare… time for a quick one, which reminds me of something, it is a mark of England's civilization that we do actually have decent pubs on Waterloo station. Now, I'm not sure the two seventy-five for a Green King IPA is civilized, wasn't beer less than a quid a pint when I was in Manchester? Have I been gone that long? Oh! My glass is empty with ten minutes to spare… "That'll be a Pride please" (Young's London Pride), "Thanks" (for "topping that off" for me). Yum. On the train again, reflecting on the book I've been reading: "Free Culture" by Larry Lessig. I just got to a bit where he talks about the DMCA and I am again incensed: this is a bad piece of legislation which make the US a less good society. There is nothing like 40 ounces of fine ale on an empty stomach for getting one worked up. Which reminds me, I must add a Creative Commons license to my personal web pages…
Chickty chick, Chickty chick… it is a welded line from Waterloo to Effingham Junction but there are still the welded joins to make a noise even if there isn't the wild swaying from side to side and more deafening rail noise of older tracks. And by the way, I love all the accents I'm hearing, both regional British accents and those of non-native English speakers, they are at the same time curious and wonderfully familiar.
Interview with a nephling
The purpose of the trip, to see young Oliver while he is still very tiny. Naomi brought all 9 pounds and 6 ounces of him over to my parents' house and then we headed off to get a passport photo for his first holiday – Portugal at age 3 months, doesn't sound too bad to me though I imagine he'll have to give the port a miss. He still has the finely detailed lips I noticed is earlier photos and he used them the articulate a slightly grumpy, I'd rather be asleep, attitude. Naomi was persuaded to subject him and herself to a quick photo-op however: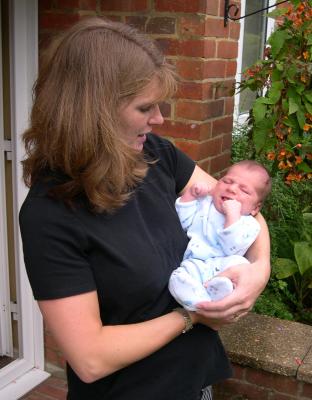 I am sure you will agree, in my presence at least, that my little nephling is extremely cute. Now I suppose I should catch up on some work and plan my Birmingham, Buxton, Derby, Sheffield, Cambridge weekend round baby-and-friends-a-thon. New wellies in the offing, hurrah!
Ciao, Simeon.