I like caving; new passage is best but just being underground is good too. In the UK I have caved with the Manchester University Speleology Club (MUSC), the Manchester University Speleology Society (MUSS), not the University Club but oldies and others who like to go drinking in Ireland, Spain and Manchester), and the Southampton University Caving Club (SUCC).

Me in Burrough's Cave, NY, USA. Simeon Warner © 1996
In the US I have caved with the Syracuse University Outing Club (SUOC) where I was chair for a while; and the Pajarito Grotto, NM. More recently I have caved with the Cornell Outing Club, and other local cavers (especially the rockeaters).
Cave photography
I may not be especially good at it but I used to be quite keen. Possibly of interest to cave photographers:
For European style riggers…
Have a play with my simple Y-hang Java toy. This allows you to move two anchors and a knot about relative to each other and shows the forces on the two anchors. You will need a Java enabled web browser (back in the day I used to say "Netscape 2 or greater" but I don't think this is an issue anymore).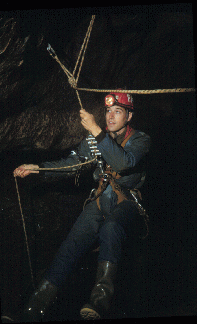 Paul Turner in Valley Entrance, Yorkshire, UK. He is hanging from a Y-hang! Simeon Warner © 1994
Trips